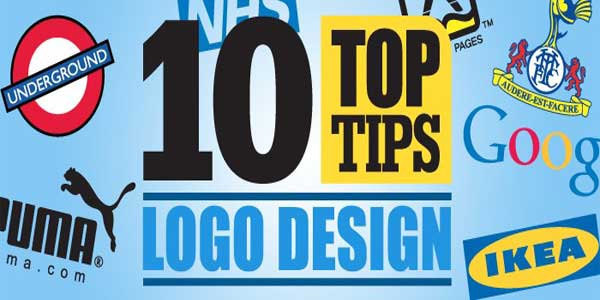 Logo is believed to be the unique identity of a business enterprise. Whether you're conducting an online marketing campaign or promoting your brand via real-time promotional techniques, it is always better to have an eye-catchy logo that stands out from the crowd. MY main aim behind writing this blog is to make you familiar with top 10 tips on designing 100% unique logos for different purposes.
So, without any further adieu, let's get going and unveil these logo designing tips that are going to prove beneficial for individuals and corporate houses looking for appealing logos to meet their promotional needs.

Logo Design Tip No.1- Keep Things Simple:
Although there are a million ways of communicating your brand to the audience, as a thumb rule try to keep things as simple as possible. Since logo is treated as a testing ground for your typography skills and illusion, you need to maintain utmost simplicity. For example, if you look at the logo of Nike, you'll find that it doesn't even contain a caption or the brand's name. Unlike a simple logo, a complicated one is difficult to identify and fails in gathering the attention of potential customers.
Logo Design Tip No.2- Maintain Versatility:
In order to come up with a brilliant logo, it is important to consider the versatility factor. You must ensure that the logo you intend to design looks perfect on posters, pamphlets etc. Opt for a color scheme that looks great even if it is being displayed in black and white. For example, have a look at the Apple logo, you'll find it to be perfect irrespective of the color scheme.
Logo Design Tip No.3-Be Meaningful While Designing The Logo:
Every logo comes with a unique story. While designing a logo for your client, ensure to have a clear understanding of the motto behind the logo. As a logo designer, make it a point to think meticulously and come up with a logo that the audience will love.
Logo Design Tip No.4- Pay Attention To Proportion And Symmetry:
A huge majority of logo designers often tends to ignore the importance of proportions and symmetry during logo designing process. The curves and arches used in a logo play a crucial role in boosting the logo's overall performance.
Logo Design Tip No.5- Try Instilling Motion In Your Logo:
The concept of instilling motion into a logo has lately been recognized as an interesting facet of logo design process. A sense of activity can act wonders for your logo. IT can boost it both visually as well as logically.
Logo Design Tip No.6- Try Learning From Other's Mistakes:
You can always gather great insights from looking into the logo designing mistakes that have been committed by your competitors. By grabbing details about the successful and unsuccessful logos, you'll get an idea about the elements that you need to include in your custom logo.
Logo Design Tip No.7- Always opt for Vector images:
Quite similar to the tempting visuals delivered via 3d effects and illustrations inserted in a logo, using vector images allows you to have a 100% unique logo. A vector-based logo will offer you a perfect balance between contrast and color.
Logo Design Tip No.8- Keep Logo Longevity In Mind-Blowing:
As a professional logo designer, you must see into the future. In other words, you must ensure to picture your logo 10-15 years down the road and think whether it will continue to excite the targeted audience or lose its significance. You can easily access the internet for getting a glimpse of the long-standing companies whose logos have stood since all these years.
Logo Design Tip No.9- Make Your Logo Ready For Changes:
There might be situations wherein you may require to make changes to your logo. As a trained logo designer, be ready to design a logo that is ready for changes. A fully adaptable logo will act as your company's stand-alone image and let you gather the attention of targeted consumers.
Logo Design Tip No.10- Make Your Logo Memorable:
A good logo will always imbed itself into the memory of people. Being a logo designer, you must ensure that the logo designed by you is highly memorable and people can retrace it even after weeks and months.
Conclusion:
Logo Designing is an art and in order to excel in this art it is crucial to follow some specific guidelines. Hope you'd have found the aforementioned tips handy and easy to follow. If you've something to share about logo designing or want to drop in your comments regarding the above post, please use the comments box below.
About the Author:
Rick Brown is a veteran content writer by profession and working for a renowned iPhone App Development Company. He will consult at its best, in case you are willing to avail iPhone App Programmer for hire.