Add Stylish Flash/SWF Follow Me On Twitter Widget For Blog And Website To Spice Up Your Blog: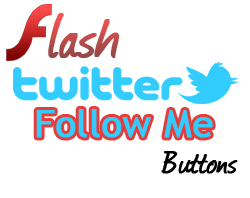 Twitter is a social networking sites popular in the world of bloggers to promote their blogs. So here I am very cool Twitter Blogger widget, now it shows me how to add flash buttons to your twitter blogs and websites. These are the widgets based on Flash animations and have some nice effects.These buttons can help Twitter Flash Spice up your blogs, Webssites and can help you gain more followers on Twitter. These are designed and developed by www.twitterflash.net. I'm taking all the 15 types of one-click install to your blog.
Social networking has revolutionised the internet in a few short years and out of it Twitter has emerged as one of the most popular and noteworthy social and information networks.
Twitter is a web-based medium based on the concept of an sms (without the associated cost), through which users can send and read messages known as "tweets". Tweets are text-based blog like posts of up to 140 characters which are displayed on the author's profile page on the Twitter website and delivered to the author's subscribers who are known as followers. Authors may tweet about anything they wish and Twitter is used for everything from conversational babble to presidential campaigning (Most recently by US president Barack Obama), education and emergency information relay.
There are currently 6 million unique users tweeting on Twitter and the site averages over 55 million visits each month, so if it seems like everybody you know is on Twitter, that assumption may not be far from the truth! Even celebrity A-listers like Britney Spears, Demi Moore, Ashton Kutcher, Snoop Dogg, Arnold Schwarzenegger, Jamie Oliver and Mischa Barton, affectionately known as the "Twitterati" are joining the ranks of Twitter in order to stay in touch with their friends and fans.
Not only is Twitter a great way to stay "in the loop" it also has a variety of cool add on applications like the ad buttons featured on this site which you can post on your very own website to recruit followers to your blog posts, because like most good things, the more you have the better!
So if you're looking for a platform to be heard, or if you'd like to hear from others, join Twitter and get tweeting today.
Features:
1.) SWF Files.
2.) Adjustable Size.
3.) Cute Animation.
4.) Link To Twitter.
5.) Different Background Colors.
How To Add In Blogspot?
1.) Go To Your www.blogger.com
2.) Open Your Desire Blog.
3.) Go To Layout.
4.) Click "Add A Gadget" Where You Want To Add It.
5.) Now Scroll To "HTML-JAVASCRIPT"
6.) Click "+" Icon To Add It.
7.) Now Get The Code From The Below Site.
8.) Leave The Title Empty.
9.) Click Save, Now You Are Done.
How To Add In Website?
1.) Just Go To Your HTML File.
2.) Now Get The Code From The Below Site And Paste It Between <body> </body>.
3.) Save It, Now You Are Done.
For HTML Code You Must Have To Visit The
www.twitterflash.net
Choose Your Desire Flash Button And Get The Direct HTML Link.
CLICK HERE TO GO TO SITE
Customization:
1.) Enter Your Twitter User-Name In There Form.
2.) Adjust Width And Height From There Widget Generator.
3.) Done.