Welcome to our blog post on "How to Get Started on Responsive Instagram Widget." Instagram is a powerful social media platform that allows businesses and individuals to connect with their audience and share visual content.
One of the most popular ways to share Instagram content on a website is through a responsive Instagram widget. In this post, we will guide you through the process of creating and integrating a responsive Instagram widget for your website so that you can showcase your Instagram content professionally and engagingly.
Whether you are a business owner, blogger, or marketer, this post will provide you with the knowledge and tools you need to get started. So, let's get started!
How To Get Started On An Instagram Widget?
With the help of social media aggregator platforms, you can easily create responsive widgets in 3 simple steps.
Here are the 3 basic steps that every social media aggregator follows to facilitate the entire embedding process.
1.) Collect:
The first part of the initial step is to simply log in to your account or sign up for a new one. On your dashboard click on the "Add social feeds" button.
Choose the source of your widget. In this case, we will take "Instagram" as our source. On the next pop-up window, you will see an option to put in the credentials of the chosen connection type from hashtags, mentions, tags, usernames, etc.
Once you put in the credentials, click on the "Create feed" button. The aggregator platform will fetch all content under that connection type from your Instagram account.
2.) Curate:
In the editor window, you can customize the widget and use various themes or templates to match the look and feel of your website. You can also use the custom CSS feature to further implement your imagination and innovation beyond the existing features.
Change the background color, edit the fonts, create a banner, add CTA, or play around with the many features provided by these platforms. You also get the option to moderate the content of your widget and get rights in case of user-generated content from original content creators.
3.) Embed:
Finally, click on the "Publish" button and a new window will open. Choose the preferred CMS platform from the list provided that includes WordPress, HTML, Wix, Squarespace, Shopify, etc. Adjust the dimensions of your widget, this depends on where you wish to display the widget.
An embed code will generate, copy the code and paste into your website backend. And that's it, your widget will be live on the website. Moreover, you get an analytics feature that gives you valuable insights into how your users are behaving with the widget.
Tools To Get Started On Your Instagram Widget:
Now that you are aware of how easy it is to create a responsive widget, let's look at some amazing platforms you can use to create not only responsive but beautiful Instagram widgets as well.
1.) Taggbox Widget:
One of the best and most robust platforms is Taggbox which helps you set your widget inside the website seamlessly. You get some unique features like UGC uploader that gives access to visitors to post reviews without having to leave the website.
You get many creative themes, easy configuration, responsive design, and other compelling features. You can create your very own hashtag feed, run email campaigns, and much more with just one platform.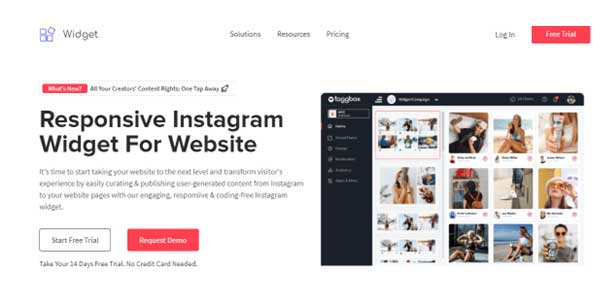 2.) Tagembed:
Tagembed is yet another social media aggregator platform that offers a lot of opportunities to make your widget more unique and responsive. You get a detailed analysis of your widget actions and user behavior, no. of views, target audience involvements, etc.
3.) Elfsight:
This platform helps users to produce sensational galleries and utilize their images and videos from Instagram. With the modification opportunities, you get 70+ adjustable configurations, more than 10 themes, and an easy-to-use interface that is compatible with multiple CMS platforms.
4.) Snapwidget:
Yet another platform is Snapwidget which makes it easy to modify the widget and install limitless Instagram feeds even in the free version. You can curate a beautiful Instagram slide carousel message widget, use a hashtag widget on the website for UGC marketing, and other features that facilitate more engagement and interaction.
5.) Embed Social:
Another outstanding platform is Embed Social which provides a variety of customization options and can install articles from multiple sources into any widget. You can also manage the posts that are going down, and make use of the filtering feature to feature the best posts only.
You get complete control over which blogs go public on your site, you can also increase the variety of sources and the number of inserted tapes. Moreover, boost synchronization once every thirty minutes.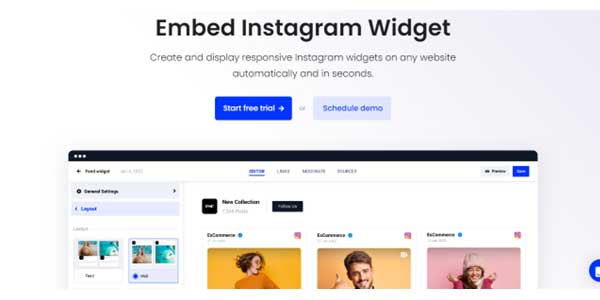 6.) Curator:
Curator.io's Instagram widget is a useful tool for businesses and individuals who want to showcase user-generated content on their websites or promote their Instagram presence on their website. It can also be used as a marketing tool to encourage users to share content with specific hashtags to be featured on the website.
The widget offers several customization options, such as the ability to choose the number of posts to display, the layout of the grid, and the colors of the widget to match the website's branding. Additionally, users can moderate the content that appears in the widget by approving or rejecting posts.
7.) Taggshop:
Taggshop's Instagram widget is a useful tool for businesses that want to integrate social media into their online store and leverage user-generated content to drive sales. It can also help increase brand awareness and encourage customers to share their experiences with the brand on social media.
The widget offers several customization options, such as the ability to choose the number of posts to display, the layout of the grid, and the colors of the widget to match the store's branding. Additionally, users can moderate the content that appears in the widget by approving or rejecting posts.

Conclusion:
In conclusion, creating and integrating a responsive Instagram widget on your website is a great way to showcase your Instagram content and engage with your audience. You can also use the widget to promote your Instagram account, drive traffic to your website, and boost your brand awareness.
Remember to keep your widget updated with fresh content, and be creative with the design to make it stand out. With a responsive Instagram widget, you'll be able to connect with your audience in new and exciting ways.