Running a smooth, functional and successful work environment isn't always a total walk in the park. Managers can reach for the stars, however, by making sure that their employees know exactly what's going on. If you're a diligent manager who wants to make sure that all of your team members are always in the loop, these strategies may work well for you.
Hold Regular Staff Meetings:
Routine staff meetings can do a lot for managers who want to make sure their team members are never bewildered. Be organized about scheduling these meetings as well. If you're not organized about them, you may easily neglect them and get off track. Aim to hold in-depth staff meetings roughly once a month or so.
Send Email Newsletters To Your Team Members:
Managing staff members can be a pretty time-consuming job. If you're strapped for time, you can think about penning informative email newsletters to send out to all of your employees. Make sure that these newsletters are extremely thorough and detail-oriented. Use proper formatting to ensure you get all of your points across clearly. Newsletters can be a great option for workplaces that don't have a lot of spare time for meetings.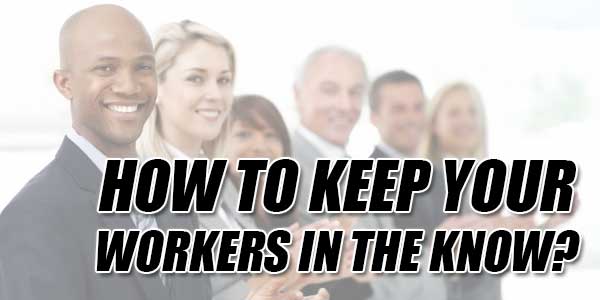 Encourage Your Employees To Ask You Questions:
It can be priceless to encourage strong communication in the workplace. Make sure that your team members know that you're always on hand to manage their questions and concerns. If you want to avoid the hassles of employees who simply haven't the foggiest idea what's going on, you should make sure they understand that you're ready to clarify things for them when they need you.
Set Up One-On-One Meetings With Your Employees:
Some employees may be reluctant to ask questions in the middle of big meetings. They may not feel comfortable speaking up in front of their colleagues. If you think that that may be the case, you should take the time to set up one-on-one meetings with your team members. These meetings can be terrific for managers who want to give their employees thorough and meticulous overviews. If you want to talk to your team members about workers' compensation, health insurance, or anything else potentially sensitive, one-on-one meetings can work beautifully. You can even talk to a workers' compensation lawyer if you have any additional questions about it.
Strong communication practices are the key to successful, happy and productive work environments. If your team members have no clue what's going on, that can lead to many issues in the future. Do what you can to keep them in the loop no matter what.