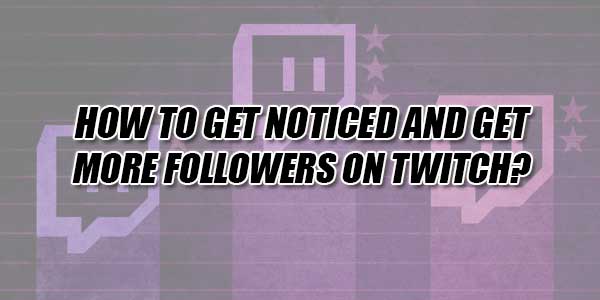 Whether you're after profit from monetizing your account or gaining recognition in the gaming community, the end game will all be about how many Twitch followers you have. That's why the majority of the time, the efforts of most Twitch streamers is in marketing and promoting their channel. Of course, gaining Twitch followers is much easier said than done.
Especially during the start, most Twitch streamers will have a hard time kick-starting their campaigns simply because no one knows them. So, to have more Twitch followers, you must be noticed and loved.
Here are a few tips for beginners to do just that.
1.) Create A Well Designed Twitch Layout:
If you want to get more views and followers, you need to make sure that your channel is worth your visitors' time. That said, you have to give off a good first impression. The way to do that is to create a really nice Twitch layout that can attract viewers. If your potential visitors like what they see, they'll view your live streams and follow you.
2.) Try Games You've Never Tried Before:
Gamers want to be updated on the latest game releases. But first, they check out live streams on Twitch to take a glimpse of the games before they decide to buy them. So, if you want to attract followers, then you need to always be updated on the new game releases on the market. Put the name of the new game in your title and start spreading your live stream on social media to get traction.
Of course, this means that you must be quick to learn the ropes about these new games. Furthermore, you need to buy the games while they're still new and trending. Most newbies have a hard time in this whole ordeal of being updated. For once, new games usually mean more cash to spend. But you need to play your cards well. Choose only those games that will be a hit to your followers.
3.) Show Your Novice Side:
Another thing you can try would be to show off your novice side. Now, do take note that this could be a double-edged sword depending on what game you play and how you portray. Showing your novice side could be really funny and entertaining because there'd be a lot of fails as you play.
However, doing this in a battle royal or fighting games will be really annoying, especially if hardcore gamers are watching. This tactic, however, may work if you play RPG games. This really works if you play one of those survival horror RPGs like Resident Evil 7 or Silent Hill. You can even record your scared screams and funny moments. This will definitely attract a lot of people to watch.
4.) Buy Followers On Twitch:
When you are just starting out, you'll most likely have no followers except maybe some friends. Of course, if the people in the community see that you don't have many followers, they might not want to watch your videos. This is why other streamers resort to buying followers instead.
Buying Followers on Twitch is a widespread tactic that only a few have mastered. This is because when your followers are found out to be bots and fake, your account will be suspended. However, there is a way to this dilemma. You can buy followers on Twitch, but make sure these followers are real people with genuine accounts. Instead of paying them cash, you can offer other stuff like freebies or vouchers in exchange for their follow. These people will not only add to your follower counts, they will also help spread good words about your videos, thus giving you more new potential followers.
A lot of streamers buy followers on Twitch so that they can give the impression that they have a solid fan base. That being said, we would like to emphasize that this tactic only works when you're just starting out. You still have to make quality live streams; otherwise, people will unfollow you.
5.) Buy Twitch Channel Views:
Aside from just followers, you also need to amp up your channel views. It will seem fishy if you have a lot of Twitch followers but not many channel views. This will show your audience that your "followers" are not loyal or are bots. If you want to buy followers on Twitch, you also have to buy Twitch channel views too.
When you buy Twitch channel views, you're giving people the impression that you've got a lot of people watching your channel— like you're a rising star in the Twitch community. Just like followers, a lot of streamers also buy Twitch channel views in conjunction. These two metrics would help increase exposure as a whole and jumpstart your channel.
6.) Get To Social Media:
Social media is one of the most powerful marketing mediums of this age because of the number of people it can help you reach. With social media, you can join Twitch community groups, promote your channel, view a like page, and post ads. This will allow you to gain a lot of views which may potentially turn to followers. Facebook, Instagram, and Twitter are pretty good social media platforms to expand your network.
7.) Stage A Performance:
People in the Twitch community want a streamer with a personality— someone who can entertain them. They need to have someone who is engaging and can make them smile, laugh, or give them something valuable to learn. That's why you have to make sure you "perform" every day whether there are only a little bit of viewers or not. And after each show, share your "performance" on your social media accounts. If people on social media find your video entertaining, they won't hesitate to follow you.
8.) Use A Moderator Chatbot:
Even if you have already attracted a lot of views and some followers, they won't stay if your channel isn't managed well. If your chat box is always full of trolls, spam, and offensive language, people won't see your channel and will just leave. Some good chatbots include Moobot, Ankhbot, Nightbots. Not only do they filter out the unwanted content, but they also organize your chat box, making it easier for you to communicate with your fans.
9.) Collaborate With Other Streamers:
One effective strategy to gain exposure really fast is to collaborate with other streamers who have more followers. If you have some friends who have a solid fan base, you can ask them if they can feature you in one of their live stream sessions. If your friend's viewers like your Twitch personality, they'll follow your channel, too.
Aside from that, try to go to meetups and events such as TwitchCon or MineCon. You can also check out other Twitch events in your area that you can go to. Make a few friends and see if you can collaborate with them. A lot of more experienced Twitch streamers would be glad to help out newbies gain more exposure. Just make sure you become their friend first.
10.) Join TwitchDB.TV:
This website is great for beginners. It allows beginners to have an introduction to the community. The website lets streamers connect with other streamers as well and share their interests in gaming. Joining on this website is a great way to make a lot of friends and a lot of connections. These connections can help you get more followers and viewers for your live stream sessions.
Conclusion:
The start is always the hardest part because you have to find out what works for you. It's definitely not an easy job to get followers from scratch as people don't usually give chances to newbies unless they have something to bring to the table. If you want to gain some exposure, then you must already know what you can bring to the table; otherwise, no one will follow you or even watch your videos.
These strategies have been used by a lot of Twitch streamers and have all been tested to work. Of course, it's up to you to implement these strategies in a way that works best for you. As long as you can apply these tips, increasing your followers base will surely happen.