Every business should work to improve its online presence. It's no secret that Search Engine Optimization is one of the best ways to make your website discoverable online and draw more users to look at your business. However, most of the SEO advice is geared towards B2C companies, and you can't directly apply everything to a B2B environment. We've found that many B2B companies have a tough time with link building. To make things a bit easier for you, we will take a look at the best B2B link building tactics in 2022.
Business Citation Websites:
An often-overlooked strategy for building backlinks is to have your business listed in online directories. However, when business owners put in the effort to list their business, it's usually by creating a Google Business profile. While that is a good strategy and one that is crucial for small businesses, B2B companies need to think on a larger scale. For local businesses, most of their customers are walk-ins who find them on Google Maps. If small B2C shops aren't listed on Google Business, they will lose out on a large portion of the impulse purchases that local customers often make.
Now look at your B2B company, and consider how many purchases were made on the spot by random, walk-in customers. This doesn't mean that business listings don't matter. However, it would be best to focus your efforts on reputable directories that can list your website and allow you to place additional links. Citations are one of the best B2B link building tactics in 2022, and if you search around the web, you will quickly find many paid and free business directory websites. Google crawls those sites, and your listings there can help boost your SEO.
Guest Blog:
It's a prevalent practice for business websites to have a blog where they post articles and other content. However, content creation is a lot of hard work, and many of the site owners will be open to accepting guest post submissions. They will likely let you include a link that points back to your website as a return favour. Link building through blogging is a great way to bring attention to your website. Although for this tactic to work, you will need to provide the blogs with high-quality articles which are well researched and properly structured.
You should remember that the website's authority you are writing for can influence the SEO gain you receive. Find out who the most respected sources are in your line of work and reach out to them. Even if your competition owns the websites in question, they could be willing to engage in cross-promotion where you can both benefit from this B2B link building tactic.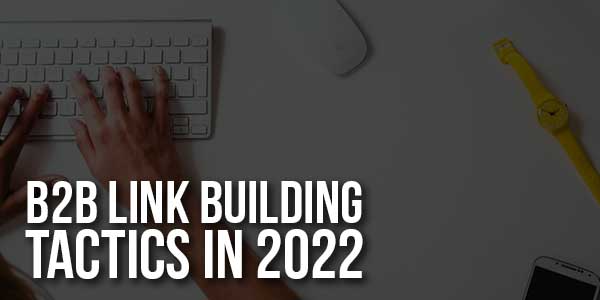 Have A Presence On Industry-Related Forums:
Businesses that fall into the B2B category usually try to make a name for themselves on social media. However, B2B companies don't typically target the average users. For B2B, the average customers are managers, executives, engineers, programmers, and sales coordinators. Therefore, you should look to other places where those professionals gather. For some businesses, that could be LinkedIn or just social media in general, but you should do extensive research and find out everything about your B2B e-commerce niche. Are there dedicated forums or websites catering to your niche? If there are, you can reach out to the web admins and start posting links to your website there.
E-commerce has grown incredibly over the last several years, and that has caused the appearance of influencers for various topics. Nowadays, there are even micro-influences targeting small niches or focused on specific industries. Find out if someone like that is already famous in your branch and reach out to them. Influencers can help you expand your reach, regardless of which platform you plan to focus on.
Create Sharable Content:
With all of the changes to online marketing, one constant hasn't changed – content is king, and it won't be dethroned anytime soon. One of the best B2B link building tactics in 2022 is to create quality content and let others spread it across the internet for you. Social sharing can have a huge impact on the SEO of any B2B website. Of course, there are various forms of content, and not all of them are equally suited to each purpose. For this reason, it can be an excellent tactic to diversify the types of content you create.
When talking about SEO, written articles are naturally a great form of content because they will let you place internal links within the body of the text. Articles are also good for inserting relevant keywords. However, when it comes to social sharing, the type of content that gets the most interest from users is infographics and videos. For example, if you want to produce content for social networks, your best bet is to focus on vertical videos.

Press Releases:
Media outlets can also be excellent for link building. Create a digital media press kit and reach out to various media outlets. Your press kit should include things like your company logo, a short description of your company, and your mission statement. You can also include details of past media coverage or videos and articles others have done on your company.
When deciding who to reach out to, the best choices should be either industry-specific newsletters or your local media. However, if you want the media to cover your business, you should also give them something to write about. In the case of local news websites, you can consider hosting or sponsoring a local event. This tactic can improve your SEO and build goodwill with the local audience.
In Conclusion:
As any experienced marketer will testify, you can never have enough backlinks for your website. We've given you the best B2B link building tactics in 2022, which you can immediately apply to get a boost to your SEO. You can use the tips from this article to gain an advantage over your competition.