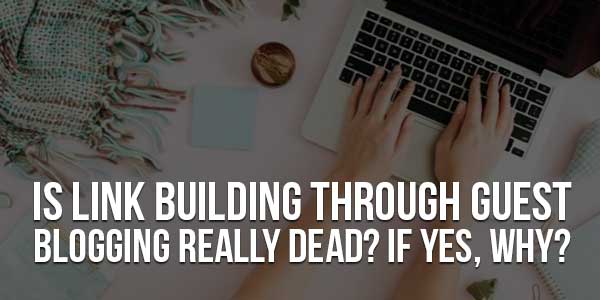 For blogging and for business also, link building is a crucial tactic for pushing a website higher in the SERP. With an excellent link-building strategy, companies have a better chance of gaining a higher rank in the SERP.
It is also an effective method for gaining a healthy amount of referral traffic to your website. As a result, you can drive more sales with more conversion of the acquired traffic on your website.
It is easier for Google and the other search engines to look for good quality content when there are backlinks inserted into that content.
Usually, link building has been the strategy of many blogs and businesses. However, with each new core update of the Google search engine, SEO workers often wonder how far link building is and will remain effective.
Many website owners feel that link building through guest blogging platforms has become backdated. If you are worried or doubtful about guest blogging being ineffective for link building, then you need to follow this article.
But first, you need to know what guest blogging is and what link building is.
What Is Guest Blogging?
There is a very straightforward concept behind guest posting. It is simply a method for sharing your expertise about a certain niche on someone else's website.
As a blogger, you create content for someone else's website and get them to publish your article on their website in exchange for backlinks that point to your website.
If you have expertise in a specific niche that you can offer expertise about, you can use guest blogging sites like BloggerOutreach to get more authoritative websites to link back to your website.
It can prove extremely effective coupled with white hat SEO in improving your business's ranking and building brand value.

What Is Link Building?
Link building is a strategy of gaining hyperlinks for your website so that you can increase your site's ranking in the SERP. As a blogger, you can use link building to link higher authority websites to your web pages and increase your search ranking and referral traffic.
Google sees links as a testimonial that guides it to rank a page or a website in the SERP. So as you link your page to higher authority pages and websites, it sends a good signal to Google, helping your page to rank higher in the search engine.

Is Guest Blogging Dead?
There are many rumours about guest blogging being dead and ineffective for building links. However, there are also reasons supporting link building and guest blogging being an effective medium for building healthy links.
Here are some reasons why guest blogging is still effective.
Reason 1:
Matt Cutts never meant that Google would punish those who engage in Guest Posting for link building. According to him, there are plenty of good reasons for doing guest blogging, for instance, building a brand, increasing reach, and gaining exposure.
According to him, high-quality content will get their much-deserved reward. On the other hand, spammer individuals will have a hard time ranking their articles in the SERP. But there was no insinuation above the guest posting being dead.
Reason 2:
No search engine, like Google, Bing, Yahoo, and others, cannot understand the differences between guest blogging and regular blogging.
There is no such algorithm to differentiate between guest blogging and regular blogging. But it would help if you remembered a few things when guest posting. For instance-
Don't publish content of low quality and are terrible on any blogs.
It is better not to include irrelevant links to the content you are publishing.
A sudden variation in topic and subject matter makes the insertion of links forceful. It would help if you avoided it as well.
This kind of guest blogging will only get your website down in the SERP. Cutts has been trying to stop this kind of guest blogging.
Reason 3:
No one's going to rank in the SERP using spammy content. Google highly forbids spammy content and publishing copied content. As long as you are keeping the quality of your content consistent, you have nothing to worry about.
When you publish high-quality content through guest posting, there is a high chance your content will rank.
Reason 4:
Guest blogging is not as selfish as many thinks of it. It can be a way to build relationships within niches. You can share your expertise in one niche through another person's blog just to spread knowledge and research among more audiences.
It can be a method of organic and social sharing; as a result, guest blogging may thrive even in the future. When you are contributing insight through guest blogging instead of being only hungry for links, Google will have no reason to punish you.
Guest Blogging Is Not Dead:
Guest Blogging is not dead, nor is link building through it. On the contrary, links are highly important for google and other search engines for determining ranks. That is why the process of link building through guest posts is not stopping anytime soon.
If you are still doubtful, the four seasons mentioned here in this article should. Also, if you have any further questions, you can ask them in the comment.