One of the fastest-growing elements with the help of technology is the internet. It helps us in communication, online shopping, gathering information, online education and etc. All these things are possible with the help of correct marketing and promotion. This is the reason digital marketing or internet marketing has become an essential way of promoting products or services in front of the world.
According to the world-famous magazine Forbes, 85% of people use the internet to search for various kinds of information. This proves the importance of the internet in every individual's life. Every business wants to grow online because they understand that being available digitally can help them gain huge profits and take the business to another level. Still, there are a lot of people who are not aware that how to go for efficient marketing and promotion. This is the reason many startups are not able to survive for a long time in the market. It is vital to understand the importance of internet marketing and how to make it effective. Let's understand why internet marketing is essential for individuals and business:
It is an authentic form of marketing in today's time.
It is a highly affordable form of marketing.
It is easy to monitor the growth and error to make a rapid change.
A simple way to target idol buyers.
Internet marketing can help you reach your target audience on social media.
Easy way to connect with the target audience who are using mobile phones.
Digital marketing is an impressive way of connecting with the target audience, here are the best ways to make internet marketing more effective:
Content Marketing:
One of the best ways to generate traffic on the internet is through impeccable contents. The content can be of numerous types like articles, blogs, web content, video script and etc. Though impressive content, you can help your business by growing its visibility. It is essential for the business to provide content which can connect with the audience easily. There are a lot of people who just believe in putting random content on the web but that is not going to help.
It is important to leave a long-lasting impression in front of the clients so that they can take an interest in every new post by you.  Apart from website content and blogs, social media is also an essential way of sharing the content. You don't have to write a large page on it as it can be easy to just spread the news of your product or service and connect with your target audience.
Search Engine Optimization:
SEO is one of the vital terms in the world of internet marketing. You can make a content plan, write excellent content and then hope to get some traffic but that becomes impossible. That's where SEO plays an essential role. With the help of SEO, you can generate keywords that help to generate traffic. The keywords will be used in the content and that will help to increase the value of the content. It is said that a website with optimized SEO has an impressive conversion rate which helps the website to load the pages faster and load the video and photos properly. SEO also helps to target the right audience. A person searching for information on a browser can easily get to your website which has been built with accurate keywords.
Video is one of the most famous forms of marketing nowadays. It is easy for individuals to look at the visuals and understand the things. Especially when it comes to selling a product a video can help to increase the authenticity of the product as the audience can clearly judge the product on the basis of its visual presence. It is said, that video helps a website to hold the target audience for more than 2 min. on a single page. This helps to increase the demand for the website. Social media is one of the most essential ways of sharing videos. Be it Facebook, Twitter or Instagram. You can clearly share a video and wait for the audience to respond to it. Video marketing is a part of internet marketing and it helps to build trust with the audience.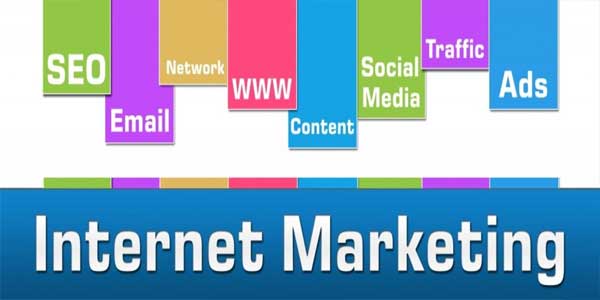 Social Media Marketing:
As the internet has become accessible for all it is one of the most important ways of communication and spreading the news. The social media sites have immense traffic as it has become vital for everyone daily lives. According to Facebook, it has more than 2.2 billion monthly users and Instagram has more than 1 billion. This figure clearly shows that a business can easily find its target audience on social media sites. It is almost free and you use it as much as you want. Make your work more interesting with good content, photos, and videos. You can even connect with your audience through comments and make them realize that you are a trustworthy brand.
Pay-Per-Click Advertisement:
It can be a crucial way to make internet marketing strategies more effective. It is known as one of the instant and direct ways to connect with your target audience. You just need to recognize the best websites from where you can get your target audience. It can be a social media site or a website which sells products related to your service. Your advertisement will be on that website and when an individual will click the ad, he/she will be directly transferred to your website. This way you can play the website according to the price set for one single click.
Collaborate With Influencers On Social Media:
Many individuals on social media have become popular due to their talent. These can be bloggers related to fashion, food or travel, etc. If you are growing your business through social media platforms, it is essential for you to connect with these influencers and gain some profit out of their popularity. This collaboration can be paid or even unpaid. For example, you have a restaurant and want to promote it on social media. You can connect with a famous food blogger who can promote your food items on his/her social media sites. In return, you can offer the blogger some free meals or a family dinner.
These are the most effective ways of marketing your business on the internet, you just need to follow these points so that you can achieve amazing profits and grow your business rapidly.