It's high time for all businessmen to roll up their sleeves and go mobile! Yes you actually took it right… "Being Mobile" is in trend. If you are a techno-enthusiast & have keen interest in knowing about the latest trends of the web world then surely this is a news for you. The search engine giant- Google officially announced "we will be expanding our use of mobile-friendliness as a ranking signal", which means that responsive website design is now becoming the pulse of the digital commercial market.
In 2015, nearly 2.16 billion smartphone users are evidently contributing to the bright future of responsive web design trend. The increasing percentage of mobile internet users has significantly surged the growth of E-commerce across the globe. Moreover, the demand of mobile-friendly websites is also increasing day by day. And, as a conscious businessmen, your must be aware of the fact that the visibility of your website particularly determines the credibility of a business's brand value and its reach with in the digital audience. Hence, to serve 83% of total mobile users, you need to get a responsive website which is compatible on all the internet-enabled devices.
Responsive website design is beneficial to all. Like at one end, the responsive websites scale effectively over different mobile devices while for the business owners, these websites come up with an extensive navigation feature that helps them to serve global clients uniformly across all the screens.
Knowing all these facts, you must be interested in knowing the best Responsive Website Design Provider and so I have compiled a list of few remarkable companies having a forte in delivering unique responsive website designs.
Here Is The List Of Top 10 Best Responsive Website Design Company:
Check out the list of top 10 best Responsive Website Design companies websites.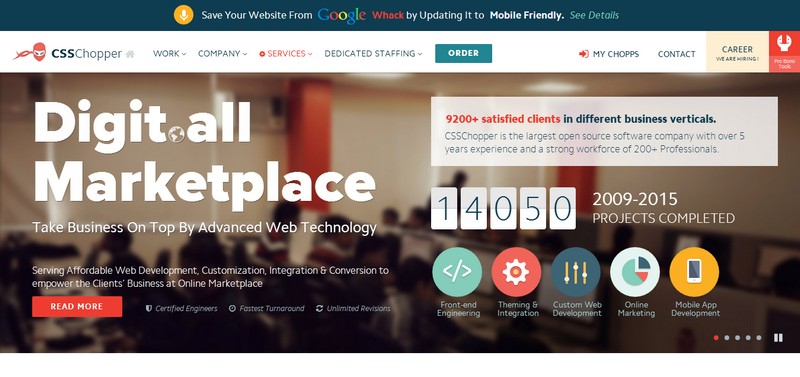 As a responsive web design service provider, CSSChopper specializes in optimizing websites to a level of mobile receptivity and compatibility. The ardent team of web developers of this company skillfully work to develop highly innovative responsive business solutions that ensure an array of social media prevalence on Facebook, twitter,Linked In, etc.

This New York based firm inculcates the best and proven methodologies to build highly compatible & customized websites for brand establishment. It incorporates an expert team of developers who believe in delivering the best web development projects.

Sparx IT Solutions is a leading offshore web development company that boasts it excellence in developing & delivering the tremendous responsive websites. The company's website itself clearly shows the reason for its rising demand amongst entrepreneurs.

The team of professional developers at Stectech strives to create commercial websites that bespeak the story of the business's brand value. The result-oriented strategies and customer satisfaction are the key factors of its increasing demand in market.

PSDtoMagentoDeveloper is a responsive website design company that empowers the users with quintessential responsive websites to trigger innovative marketing strategies. This IT firm is a remarked mainstay of web design and development services across the world.

Forge and Smith is an incredible responsive web design firm that utilizes the best abilities of its ardent developers who work with acute precision, passion, and persistence to deliver outstanding results.

HireWebDeveloper is an expert team of dexterous and professional web developers having dynamic competent skills to develop innovative responsive websites. As an established web development firm, it stands out among other companies to deliver methodological websites with high compatibility across multiple browsers and devices.

Cynexis Media is a contemporary web designing firm that utilizes the proven internet methodologies to optimize the websites to a level of cross-device compatibility. The professionals of this IT firm hold the extensive experience of developing innovative web designs and mobile applications.

PHPDevelopmentServices is a globally reckoned web development company which utilizes both conventional and latest strategies to perform responsive web development projects. The skilled developers of this company use proven coding standards to deliver quality solutions.
10.) Markupfirm:

Markupfirm is a versatile platform that constitutes a team of professional developers who are well-versed with their field's knowledge to deliver quality-rich web development projects. This pioneered global IT firm encompasses an extensive business portfolio.
Now, considering the distinct features of all these companies, you can choose the best-suited option for business requisites. This list of responsive website design companies will definitely help you to opt for the best option for your business project that will help you to move out from the world of assumptions into the reality.
Feel free to send your queries and feedback in the comment section below. I will be glad to entertain your valuable suggestions and reviews.