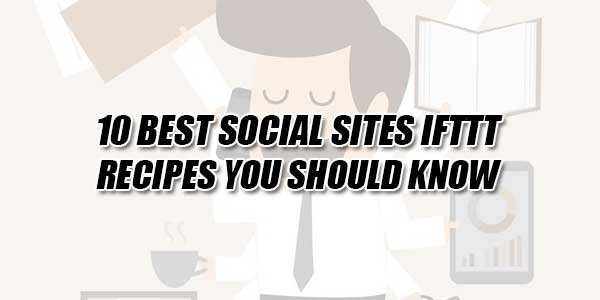 Are you a part-time blogger or just having issues managing more time for your blog? Writing, planning and publishing a blog post generally takes a lot of time. Apart from this, a little more of your time goes into sharing the newly published post to social media sites or channel.
I've been searching for something that could automate this "sharing" thing whenever I publish a new article on my blog. I came across many tools including Buffer, Buzzsumo and Sprout Social but to my surprise, all were limited and all the amazing features fall into the paid option.
When you're a budding blogger, you don't have that much amount to pay. While searching for several tools for social media sharing automation, I came across IFTTT.
Basically, IFTTT stands for If This Then That and it uses applets or says recipes to do any operation.
For example,
If [WordPress/Blogger Blog Post Published],
Then [Share on Facebook With Image]
I hope you got the point. The above example triggers automatically when a WordPress or Blogger blog post is published, then it shares its link to social sites with the image.
Let's take a look at 10 Best Social Sites IFTTT Recipes.
1.) Automatically Tweet Your Blog Post [WordPress/Blogger]:
This recipe automatically tweets your blog post link once you press publish button in WordPress or Blogger. Additionally, it will also Post Blog Post title. This recipe is best when you don't want your twitter followers to miss the blog post from your blog.
2.) Share Your Blog Post On Facebook Page [WordPress/Blogger]:
All of the blogs mostly have Facebook pages. You need to keep it updated with your new posts or you lose the engagements and views eventually all the followers and likes. This applet does the job of posting for you and you don't even need to spend time on it.
This is the cool applet. It allows you to automatically pin new posts to the Pinterest board. Pinterest drives crazy traffic to blogs therefore, this is something you should be doing.
When you have amazing pictures on Instagram and you don't want to lose them then this applet is for you. Since you never know when you break Instagram rules or your phone may get lost or damaged. In this case, this applet allows you to automatically store photos to Dropbox whenever you post photos on Instagram.
It is indeed a fact that 140 Million Unique visitors visits Twitch as of August 2018. But wait, how do you tell them when you're going to live stream on twitch? Well, this applet comes to your rescue. It automatically tweets to your Twitter followers when you start streaming on Twitch.
Do you change profile pictures often? It's pain to log in to twitter account every time to change profile picture whenever you change on Facebook. This applet helps in changing your Twitter profile picture whenever you change it on Facebook. You clearly save the time by avoiding login to twitter every time for changing profile picture.
There are circumstances where you need to archive things uploaded to Facebook just in case. This recipe helps you to do that automatically every time you post status on Facebook. This is really a great idea.
Well, Twitter do provide integration with Instagram that allows you to share whatever pictures you post on Instagram on Twitter as well but that doesn't count as native one as it will be linking directly to Instagram. It's not like you uploaded it directly or say native. This recipe do help you in posting the pictures you posted on Instagram as native picture on Twitter.
Cool right? Yes, it is. You get alerted via Email whenever someone mentions your company or your name on Reddit. By this recipe, you can keep track of your name mentions easily also you can get an idea on where your brand or name is mentioned.
Last but not least, you can activate this recipe to get even more interesting and recommended applets or recipes right in your inbox. There's no hassle or searching for applets. You can easily get one right on your Email and try it.
It is no doubt that IFTTT is widely used when it comes to Social Media. You get tons of recipes for Social Media and even for cross posting which really saves your time. Apart from this, there are bunch of IFTTT recipes for your Android & iOS which can do plenty of automated tasks.
If you're a blogger, then these recipes are definitely for you.