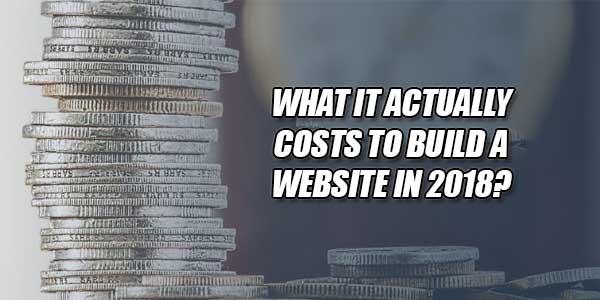 Are you thinking of building an ecommerece website or maybe create an online presence for your small business? It's fairly easy to create a website these days. But the real question is how much it would cost you to build one. The prices related to creating and maintaining a website may change every year. In 2018, you may say that you can build a website anywhere from $0 to $10,000, depending on what you want included on each page.
But while it's true that you can practically build a website without spending a penny, you have to realize that it means you'll do all the work. There are free hosts that you can try and they also offer free templates for your site. However, you have to first understand how they're get revenue out of the free service that they provide. Some of them use ads on the actual web pages created in order to compensate. And it's a different story with domain names. If you're settling for the freebie, you can't be too choosy. You'll be given subdomain names and not your very own dotcom site, so don't get your hopes too high.
In reality, it's hard to estimate how much you'll spend for a website unless you have a clear idea on what you want to put on your site. You have to consider the money you'll pay to the web designers, graphic artists, content writers, web coders, and app developers. It also depends on how many pages you need and if you also want each page optimized for search engines.
Let's say you only want a basic site like a blog, online gallery, or simple landing page. That will cost you around $200 to $400 per page. Of course, the price gets higher if you want more features and more pages for your site. If you want a specially designed custom CMS installed, that could take you back at least $2,000. E-commerce sites usually start at $3,000 while highly customized websites can go as high as $10,000.
Those are just the prices for building a website and there are other expenses to also consider. First, you have to pay for the domain name annually, which price starts at $15. Your hosting fees may run anywhere from $250 to $500 per year, depending on the kind of plan that you have signed up for. If you also need SSL certificates for your site, that would be $50. Web maintenance fees are usually the bulk of the expenses here, and it could cost you up to $1,000, depending on how frequently you want your website changed or updated.
So before you go out there to hire a company that will build you a website, have a good idea of what you want so you can work within your budget. Here are some questions to guide you:
1.) How Many Pages Do You Need?
Generally, you'll need a front page and a services or products page. How many products or services do you want featured? Would you rather have them all in one page or do you want a dedicated page for each? Also, you may want an About Us and Contact Us pages to go with all of these.
2.) Are You Willing To Use A Template?
Using templates is normally cheaper than requesting for a custom layout from your web designer. If you're worried about stumbling upon another site that looks exactly like yours if you use a template, don't be. The chance of that happening is low if you opt to purchase a template instead of using a free one. Also, you can request your web designer to do some tweaks to it so it won't look too much like the original template.
3.) Do You Need Custom Apps Or Plugins?
Installing web apps and plugins may cost a lot of money because they need to be installed and would require customization. You may need an app expert to do this for you. You may be charged for every application that you want running on your site.
4.) Who Will Create The Content?
Web designers can only do a lot with how your website looks but they rarely write the content for each web page. You might have to hire another professional to write copies for your website. Or if this is something that you can do, you may take charge of the content. That's going to be less of an expense for you.
A good website doesn't just look good from the outside. It also performs very well from the inside. It's the combination of all these that makes a website great. So if you want to build a great blog, it pays to get the WordPress hosting provider, web developer, graphic designer, and content writer. It may cost you a few thousand bucks but it's all worth it.
Was this article helpful and informative? Leave us a comment with your thought in the section below.