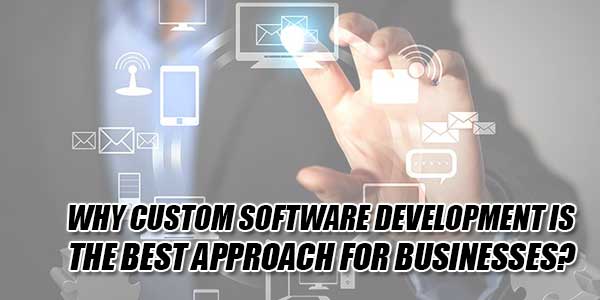 Every company has to take help from another at some time or another in its business cycles. This help may be for customer service or for marketing. However, for every problem the company has, it will require sophisticated software to solve problems. It will wonder whether it should pick up a ready-made solution off the shelf or get something made through custom web application developments. Customized solutions will be the best bet for any company. The reasons for the same are elaborated below. Although, some of the reasons may seem flimsy, they may turn out to be the real issues that the company may face due to which it may be going for customized solutions.
One Size Does Not Fit All
You may argue that there are varieties of software solutions from different developers, which are ready to be picked off the shelf. Then why must we resort to developing a specialized solution, from an outside vendor. This is because the readymade solution may not fit your company problem. Each company has its own business processes and therefore their own problems. A solution picked up from the shelf may not be able to solve the problems in the company. If however, you get a customized solution from an outside custom web application Development Company, it will fit your company's situation.
The Cost Might Be Less Than You Think
It is believed that a 'custom' solution will cost more. However, this is not the case always, when it comes to custom software development. Readymade software may seem cheap in the short run, it may not solve the organizations problem totally. Therefore, if you are looking for a long-term solution to your business problem, going for customized software is the best option. A readymade software may seem less expensive initially, it may create more problems than it can solve. Thus, customized software, designed keeping in mind the specific needs of your business will be less expensive than you think.
Improve Integration
Custom software helps integrate all the business processes into one application. This application can then be used to solve business problems. While getting your customized software developed, you need to liaise with the development team to tell them which business processes you want integrated into the customized software application. This will help you to improve overall employee efficiency and improve customer relationships. Custom software will help you better as opposed to software picked up from the shelf because the former is developed keeping in mind your business problems. Thus, a customized software solution is a better option as opposed to a ready-made solution, for your business needs.
Increase Your Company's Value
If you pick up a ready-made solution from the market, it will mean investing your hard-earned money in someone else's company; however, if you opt for custom web application development then you are ploughing back the profits earned from business into your own company. You can also give your competitors a run for their money because while you are opting for a customized solution, he may be using outdated software. Therefore, using customized software improves the value of your company and makes it competitive. As a company becomes competitive, it increases in value. Thus, developing customized software is the right option to go for.
Ongoing Support From The Software Development Team
If you use a customized solution, you will get ample support during and after the installation of the software in your office. In case of ready-made software, after sales support is generally absent or existing only on paper. The support from the software development team will be until you are using the software developed by them. Whatever issues you may be having in implementing the software, they will help you straighten them.  Thus, it is always better to opt for customized software solutions, which give ample support during the tenure of your use of the software.
Thus, it is amply clear that going for a made-to-order software solution is better than opting for something off the shelf. In other words, custom software development is the best approach for businesses. This article has shown why.