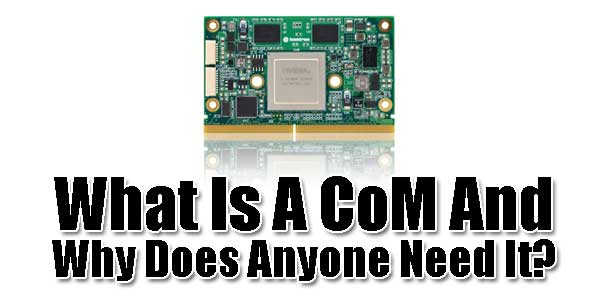 There are lots of acronyms in computing, but CoM may be one that you aren't yet familiar with. CoM stands of computer-on-module and is sometimes referred to as a system-on-module (SoM). This guide provides a quick overview of what CoMs are exactly, what they are used for, and why you may want to use them.
CoM Components:
A computer-on-module is a complete computer on a single circuit board. It is the middle ground between a microcontroller and a full-up computer. CoM boards come in many different variations, but the key components of a true CoM are:
RAM
Microprocessor
Ethernet
Memory
I/O option
Connector for a baseboard
Wired connections make it possible for the CoM to connect with the baseboard, also known as a carrier board. Numerous entities have created CoM standards, which are aimed at helping to make it easier to use components from various vendors when configuring a computer-on-module. Some of the standards are specific to a certain company, but the ones below are universal and apply to various vendors:
COM Express
PC/104
SMARC
QSeven
If you want to modify a CoM, without being limited in the components that can be used, the resources above are excellent guidelines to follow.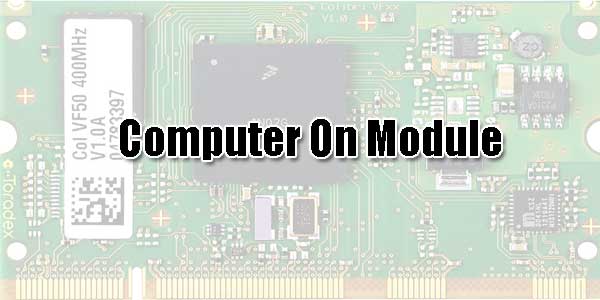 Why CoMs Are Useful?
One of the biggest benefits of CoMs is that they are highly configurable. This allows them to be built for a specific purpose, particularly tasks that require a smaller embedded computer with custom input/outputs. They are used most often for scientific or industrial purposes rather than consumer applications. Common CoM uses include:
Custom data collection
Transferring data to another devise
Embedded computer tasks
Processing
Applications that need low power consumption
Projects where space is critical
One drawback of CoMs is that their size doesn't usually allow standard connectors for peripherals to be connected directly to the board. This is because the CoM board is only about 4 inches long by 2-3 inches wide. However, the beauty of a CoM lies in its ability to interface with different devices that have a variety of connectors. These standard connectors are typically a part of the baseboard.
Why You'd Want To Use A CoM?
People that purchase this type of computer module are often looking for flexibility. CoMs system designers can create completely custom electronic assemblies with unique interfaces and form factors. Another advantage of using a CoM/baseboard configuration instead of a standard single board is having the ability to upgrade systems more easily.
Now system designers don't have to build from the ground up. Building a custom baseboard design with a CoM is a relatively quick process that minimizes development time and reduces the resources needed. Both of these factors make CoMs a cost efficient option. Upgrading a modular CoM system also costs less since multiple CoMs can be added to a single baseboard.
An added benefit to this plug-and-play system is lower risk. CoMs are essentially off-the-shelf hardware that's already built out and ready to use. This usually equates to fewer technical issues and troubleshooting compared to a completely custom-engineered system, and it ultimately speeds up the project delivery.