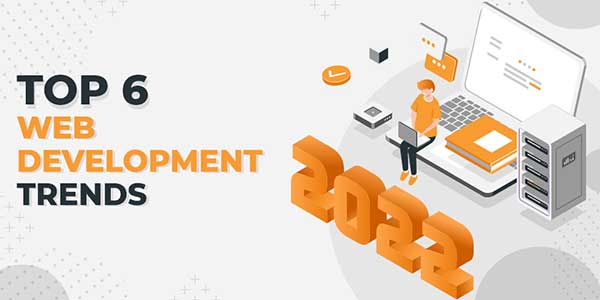 At the time of writing this article, the number of websites present across the globe stood at 1.18 billion. And we are sure by the time you reach the end of the article the number would have increased by some thousands. Such is the growing demand for websites – a demand that is constantly met with a live website being developed in record time.
Over the years, websites have seen a transformation. What started off as slow, content-heavy pages have now become minimal and offline working. For a website owner or someone who aims to launch a new website soon, it is important to be updated with all the new offerings in the web development space. Only when they know what's new in the space will they be able to join the list with a built for success digital platform.
In this article, we are going to look into some of the top development trends that every top web development company swears upon.
The Top 6 Web Development Trends For 2022:
The list that you are going to peruse now is a combination of some of the most likely to happen web development trends of 2022. However, if we know anything about the digital age, we know that it is very uncertain. So there is a very good chance that by the time the year ends the list gets replaced with some other trends or more will get added into them.
1.) Better Cybersecurity:
Every website, irrespective of its size is susceptible to hack and security breaches. Thus, having a dedicated focus on security is going to be the biggest trend of 2022. We are poised to see more and more websites using multi-factor authentication to prevent their users' information, moreover, websites will be using AI and Big Data technology to monitor and highlight any unlikely event or transaction.

2.) Mobile-First Development:
Although traditionally, websites have been viewed mostly on desktops or laptops. The event is changing very speedily. An average user today is more likely to view and interact with a website from their smartphone than their laptop. This is one of the reasons why Google has been focusing its search ranking metrics on AMPs and a mobile-first experience.
On this note, it is very important for businesses to ensure that there is a seamless transition between their mobile-view website and desktop-view website.
In 2022, we are poised to see designers and developers shifting their focus on creating a truly mobile-first experience when it comes to design, experience, and ease of doing digital events.

3.) Serverless Architecture:
Websites, for a very long time, have been victims of data loss, system overloading and high development costs. The web development domain has been looking for a solution to these issues for a very long time. A solution that today they have found in serverless architecture technology.
Serverless architecture works on the cloud, enabling the users to run every code for any app or backend with zero administration dependency. Backed by benefits like the elimination of provisioning, the need to upgrade servers, serverless architecture is poised to be one of the most used trends of 2022.
4.) Progressive Web Apps:
In 2022, we can expect Progressive Web Apps to replace web apps for good. By helping websites load in real-time and the provision to be accessed in an offline mode, PWAs are the next big thing in the web development space. A number of top brands like Twitter, Pinterest, etc. have already launched their PWA versions and are benefiting greatly from it. This year, we are poised to see a rise in the number of brands joining the list.
5.) Motion UI:
Today, customers are not just looking for faster digital experiences but also interactive and richer. The result of this need has been the greater incorporation of motion UI in web platforms. It is a front-end framework that enables developers to create responsive websites with defined motions and native app settings. Through the framework, the users get to interact with a UI that has element slide, bounce, spin, transition, and several other interactive systems.

6.) Low-Code, No-Code Web Development:
The web development space is witnessing a rise in drag and drop based low-code, no-code platforms. These platforms eliminate the need for hiring a web developer by making it easy for someone with little to no coding expertise to build an entire website. Popularized by WordPress, the sector is now seeing a rise in the competition coming in from Wix, Elementor, etc
Here were the top 6 web development trends that the digital space is going to witness the rise of in 2022. The list, however, is very open-ended. There are going to be a lot more trends joining the list – all having the same intention: better user experience.