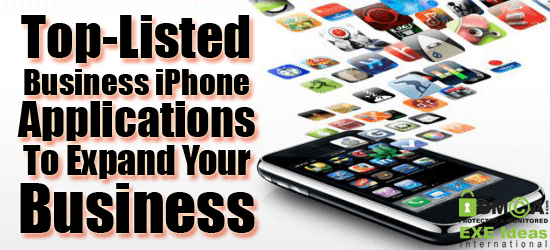 Are you a busy businessman, who does not have to time to seat and take fresh breath? Are you facing lots of problem to manage your business transactions, docs, sheets and expenses? If yes, then iPhone brings a complete solution for all your business problems as it is a perfect smart-phone that loaded with innovative and pioneering business applications. Through iPhone business applications, businessmen can easily manage their emails, docs, calendar, and sheets, stay connected with their clients, dictate voice memos and much more. In iPhone5, you can also play casino games.

We can say that iPhone business applications offer beyond your expectations and make your work easy and hassle-free. Now, you don't have to wait to go office to complete your work as you can easily manage your lots of work from the comfort of your home or from anywhere. You can find lots of business applications for your iPhone that also help you while you are out of station or travelling. iPhones make the life of busy businessman much easier than before as they can organize their business without any tension no matter whether they are on road, home or office. Everyone wants iPhone.
Businessmen can find various in-built business applications in their device; however, they can also use third-party applications that are especially developed for iPhone. We all know that App store is full of applications of almost all the categories like business, education, learning and more. But businessmen need to consider that they use top-listed business applications for their purpose as top-listed apps are user-friendly, reliable and best to give results. Now, many of you look for the top-listed business applications to download for your iPhone. Therefore, I have shared some of the best and top iPhone business apps that you can use and make your life easy. If you are blogger then you also learn about i-Phone 5 that what it can do.
Dropbox:
When it comes to talk about the top iPhone business application, Dropbox is one such application that comes in everyone's mind as it allows you share and sync your important documents, files, sheets and other data between iOS devices and computers. It also offers you 2 GB of free online storage to save your important data and docs that you can easily from your computer, iPad and iPhone without any hassle.
Best part of this application is that it allows you to upload your favorite music and songs in your Dropbox account and you can easily listen that uploaded music from iPhone. For busy businessmen, Dropbox application is like blessing as it allows them to share and save their important data, files and documents that they can easily view from anywhere and anytime. You can also add files to your Favorites for quick access, offline viewing and more.
Recorder Pro:
Recorder pro is a powerful cheap Viagra audio application, which is a top-listed application on the iTunes store under business category. It is one such application that businessmen to record their notes, ideas, lectures, presentation discussion, meetings and much more. No matter, whether you are looking to record any audio of lecture or meetings for hours or just or few seconds or minutes, Recorder pro is an excellent solution for you.
Running without any problem, this application also allow you to transfer your record files using Wi-Fi. You can also sync files with iCloud, USB or with Dropbox or Box.n. You are also allowed to lock your record audio files, discussions and more if you do not want share it with anyone else. I must say, it is a must have application for businessmen to record their important discussions and meetings.
Dragon Dictation:
Dragon Dictation is third on my list as it is one of the excellent business applications that easily record your voice and transcribe it into text. This application is five times faster as compare to typing on the keyboard. It allows you to quickly compose your emails, messages or if you want to update your Facebook or twitter profile.
Dragon dictation is completely best and user-friendly voice recognition application that you can use for both iPhone and iPad. This application also offers convenient editing feature that offers you a list of suggested words. So businessmen get ready to download this application that makes your work tranquil.
Evernote:
Today, there are many businessmen for whom taking and writing notes is much important part of their work. So Evernote is such application that allows them reliable way to save their ideas and tricks. They can easily improve the productivity of their business by writing their thoughts and different business ideas that they have in their mind.
They can write notes also in meetings, discussions and presentations and remember each and every point that is important for them. It is one of the best applications for businessmen to use as it allows them to take notes, create to-do lists, record voice, capture photos and more. One of the excellent things about this application is that it is top 10 must have application winner from New York Times, so you can imagine how important it is.
So these are top-listed iPhone business applications that every businessman needs to download and make proper use of it to run their business smooth and efficient. If your Device is Damaged, don't be over smart…
About the Author:
Hello Readers, Myself Jullie Roslin and I am working with Perception System, a leading iPhone Development Company, as an iPhone apps developer. I am much interested in developing different applications for iPhone and other platforms. For more information on different iPhone apps.