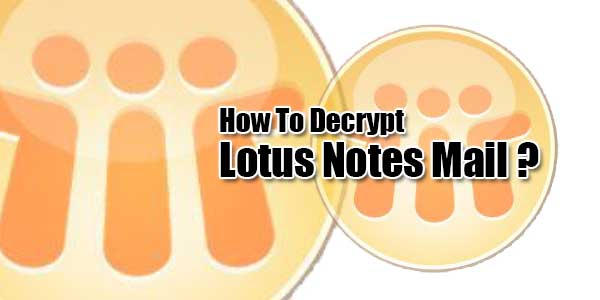 Lotus Notes is mostly adapted because it is the foremost application for security. It is layered with multiple security restrictions which ultimately protects the data in best way possible. Its "defense in depth" technique is remarkable and Lotus Notes claims to be first widely accepted email platform to use cryptography for authentication of emails by applying encryption on it. The framework of security also includes various access-levels which are provided for access of different data types. Let us first discuss about Encryption and ACL and then we will see how to decrypt Lotus Notes Mail.
Two Keys Of Notes Security: Encryption & ACL!
Security provided by Lotus Notes application is mainly through its two major features; Encryption and ACL. In order to make email data protected from any external threat, one can easily use these functions.
Encryption:
Encryption of a message is done in such a way that person having access to the email id and the recipient who has been added by sender can only decrypt the email and read it. Encryption is done using a recipient's public key. In order to get any other user's public key, one will have to reach his Person record available in directory. This needs administrator permissions as well. Encryption undoubtedly protects data from any intruder or unethical access but there is a drawback that unless these personal keys or passwords or User ID file is shared with another user, no one can access these emails except the recipients.
Access Control Levels:
Lotus Notes architecture also follows a structure of Access Control Levels assigned to various databases. It offers, seven levels of access as; Manager, Designer, Editor, Author, Reader, depositor, and No Access. Rights for access are provided as per the priority of user and database. Thus, databases can be accessed only if you have full rights to view, read, or edit it. Databases include emails, documents, etc. and every file or folder has a level of access and without needed rights no one can access it.
Procedure To Decrypt The Encryption!
Encryption in data can sometimes make things complicated especially when you want to access particular data of another user in urgent basis and the user is unavailable. Such situation demands decryption of email data for the data access.In order to decrypt your own data or files which is under you access, you can follow the below mentioned procedure. It will help you to remove encryption from documents and it will be removed from documents you receive and send as well.
Removal Of Database Encryption:
Go to File >> Application >> Properties.You will get to see Current encryption strength applied. You will also see that data base using medium encryption cannot be compressed. Now, there are two procedures to remove the encryption.

Delete DB and Create New Replica
Remove Encryption from Existing Database
How to Delete And Create New DB?
Delete the database and create a new replica without encryption.
Deselect the "Encrypt the replica using…"
Remove Encryption from Existing Database
Enough drive space is needed to save two copies of database. Once decryption is done, decrypted copy will be deleted.
When the database is open or highlighted, examine Application Properties like we did at the beginning.
From the Info tab of properties, select Encryption settings available under Settings.

Here check on "Do no locally encrypt this database" and then Click OK.

Message like; "Demo Team Room could not be compacted at this time. The compact will be performed later" will be displayed which is normal.
Progress bar showing the ongoing process of encryption removal can be seen after these steps are successfully done.
In this way, one can easily remove the encryption applied to the database or documents. In first method, one can fetch back encrypted database if there is any issue of compact procedure. But this process will not valid if you are not the authorized user of the database.
Another scenario where encryption becomes a roadblock is when users migrate from Lotus Notes to MS Outlook demanding conversion of data from one email platform to other (from Notes to Outlook). Encryption in some emails can cease you from accessing them in MS Outlook and thus it is extremely important to remove the encryption applied to emails.
Remove Encryption from Emails While Migration:
In order to know how to decrypt Lotus Notes Mail, you can take help of a third party software solution. Such NSF to PST Converter solutions are available online and can be utilized when your need is to migrate from Notes application to MS Outlook. Make sure that the migrator you choose has an embedded function of removing encryption and is easy for usage. Methods mentioned above can be utilized but only when you have access for the database and emails. In order to remove encryption while migration, you can utilize external utilities available online.