With over 1 billion user base, Instagram is one of the most effective social media marketing platforms that businesses use to propel themselves to another height. Instagram allows brands and social media marketers to tap into this large user base. Clearly, Instagram is the sweetheart of the social media landscape and an incredible marketing platform that helps businesses boost their brand awareness, increase engagement rate and expand their customer base.
Gone are the days when Instagram was just a photo-sharing mobile application. Well, things have changed a lot now! Today, Instagram has become a powerful marketing platform for small businesses and brands. It is also known as the fastest social media marketing platform with more than 25 million active business profiles, over one billion users, and approximately two million advertisers.
Do you know that 80 per cent of users follow at least one brand account on Instagram? Doubtlessly, Instagram has become a crucial social media marketing platform for all businesses.
Whether you own a small business, a mid-sized company, or a big organization, a strong brand presence on Instagram is crucial. However, establishing a strong brand presence on Instagram is not an easy task.
Honestly, Instagram marketing consists of several challenges! In order to win the game of Instagram marketing then you need to focus on creating a goal-oriented Instagram marketing strategy and follow the best practices.
Wondering, what are the best practices of Instagram marketing? Well, you are at the right spot!
Following are some best and proven practices that help you create an impeccable brand presence on Instagram:
Create Bio That Draws Attention:
Undoubtedly, bio plays a critical role in the process of creating a strong brand presence on Instagram. It is the first impression that tells your audience about you and your offerings.
Keep in mind that your bio is the first thing that anyone sees after landing on your profile on Instagram. Thus, it's imperative to write a captivating bio in your Instagram profile.
An enticing bio can help you encourage people to follow you. The best part is that Instagram allows you to add your website link and contact details in your bio section, which eventually leads to more sales. So, don't ignore the power of a good and compelling Instagram bio.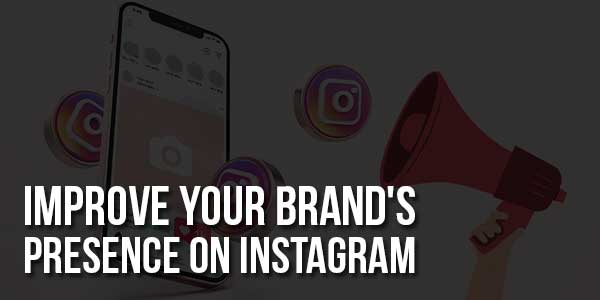 Set A Unique Tone Of Your Content On Instagram:
It's no secret that crafting a content calendar is the initial step towards setting an attractive tone for your brand presence on Instagram. You need to understand that Instagram is flooded with common posts. In order to capture the attention of your targeted audience, you need to focus on creating unique and creative content.
A majority of businesses on Instagram stick to service-based images and short videos. Well, there are many other ways to attract your targeted audience and increase your brand awareness. Today, people crave transparent and emotional connections. By incorporating a storytelling approach in your Instagram marketing strategy, you can establish a strong emotional connection with your targeted audience and boost engagement rate. Apart from this, including behind the scenes and how-to posts in your content calendar can help you improve your presence on Instagram.
Always remember that Instagram is all about visualization, the more attractive content you share on your profile the better the engagement rate will be.
Use Relevant Hashtags:
Using trending and relevant hashtags in your Instagram posts can help you amplify the reach of your posts and boost their engagement rate. If used strategically, hashtags can help you appear on the top of the search feed. Well, Instagram allows you to add up to 30 hashtags in your posts. However, using too many hashtags can make your posts look like spam.
If you want to increase your brand's visibility on Instagram, then you should use hashtags that are niche-specific, branded, location-specific, and cause-related. Besides this, you should keep looking for trending hashtags to get more traction. In fact, there are many tools out there that can help you find the best hashtags for your brand.
Embrace The Power Of Reels & Stories:
Undeniably, creating attractive reels and engaging stories is a great way to shine your brand on Instagram. Both are incredible techniques to help you grab the attention of your audience and increase your engagement rate. Incorporating reels and stories in your content calendar can help you make your brand unique!
When it comes to stories, you need to remember that a story will remain for 24 hours only. So, you should plan the content for your stories wisely.
Well, some of the content ideas for stories are limited-time offers, an announcement, behind the scenes, and more. Apart from this, Instagram stories provide a "Swipe Up" feature that you can use to drive your Instagram audience to your website and increase your sales.
Instagram reels is another latest feature that has been generating a lot of attention. In fact, there is a dedicated section for Reels on Instagram. The best part is that you don't need to be a designer to create Reels. Instagram provides an inbuilt-video editor that you can use to create Reels to post on your brand account. So, if you are not using these two amazing features yet, then it's time to focus on them.
Analyse The Instagram Insights:
Tracking the performance of your Instagram efforts is crucial for winning the game of Instagram marketing. Always remember that what has worked for you yesterday may not bring the same results today! So, always measure your Instagram marketing efforts. Tracking your efforts help you spot pitfalls in your strategy that you can use to create a result-driven Instagram strategy for your business.
Wrapping Up:
When it comes to getting actual results from Instagram marketing, consistency is the key. If you want your brand to be recognized by your targeted audience, then you must be consistent with your Instagram marketing efforts. Posting unique content consistently on your Instagram account not only strengthens your brand presence but also helps you build a loyal fan base!