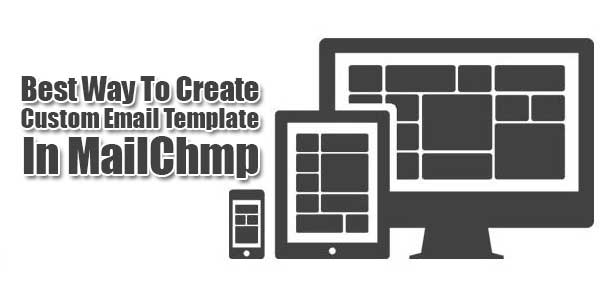 In this ever increasing internet world, websites are a must for business operating online or offline. This a medium that helps owners to reach to the targeted audience without making much effort. A simple website designed attractively can help a business grow more. To have your website is like reaching out to the half of the path of the success of your business, another half lies in making constant contact with your clients.
Custom email templates are a great way to persuade your clients towards your business. An attractive email template from your side can make a client click on the same. It will help you to get easy online recognition. Templates can be created using different platforms, among which MailChimp is one that is preferred. Below listed are some of the ways that can help you to design an attractive template:
Ways To Design An Attractive Template:
Create your template at MailChimp: As soon as you login to your MailChimp account, you will find an option on the left for creating templates. Select the option and click "create template" positioned in the corner at right hand side. You will get options to create a basic template, a theme template or to code your own. Start with a basic template by selecting the 1:2 column on the right. Templates made on MailChimp are mobile friendly.
Modify the look of your Template: This can be done with the support of MailChimp's email designer tool. This tool reforms the look of templates. Modification can be done while changing the colors, editing text boxes and uploading images. You can also make use of drag and drop tool to move elements from different corners.
Designing the main template: The email designer has two sections. These two section manage the content and the design. By selecting the design option given on the right, you can change the color of background and style of texts. This tool has eight sections that include page, Prehead, Header, Columns, Mobile Styles, Body, Footer and Monkey Rewards. With these tools, different elements can be modified.
The Style of Content and Element: As soon as you have styled the blocks of content, it is now time for you to change some of the actual elements of content. This can either be done by uploading the header image or by dragging a saved image into the header block. This can also be done by clicking the browser button. Header images having a width of 600 pixels is easy to create with this tool. In order to add more elements to the content that may include text blocks, buttons, and image block, you can select content at the top.
Preview and Text: Once you are done with all the steps described above, you will get a template looking exactly the way you wanted. There is an option to check the preview of your designed template. With the help of this tool, you can easily see a preview that how it looks over a subscriber's inbox. To check the look of your template, you can select "preview and test" button that you will find at the top. You can see the look of your template after clicking the "Enter Preview Mode" ,. You can also get a preview of your template's look over a mobile device.
Save and Exit: By clicking on "Save and Exit" button positioned at the bottom, your template will be saved and you can use the same whenever you require to send it. As you have just created a template and not the email campaign, there is no need to worry either about the content or about the image. You can update these elements when creating an actual email campaign. To create new template on the dashboard page selected, you can select the "Campaign", click on the "Create Campaign", select the type and then click on the " Saved Template".

The best thing about MailChimp, is that you can easily create basic email templates. With this amazing application, it is effortless to create unique designs to boost the marketing of your email. With this powerful tool, templates can be custom-built as per the preference. Here are some easy to learn tips for designing effective email templates.
Tips To Design An Attractive Template:
The pixel width should be under 600 pixels for best viewing
It is a good idea to limit the number of editable space while creating templates
It is not wise to place editable image inside editable content
Use the merge tags creatively
Add a link for users to renew their subscription
Include links for users so that they can view the email in a browser
With these effective ideas, you can efficiently create a template design that has the power to attract the targeted online audience. This can help to bring popularity to your business without making much effort.