Whenever you visit a company the first thing they will give you is their card. Business cards are the most effective way of promoting your company. You have all the details on the card like the company name, the owner name, phone number, business logo, etc. Many of you must be thinking that as technology is growing and the internet has arrived there is no way a business card will do any good for your business. Well, a business card is the most direct mean of promoting your business.
For this, your business card should look trendy and should give a lasting impression to your clients. Many business card design company is focusing on the card designs which will help to attract their customers. You need not make your card too decorative a simple design could look appealing. You need to keep your business card design simple so that the clients could easily see all your company details and not just the design of the card. How can you make a trendy yet effective business card for your company? Well don't use too many colors, fonts, and designs to make it any complex. Here we will see the top 5 trending business card designs which you can use for promoting your company.
Translucent Business Card:
These cards look good both on hand and visually. The opaque design of this card is what makes it look more elegant. You can design this card for your business as they give you a professional and futuristic look. This card uses some opaque elements which allow the holder to look through the card. You can just use some designs to name your company, your phone number, Email Id, and logo of your company. Translucent cards are the next big thing for your business card design if you are looking forward to designing a card for your company.
Simple White Background:
White color is the most common and simple design one can choose while designing your business card. There are not many things you need to do with it. A plain white background with bold text of different color which will go with the white background. Sometimes using too many different color variants might make your card look too extra for someone so going with simple white color with all the important details about your company is all you need to have a well-designed card. Make the front side white and the other side with your company logo of a different color. This might sound simple but sometimes simple is all you need to be.
QR Code For You Card Design:
QR code in your business card could be very helpful. It makes it easy for the clients to scan the QR code to download apps and visit the company website directly through scanning code. QR code is trending these days you can add your company details and also add a QR code on the card. Most companies are using apps and website which required QR code scanning to visit their website and download the app directly. It makes a digital connection between the client and your company.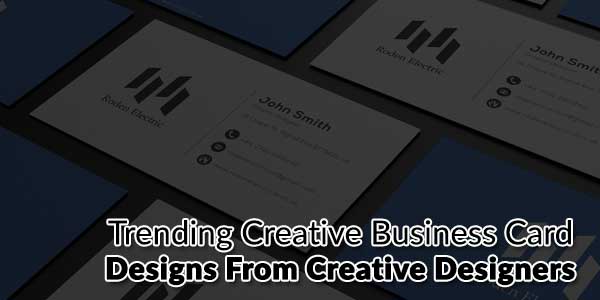 Geometrical Designs:
Geometrical designs are a trend if you are looking for designing your business card. Patterns and textures give a classy look to your card. Geometric shapes are used everywhere these days. You can use asymmetric design and use a different pattern to mention each detail of your company. This design looks slick and classy using a random pattern of a different color can attract your clients. You can even use shapes while designing your cards like round corners, cut edges, squares, and diamonds.
Colorful Gradients:
These are trending designs for business card design. You can use different color gradients with dark or light backgrounds. These cards shine and look glossy in hand. This card can give a nice touch to your business card design as they are simple yet trendy. You can use your company logo and all the other information with some color textures with different colors. If you are planning to design your business card and want some trendy and classic design color gradient could be the best choice you can make.
Cutouts:
These are something that can really catch your client's eyes. You can use different shape cutouts with different colors to design your card. It could look like a greeting card or envelop. These designs are a way for users than you think. This could be a great choice for your business card design. Use the logo and icons of your company or you can use shapes for each cutout and put your company information. You can be creative with this card design idea.
These are some of the good business card design you could use for your business. Card design is not extinct yet there are various other designs you can use and business cards still one of the most popular and professional ways of promoting your company. Cards are handy so you can provide your company details to your client anywhere anytime. You can keep the cards in your pocket so whenever you want to promote your business with someone simply just put out the card from your hand and can give it to your clients. Previously cards used to be simple as just plain paper with the person's name who so ever owns the company with their phone number but this is not the case now. But now you got so many creative card designers in the market who are designing professional cards for the companies.
Business card design companies invest quite a few bucks to attract their client using their card designs. There are ways of promoting your business as the technology is growing but business cards are still in trend. If you are planning to start your business and want to reach out to customers use different design cards to let your customer know about your business. You can be creative with your card design as there are a lot of card designers who are professionally working in card designing. You just need to tell your designer what kind of design you are looking for and what all the information you want in your card and just design and print. Moreover, the cost of card designing is less than any other business promoting ideas.