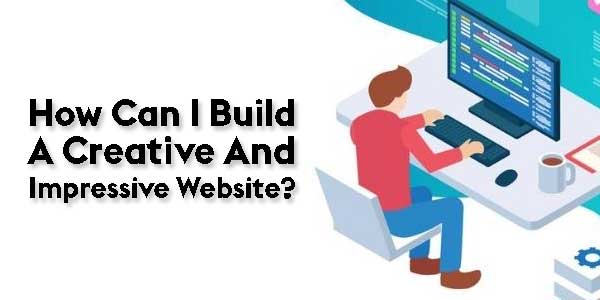 Creating a website for your brand can be very challenging. It puts a lot of pressure on the website designer to design the best contemplation of your business digitally. If you will take the website as a virtual storefront, their homepage works as the front door. An appealing website design is aesthetically pleasing and invites the audience. According to research, many visitors leave a website when they find an unattractive layout. Here are some of the amazing web design ideas to start.
There is much more than just having a useful website; therefore, it is quite important to go over some of the basics, which helps in making a good website.

What Makes A Good Website?
Evolving And Effective Designs:
Have you clicked a site and got drift in the clutter of text, links, and buttons? Your website appearance provides the impression of your product, and it also reflects your business's competency. A properly designed website and pages are essential for building communication and trust values with potential customers. Therefore it is imperative to keep the experience of the users in mind while designing the elements of the website like its layout, use of whitespace; moreover, an attentive style will go in grabbing the users' experience.
Responsive website design is the key factor. No matter what is the users' screen size, orientation, and platform good, a responsive site will always provide an excellent experience every time. Regular and proper research will help you to adapt consistently and also evolve your site to fit the customers' changing needs. Digital designs are constantly expanding nowadays, and your website should also adapt them.
Research For The Latest Website Trends:
Website designs evolve very quickly, but there are many prevalent trends from which you can learn. It is important to note that just because a website trend is the latest, it does not mean that it is right for you. Website design is one of the most important factors; therefore, take your time and check what your competitors are up to. Every sector has a different style; hence it is essential to choose your brand's best. Here are some of the current trends which one can use on his website.
Micro-Interactions – These are the small interactions that are majorly used for user engagement with the website. For instance, if you react to any post on Facebook, it will give you a relevant emoji. Micro-interactions inject websites with some personality. They can create human touchpoints which makes your visitor feel that they are interacting with your website.
Chatbot Support – Businesses spend a lot of money every year on their service request and chatbot support to reduce it. Nowadays, chatbots have become customer-facing services. The major element of chatbots is cost-effectiveness and time efficiency. These chatbots can work 24/7; they also help you to save your money on employing staff.
Communicate Your Product Identity:
To build a consistent identity of your brand, the website plays a vital role. Website logo, values, taglines, and images should message every part of your site. Your website should be able to answer what and who your product is so that the visitors can get your product within seconds.
Appealing To The Audience:
One of the most important parts of creating a brand and site is you should always keep your audience or users in mind. All your website designs should tell how you can provide your audience the best. Your website should create a unique, memorable, and positive experience for your audience. Without a good website, you will not be able to stand next to your competitors. It is imperative to use images and language that appeal to the audience and reflect your values with which your audience can relate.
Focus On Values:
When a user comes on your website homepage, your page needs to compel them to stay on it. Your website homepage is one of the best places for your value propositions. This will help the audience to stay on your page. When you offer quality products and services, you can easily convert those  "just browsing" into a loyal customer.
Some Best Website Design Ideas:
Colors:
An amazing trick to welcome any visitor to your website so that they can stay awhile is to use color schemes that are quite easy on the eyes of the users, for instance, pastels or neutrals, which influence relaxation and calm. Pastel blues, Natural greens, cool grays, sand tones, and light pink are some of the less jarring colors than pure white or black. Pastel or neutral background will allow a contrasting or brighter foreground that can stand out. These colors can draw the users' attention you want while guiding them to the call to action buttons.
Illustrations:
As far as images are concerned, there are several things which you can explore. Film or digital photography, videos, AR experiences, hand-drawn animation and illustration, sculptural or abstract art, and the list go on. There are several ways with the help of which you can make an illustration that pop. For instance, the neomorphic aesthetic can be used by using selective drop shadows overlaid with resembling digital embossing, debossing, or semi-flat colors, which can provide excellent results. This type of design is good for elements like search bars, buttons, or text boxes.
Organize Your Website:
One of the best practices in website designing is audience expectation – as what they can find on your website. Audience expectations are met by the traditional website elements in the traditional manner. Here are some points which can help you to maintain a good website design are –
Place menu vertically
Set menu on a transparent background
Let the visitors wander across the photo gallery
Zoom in and zoom out effect preserves elegance for a vertical menu
Animation:
Motion attracts attention. Technological advancement is shifting away from strict minimalism and directed business to explore digital designs through an interactive approach. From animation to page transition or the layering of motion and media, this approach aims to rid sites of "static" feeling.
One of the ways by which you can include animation to your website is by providing visual feedback to the user who interacts with your website. Scrolling is one way of interaction, and website designers are trying to find unique ways to boost visual feedback from animated illustrations to multidirectional page transition.
Abstract:
Getting creative with abstract shapes and geometric patterns is a great alternative to using photography in digital designs. Depending on your business, the Abstract can divert your website from your competitors, and it helps avoid the predictable layouts of the websites and shocking images.
Abstract designs can be expressed in many forms throughout your website; it can help you build an all-over new website and brand. Abstract graphics help bring focus to your product, CTAs, establish a brand identity and provide a balance in your multi-product gallery. It helps your brand to connect with the audience emotionally.
Simple shapes like circles and squares can evolve in complex, sprawling compositions, giving an innovative and interesting appeal to your website. The abstract components can evoke emotions without familiar faces and can provide pages that feel artistic and expressive.
Vintage Vibes:
A vintage website design brings in nostalgia, familiarity, and warmth—old school font, skeuomorphs, and text help evoke these emotions. If the users seek reliability and familiarity in your business, then the classic site can offer the visitor a sense of comfort.
Add Contrast:
Another creative technique to create a good website design is to add contrast to your website. Contrast can help to break the monotony of the colors and also helps in proving a creative message. You can add
The contrast of shadow and luminosity
The contrast of dark blue and white
A website should be judged according to its value for the visitor. The creative site will be a solution to the users. Make sure to add and consider every detail, from choosing your website color to creating a logo. The beauty of creating a site is that the option which you can add is endless. Now since you have gathered several ideas and inspiration, it is time to create your website.