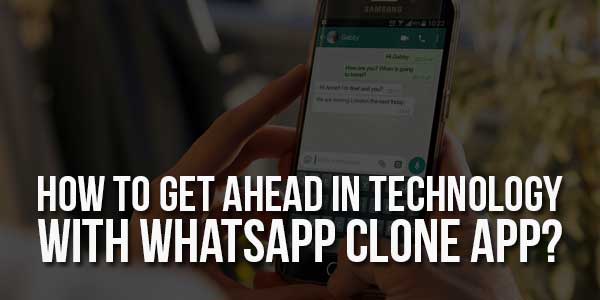 As technology is advancing, so does people's taste of connectivity. Previously people loved to call each other on different occasions. But nowadays people prefer to text each other. You will find at least one instant messaging application on people's smartphones. Things are changing a lot.
The most popular instant messaging application is WhatsApp. It has been downloaded on more than 5 billion devices and daily 2 billion active users. But WhatsApp is not the perfect app. I am saying it because WhatsApp has been alleged for misusing its users' private information. And it is also very much dependent on the internet.
You are trying to get ahead in technology and build an instant messaging application like WhatsApp. This article will take you through all the details but before that, we are going to discuss what features you should include in your WhatsApp clone application. If you can taste even a fraction of Whatsapp's success, it will be a lot I promise. You can also hire the Best WhatsApp clone App development company to build a WhatsApp clone application for you.
Features To Include In Your WhatsApp Clone Application:
There are multiple features that an instant messaging application should contain. You can also think of adding some more features to improve the user experience and usability. Some of them are discussed below.
Personal And Group Messages:
Your WhatsApp clone application should have personal chats and group chats features. Where people can create multiple groups of their desired persons and chat altogether.
It must show messaging status to inform the users about if the message is Delivered, Not delivered, received, and seen. You can use double ticks and blue ticks like WhatsApp or can come up with something unique.
Users should also be able to send voice messages in your WhatsApp clone application.
Any kind of file whether it is an audio file, video file, pictures, PNG, PDF, Excel, or anything should be sent through the app.
The delete message option must be included from both ends.
As emojis and stickers let the users express tones and emotions of messages, your application should let the users send emojis and stickers.
Starred messages and search messages option is very necessary. It helps the users to find important messages when they need them very easily.
Users should get a mute option to mute notifications from chats they find annoying or unnecessary. And also options for the duration of the mute. It will help them mute chats temporarily.
A built-in camera so that users can instantly click pictures or record videos and send them to different people.
Group admins should get the chance to decide to let the members chat or not. This feature is important for professional group purposes.
A status section where users can share pictures and videos and let other people in her contacts see,
Personal And Group Audio And Video Calls:
Though the primary purpose of creating a WhatsApp clone application is to provide the instant messaging feature. But people also move to call their friends and families often. That's why these audio and video call features are very important. You can also consider hiring the Best WhatsApp clone App development company to avail yourself of these features. Just keep these points in mind.
Whatsapp lets its users add a maximum of 8 people in a group video call. You can increase the number so that more people can join in video calls at the same time and share their moments.
Make sure the calling can be done through the internet without charging any penny to the user. Also, the quality of the voice and video calling must be great even in low connectivity. Users face a lot of challenges because of connectivity issues. So, if you can provide good quality calling facilities even in low connectivity, people are going to love those.
Enhancing Privacy Of Users:
As an instant messaging application your users' privacy should be your number one priority. Here are some important points to keep in mind to make users feel safe and less concerned about their privacy.
The messages should be end-to-end encrypted so that only the sender and the receiver can read the message. You need to have a highly secured and dedicated server for delivering a secured messaging environment to your users. Hiring the Best WhatsApp clone App development company is necessary. They will help you build one highly secured Whatsapp clone app.
There must be a blocking option. If a user is feeling uncomfortable with anyone on his/her WhatsApp then he can block this person.
A user should get the mute and hide option so that he can hide his status from any person in his/her contacts.
You must add the 'Only contacts' option so that anyone who is not in your users' contact can not see their DPs and about.
These features will make your application more secure.
What Is The Cost Of Building A Whatsapp Clone Application?
The charges vary from place to place. In the USA, developers charge around $100 per hour. But if you search you can get more affordable deals. It would take around $50,000 to create your WhatsApp clone application. Or, you can talk to the Best WhatsApp clone App development company and ask their price.
The Architecture Of Whatsapp Clone Application:
The clone application should be simple and easy to use.
The application must be scalable without compromising flexibility.
The performance of the app must be good.
The application must be able to handle high traffic.
The User Interface must be simple. Simple and easy-to-use applications provide a good user experience.
Privacy policies must not be compromised. High security of users' personal information is necessary.
Conclusion:
The overall idea seems simple but developing a WhatsApp clone application to get ahead in technology is a very difficult process. Only expert developers can build a high-performing instant messaging WhatsApp clone application. Contact the Best WhatsApp clone App development company to know in detail. The performance of the app must be high and must maintain scalability.v Hope you find the information useful.