Are you a retail store owner who is looking for ways to start selling wholesale products online? Or are you someone who wants to create a wholesale store without spending a fortune on hiring a dedicated team of web developers?
Platforms like Shopify, WooCommerce, BigCommerce, and Magento have helped hundreds of business owners establish an online wholesale store with a cost as low as $1000. Be warned, the price of cost-saving is a lot of do-it-yourself (DIY).
According to the research, In June 2021, total wholesaler sales in the United States amounted to 588.13 billion U.S. dollars. This figure was 576.42 billion U.S. dollars in May 2021.
What If You Have A Retail Store But Are Now Looking To Start A Wholesale Store As Well?
Both conditions are similar in the way that you will need a WooCommerce wholesale store plugin to make a borderline between a retail store business and a wholesale store business.
The online store owners face challenges in running both retail and wholesale stores at the same time. For example, they need to hide the wholesale prices from the retail buyers, make differences in the calculation of products, maintain their inventory according to both stores, and many more.
This blog will help you build a WooCommerce wholesale store with some helpful tips that you can use to ensure that your wholesale business provides you with real success. Before that, let us shed some light on WordPress's WooCommerce platform.
WooCommerce – 'King Of eCommerce':
Have you ever heard about WooCommerce? If not, let me introduce you to the king of eCommerce stores builder. WooCommerce is a very popular, widely used, and highly preferable WordPress eCommerce plugin for everyone. Whether you are a developer or beginner, WooCommerce is the number one choice for all.
The reasons for this plugin's popularity are not fixed, but some of them are listed below.
It is an open-source and free-to-use plugin that comes with hundreds of useful extensions.
It is customizable and enables you to upload unlimited products, both tangible and intangible.
It provides you with captivating templates for building your eCommerce online store with sharp and pixel-perfect themes.
The REST API functionality is a bliss for the developers to make changes directly to the plugin as per their choice.
It supports the most secure and fast payment methods to accept simple and recurring payments online worldwide.
It has an android and iOS mobile application to manage your store from anywhere.
Without further ado, let's hop on the building process of the WooCommerce wholesale website. In such a case, we will use the Wholesale for WooCommerce plugin due to its great functionality.
Wholesale For WooCommerce:
It is a powerful WooCommerce wholesale store plugin and a handy solution to instantly start your wholesale store business. With this plugin, you can easily control all the details, including pricing, products, cart system, and other wholesale-related factors.
The overall configuration of this plugin is relatively easy, and it allows you to display and sell your products with wholesale pricing without any complications. It barely takes a minute to launch your wholesale shop online.
Features:
Set the wholesale pricing for single and multiple products and manage them by saving your time and money.
Translate your wholesale website in your default language using the WPML plugin compatibility.
Display the dedicated pricing labels only for your wholesale customers.
Create wholesale user roles and manage them by setting discounts, features, and pricing options.
Enable the auto-approval options and make your work simple.
Customize the registration form from the front end of your website and separate your wholesale customers.
Set the minimum order quantity for all the wholesale customers to only purchase if they meet the minimum price in the cart.
It also offers compatibility and integration with other WooCommerce solutions that are explained below.
1.) Bulk Order Form For WooCommerce:
Bulk Order Form for WooCommerce is the most helpful WooCommerce extension that provides you with effortless ways to showcase your products and, at the same time, allows you to modify your product tables.
Features:
Showcase all of your products in just one table.
Build products table with the drag and drop functionality.
Responsive design for all screen sizes.
Find out your desired products by sorting and filtering them.
Apply pagination as per your choice.
Customize your column where you can display more information about your products.
2.) Wholesale Registration Form For WooCommerce:
The Wholesale Registration Form for WooCommerce takes your wholesale store's registration and lead capturing system on top and under control. It enables you to save time and money by automating your manual recruitment and registration processes.
Features:
It fits on every screen size.
You can initiate the auto-approval registration process.
Customize the input and extra fields.
Build form with advanced options such as lists, autocomplete, checkboxes, and others.
Decorate the plugin using the custom CSS options.
Embed your registration form anywhere using the shortcode.
3.) Private Store For B2B WooCommerce:
Private Store for B2B WooCommerce helps you build a private wholesale-only area on your WooCommerce website. Create a secret password for unlocking the hidden content on your wholesale website. Control who sees your store and its elements by defining access criteria for categories, products, and prices.
Features:
Hide the wholesale prices from the retail customers.
Restrict access to your wholesale store content.
Set a password to unlock the content.
Disable the coupon codes and allow retail customers only to use them.
Customize product visibility individually and save your precious time.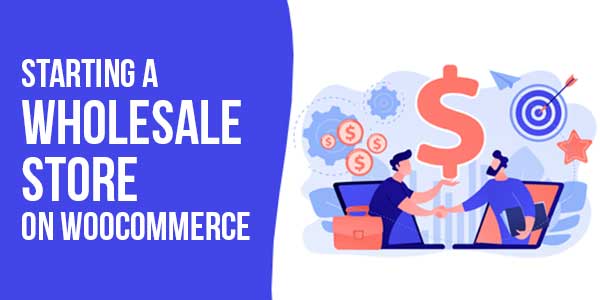 Let's dive deeper into the WooCommerce wholesale store plugin to understand better starting your online wholesale business.
Step # 01 – Installation:
You can download the zip file of this plugin from com.
Sign in to your WordPress account using your credentials.
Go to Plugins → Add New and upload the zip file.
Click on the 'Install Now' button and activate it.
Step # 02 – Wholesale User Roles:
To configure the wholesale user roles, go to Wholesale → Settings from your WordPress dashboard.
In the General tab, you will find the wholesale pricing modes.
Here you have two options; single wholesale roles and multiple wholesale roles. You can enable them as per your requirements.
How To Add New Wholesale User Roles:
You are allowed to create multiple user roles with the particular and dedicated settings to each user role.
Go to Wholesale → User Roles.
Insert Name, Slug, and Description for the new user role.
Wholesale Pricing Options
The wholesale pricing feature enables you to set specific pricing for wholesale products. There are three types of pricing, which are defined below.
1.) Global Wholesale Pricing:
Simply go to Wholesale → Settings. Find the Wholesale Price Global option and click on it.
Here you will see some options. Checkmark the first option to activate the role, select discount type from the drop-down menu, insert the wholesale price, and select the minimum quantity.
2.) Category-Based Wholesale Pricing:
This pricing option will enable you to set particular product categories pricing that will be adjusted automatically on the front end.
Navigate to the WooCommerce Products → Categories.
Add a product category or edit pre-made.
Select the discount option, fixed or percentage.
Insert the price in the wholesale price field.
Apply minimum quantity restrictions.
Click on the Update button.
3.) Product-Based Wholesale Pricing:
This pricing option enables you to set pricing for the individual products on single and multiple wholesale roles. Also, you can set simple and variable product pricing.
Click on Wholesale from the left sidebar.
Select 'Simple product' from the product data drop-down menu.
Checkmark on the 'Enable Wholesale Item' option.
Select your preferred wholesale type.
Enter Wholesale Amount and Minimum Quantity.
Click on the Update button.
Follow the same procedure for variable products.
4.) Bulk Wholesale Pricing:
You can offer the bulk quantities of your product to wholesale customers by using the bulk wholesale pricing option.
To do so, follow these steps.
Navigate to the Wholesale → Bulk Wholesale Pricing.
Select your products and then select the wholesale type.
Insert the wholesale price and click on the Update button.
5.) Enable/Disable Coupon Codes:
Admin has the power to enable or disable the codes for the wholesale customers. To do so, follow the steps mentioned below.
Navigate to the Wholesale → User Roles.
Add or Edit one.
Checkmark on Disable Coupons.
For more information, you can go through the detailed documentation of this WordPress wholesale eCommerce plugin.
Benefits Of Wholesale Business:
Starting an online wholesale business is always a good idea because it has many advantages so far. Wholesale means you will be selling products in a bulk quantity online. Here are some of the main advantages of starting a wholesale website.
You can earn more than a retail business because of selling large quantities of your products.
You will get the direct benefit without splitting your amount in commissions.
Manage and handle all your products at once and market them altogether.
You will be paid the same price for the bulk of products. No negotiation will be applied separately.
The quality assurance and inspection of the products can become easy and analyzed at once.
There are a lot more benefits of wholesale online business. For building awareness, we are sharing the key differences between the wholesale and retail trade.
| | | |
| --- | --- | --- |
| Serial No | Wholesale | Retail |
| 1 | Wholesale means to sell products in bulk quantity | Retail means to sell products in less quantity |
| 2 | Wholesale businesses are relatively saturated due to which competition is low | Retail businesses are relatively crowded due to which competition is high |
| 3 | The products are limited due to bulk quantity | The products are many due to the less quantity |
| 4 | Great financial profit | Less financial profit |
| 5 | A high level of investment is required | A low level of investment is required |
Summing Up:
Congratulations, you now have a better understanding and enough information on using the WooCommerce wholesale eCommerce plugin to start a wholesale business online. Starting a business online is always a challenging task, and it becomes easy when you have valid information. Go through this blog and plan a wholesale business without any fear of loss.