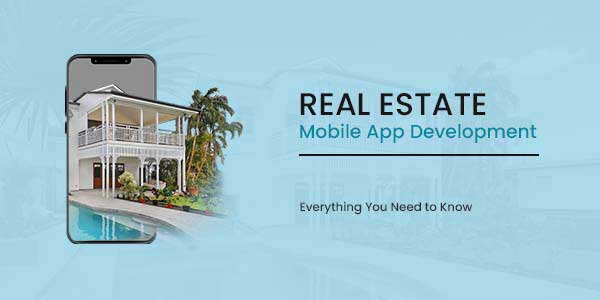 "The real estate industry is being reformed by the technology." Real estate, like any other industry, has a lot of opportunities for app development. The advantages of applications may be reaped by anybody, from customers to realtors.
Real estate is a successful profession, despite the rising prices of the housing market. As a result, it makes sense for the IT industry to automate many sectors of business. As a result, creating real estate mobile apps is a great method to increase both awareness and revenue in the housing market.
But, when creating a real estate app, what should you keep in mind? Continue reading for an in-depth explanation and also know about the cost of developing an app.
Why Invest In Real Estate Mobile App Development – Market Size And Stats:
From $8.9 trillion in 2018 to $9.6 trillion in 2019, the professionally managed global real estate investment market expanded by 7.8%. In comparison to 2018, when the market expanded by 4.1%, this year's growth was stronger.
According to a recent report from Grand View Research, Inc., the global real estate sector is predicted to produce revenue of USD 4,263.7 billion by 2025.
In 2020, the United States will have 938,714 real estate sales and brokerage businesses.
Real estate is a significant element of the US economy, employing 514 thousand people in 2019.
In the United States, there are 130.4 thousand real estate businesses.
Benefits Of Real Estate Mobile App Development:
Real estate companies are enlisting the help of mobile app development companies to market their properties to a wider audience of potential purchasers. Most real estate businesses have developed applications to boost sales and make life easier for their clients. Let's begin by defining some benefits:
24/7 Service – The demand for housing, along with a love of digital technology and good deals, may lead to the development of real estate mobile applications. It implies that property will be snapped up like hotcakes. As a result, brokers should be available virtually all of the time to help their clients find the home of their dreams and remain satisfied with what they receive and how well the agent has performed.
Boost Customer Engagement – Mobile apps help to increase customer engagement. According to the Real Estate in a Digital Age Report, 56% of buyers under the age of 36 and 50 % of those between the ages of 37 and 51 found their new home online. As a result, it's likely applications that improve consumer engagement, conversion, and retention.
Closer Market Reach – Developing a real estate mobile app for your business allows you to not only communicate with and get closer to your target clients, such as Millennials, Boomers, and Gen Xers but also to expand your services to all of them.
Latest Visualization Technologies – A high-quality property view gives businesses that use technology an undeniable advantage by allowing them to engage prospective buyers with an interactive presentation that uses the latest visualization technologies such as 3D/360°, Virtual, Augmented, and Mixed Reality.
Strong Brand Identity – A real estate mobile app can help you target the people who are most likely to become buyers or tenants. As a result, your application is not just a great place to convey your personality, but also a powerful tool for forming it.
Real Estate App Ideas And Types:
If you're intending to invest in enterprise applications, here are some inventive ideas for creating a fantastic business application for your real estate company:
Property Management: Because real estate agents are responsible for a large number of properties, they often seek the assistance of an app development company to help them in developing a solution that will help them manage their property items. Options to update your listings as soon as new properties become available and remove those that are already booked are examples of relevant features.
Property Information: Many people want to review the neighbourhood and other nearby local sites, from construction to old residences, before buying or renting a property. Property information applications enable users to search for properties in various neighbourhoods based on a variety of criteria.
Buying or Renting: You may also build a buying and renting app for your real estate company, which will be incredibly successful and profitable. These types of apps cater only to purchasers and tenants. Because of the extensive paperwork and site visits, most buyers and renters find the process of buying or renting a property to be tiresome and confusing.
The Real Estate Agent: Real estate mobile applications can be used to handle papers and property portfolios in addition to easing communication between agents. Furthermore, by reducing the amount of legwork required by agents, these applications can significantly reduce their paperwork burden.
Features Of Real Estate Mobile App:
Some features should be included in your real estate mobile app. The user experience will be enhanced by these features. Features of a real estate mobile application include:
Filter – Using a filter can make finding a home for your consumers much easier. Users can, for example, look for residences in their area.
Shortlisting – By enabling this option, users will be able to create a list of their preferred properties. They can then narrow it down further based on their requirements.
Maps- Users can get a sense of where their chosen houses are located.
Property Profiles – A property profile is a document that contains information about a home. For example, the price, the owner's information, and images of the residence. The impact of good images and videos on the likelihood of a home being sold is significant.
Push Notification – Having push notifications enabled on your real estate app will increase customer experience. It will ensure that the software is used frequently. Buyers will benefit from it because they will be notified of new listings or price modifications. However, you should only send relevant notifications. Customers may delete your app if you send them irrelevant notifications.
Mortgage Calculator – Using a mortgage calculator, you can figure out how much your monthly mortgage payment will be. Your clients won't have to put in a lot of effort to figure it out. Make sure the calculator takes into account things like interest rates, taxes, and so on.
Call or Text – Buyers should be able to contact real estate brokers or owners for information by calling or texting them. It will be more useful if a feature for sending files is added.
How To Develop A Real Estate App-Tech Stack?
You'll need a robust backend to create your real estate app. The following is a list of important tools for real estate app development:
CoreData or Realm frameworks
Google Places API
Firebase SDK or Apple Push Notifications Service
Mapbox or Google Maps API
The Onboard Informatics Community
Java or Kotlin
Swift or Objective C
Amazon S3
How Much Does It Cost To Develop A Real Estate App?
What is the cost of developing a real estate mobile app? To be honest, a variety of things influence app development prices.
In general, the cost of developing a real estate app is determined by the following factors:
Features set
Design
Device (iOS and/or Android) and Technology
Hourly rate of the development company
The hourly rates are mostly determined by the mobile app development company's location.
You can use our cost calculator to get a rough estimate of the cost of producing a real estate mobile app.
Now You Can Hire Top Mobile App Developers:
On the following platforms, you can hire mobile app developers from these companies:
Clutch: Companies looking to hire mobile app developers may see evaluations about their experiences and services on Clutch.
GoodFirms: This platform has a list of development companies and services. You can find a mobile app developer who is right for your project.
Develop Your Own Real Estate App:
Purchasing or renting a new house got easier than ever after mobile applications were introduced to the real estate business. Because home buyers are more likely than ever to conduct their searches online, a well-designed and professional real estate app can be a great hit.
You must be fully prepared to enter and remain competitive in the market with a competitive app. Discover your real estate company's digital potential and transform your vision into a reality!