Education is the most essential part and everyone should get the opportunity to learn at minimum cost. Education is a growing field and more people are trying different ways to provide quality education to their children. And as per the current situation, most students are E-learning. Learning and teaching are getting more advance and easy on the internet. E-learning is a great platform to learn no matter wherever you are and what language you understand. You can communicate with your teacher anywhere anytime with E-learning.
Educational app developers are trying to improve the quality of education. The educational app should focus more on providing the best education through which students can cover their whole syllabus with proper understanding and on time. Even business influencers are investing in the educational industry as it is growing at a fast pace. Students find it easier to learn via an app because it provides them the flexibility and is also convenient.
But if you are planning to build an educational app you need to keep the following points in mind as you want everyone to provide quality education and you want your app to be different than most of the other apps that are providing the same features. Few features that should be included in your Educational Apps:
Course Related Details:
The first thing every student should know before starting a particular course is the syllabus, topics that will be covered, assignments, workshops, tests. Every guideline related to the course should be provided on the app. It will make it easy for the student and also for the teacher to work accordingly. This will help the student understand the working criteria of the course they opted for with a proper schedule. Also, provide the study material related to the course which will be beneficial for the students and the teacher.
Keep Challenges And Rewards:
Test the student how much they are learning and what else they need to learn. Keep a weekly test or some puzzle or you can add some small interactive games that will help the student to understand better and when they complete a certain challenge reward them for doing their best and how they can improve more. Leaning can be very exciting by adding small features to interact more with the student and teacher.
Open Discussion And Messaging:
Every subject needs to be discussed for a better understanding. Keep an open discussion portal where students can interact with the teacher if they have any queries related to their subject. Messaging will allow the student to directly communicate with their respective teacher to solve any doubts related to any subject or course. Educational is a give and take situation. You ask questions you get the answer. This is the reason why there should be an open discussion portal in the education app you are creating to make it easy for the students to discuss with their classmates about a certain topic.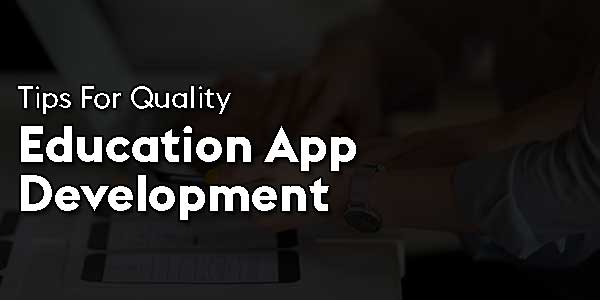 Provide Quality Content:
Quality education is a must for any student. Keep the language simple and not too big. You can provide videos for each lesson to make the students understand the topics more easily. Use diagrams, graphs, and the right text font for each point to make a clear view for the students. Best Educational app development should be easy and not tough to use a smart way to provide information to the student. You need to keep in mind which age group students you are targeting and different students learn in different ways. One may understand and catch things easily and others may not so you need to create the app accordingly and precisely keeping every type of student in mind.
User Interface And Compatibility:
The user interface is a must because it will decide how the app should look and how easy it is for the students to interact with the app. Make it user friendly, easy to access, and clear. Your app should work on every platform whether it is Android, IOS, or Windows. You don't know who is using which platform to access your app. Your app design should be easy to navigate. Students can get the proper details about the courses and how they can interact with their teachers. Your app should also have a notification setting with regular updates and details regarding the course.
Student Progress Track:
This feature will keep a constant check on the student's progress. This should include regular attendance, performance, and children's development. There should be a different portal where parents can also keep track of their children's progress and can also interact with the teacher so they can discuss their performance. Every parent would like to know how their child is doing with the studies so it is important to keep track of their study which will help them to focus more via E-learning.
The educational sector is increasing with the demand for increasing E-learning. Education app developers are working more to create something new and helpful for the students to learn every day from anywhere around the world. Education can become exciting in improving ways and putting interesting features. Not everyone wants to read a boring book every day. Education can be fun if you use the right technique. It should be cost-effective as everyone needs to learn. Education for all is a must and should be available for free.
E-learning is helping the student to engage more. Some students don't like to go to school to learn and for them, E-learning is a great way to learn new skills. It made interaction easy for even the most awkward student in the class. As they can ask questions directly to their teachers and can clear their doubts. Through E-learning it is easy to save time and increase your productivity. If you want to invest your money in building an educational app this is the right time as the educational industry is growing and will grow even more lately. Students can learn new skills every day. The future of learning is all based on the internet now with the proper investment.