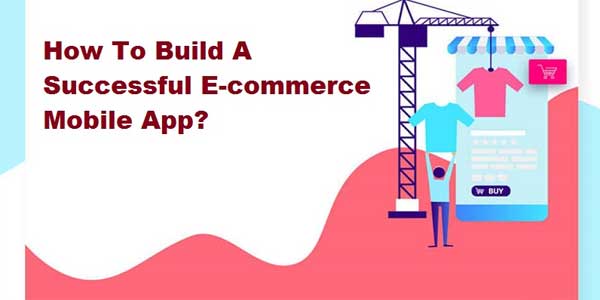 Today, the internet has become a huge place for trade, information, and communication. And, the global online market has bridged the gap between sellers and buyers, and now everything is available within a few clicks, thanks to e-commerce. To acquire and retain all customers, e-commerce businesses need to connect them with all possible touch-points. Therefore, developing an e-commerce mobile app has become essential to provide greater user experience to customers on all types of devices.
Mobile devices are ruling everywhere with the great features and functionalities they provide to users. The arrival of e-commerce websites has made shopping easier and simpler. You can provide a more pleasing experience to your customers by launching your own e-commerce mobile app. With a mobile app, you can reach more customers because there is a significant number of people who are using smartphones and tablets for shopping. Major companies are investing in mobile app development to provide greater user experience to their customers. The following are tips on creating a mobile e-commerce app.   
Find Your Goals:
Before you start to develop your own e-commerce mobile app, it is important to define your strategic goals and ways to measure your success. Your KPIs and goals will have a direct impact on the development process, features you need, and other aspects of mobile app creation. Begin with determining your current position in the market. If you are losing some business to competitors, an e-commerce mobile app can help you gain it back by optimizing the checkout process and maximizing conversion for mobile apps. If you are a B2B e-commerce business and looking to enhance mobile loyalty and get more returning customers, you will prioritize feature requirements on the basis of loyalty.
Create Your Buyer Personal:
After finding your goals, now is the time to think about your target audience. B2C customers may need a different experience than B2B customers. Knowing about who your target audience is, helps to streamline the development process as well as improve app marketing.
Find answers to questions like:
Who are your buyers?
How are they finding you?
What are their ages?
What are their likes and dislikes?
Which products do they like and already buy?
What are their interests?
These types of questions help you to evaluate the behavior of your target audience and build a more relatable app for the end-users based on this knowledge. Analyze and carry out research on your target audience to strategize the app development.
Choose The Right Technology:
After finding your target audience, it is now time to pick your tools and shape e-commerce mobile app. You need to choose the right technology for mobile app development. You can choose from three options i.e. Native app, PWA, or cross-platform mobile app. Progressive Web App is a next-gen website that offers the same kind of speed, performance, and interactivity as native mobile apps. Though a PWA can be installed on a mobile phone, they are not available on app stores.
Native apps can be easily downloaded and installed on mobiles from app stores. However, creating native apps require mobile app development services for different platforms like Android and iOS. Cross-platform app development allows creating native mobile apps that would work on different mobile platforms.
You can choose a PWA when traffic is very high and the budget is limited. Being platform-dependent, native apps fully utilize the features of mobile phones. A single cross-platform app can be run on different mobile devices and you won't need to build separate apps for varied platforms.
UI/UX Design:
UI or user interface in an app is what users interact with, it is formed by elements like buttons, text boxes, menus, images, etc. UX or user interface on the other hand majorly defines the user flow in the app. You will like to create an e-commerce app with appealing visuals, soothing color schemes, smooth transitions, etc that would provide a delightful user experience. Create a logo of your brand and use it in an optimal way in your app. By using smart branding tactics, you can build a robust mobile app that would leave a lasting impression on users.
List Out Features You Need In Your App:
After knowing what you are going for and how to create your e-commerce mobile app, this is the time to list out the essential features that you require on your site. Get your team of expert mobile app developers to build your app integrating those features.
Some key features that your e-commerce app may have:
Push notifications
Wishlists
Easy checkouts
Review/rating system
Custom branding & design elements
Multiple payment options
Back-end synchronization
Social media integration
Look-books
Native experiences
There may be numerous other features that you may require in your mobile application that would meet the specific requirements of your business.
Choose A Budget And Process:
After knowing about the needs of your e-commerce mobile app in terms of feature requirements, the next step is to pick the right process and budget. You need to think about different aspects like how much resources, time, and money, you need to invest and the level of flexibility you want when adding new features, sending push notifications, changing the design, etc. Your budget for mobile app development will depend on these factors. You can choose to hire a team of developers for your mobile app development process. They will understand your requirements and provide an exact solution in the form of a brand new mobile application.
Wrapping Up!
Having an e-commerce mobile app has become vital for businesses to reach every customer. When it comes to creating such an app, it should be ensured that it offers a unique and complete user experience making shopping fun and simple. Choose a mobile app development company that has an excellent track-record to build a perfect application that will meet your business expectations. Creating an e-commerce mobile app requires in-depth analysis, research, and a perfect strategy to build an app that would drive more sales and boost conversion.