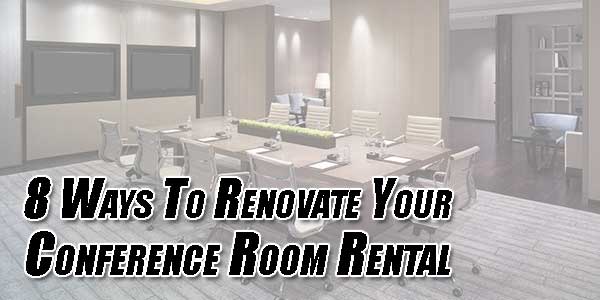 When looking for a rental conference room, it is essential to find something that is featured with the appropriate equipment, movable furniture, and seating arrangement. Nowadays, the conference rooms have become a more extensive choice for business people to conduct meetings and holding seminars, training, and other various events. But for running productive meetings, a lot of wisdom is to renovate and design a room with modern equipment and attractive wall-color design. The primary requirements for a conference hall often include noise-free and private spaces for business heads to discuss important information.
These days, the demand for a suitable meeting room for rent increases as companies focus on creating the most efficient environment possible to enhance worker productivity. Therefore, while choosing a conference room, make sure the design facilitates the attendees and reflects the values and requirements of the company creating it. In addition, make the right choice over colors, technological equipment, furniture, and other components.
So, when renovating or redesigning a conference room, take the opportunity to think beyond the bare necessities of a table, chairs and a projector screen and make it more attractive. However, let's have a look at the following tips to renovate your conference room.
Table Of Content:
Tips to Renovate your Conference Room
Understand Employee Needs
Brighten Up Space with Color
Focus on Room Layout and Equipment
Add Conversational Furniture
Feature the Room With Natural Lighting
Tie Room to your Company
Add Elements of Fun
Be Creative
Tips To Renovate Your Conference Room:
1.) Understand Employee Needs:
The first rule of effective meeting room design is to make sure it matches clients' and employees' needs. As you know, every type of meeting requires a different kind of space from collaborative brainstorming sessions with a single team to large strategy meetings with external clients. Therefore, to handle the requirements of your clients, make sure your event space rental is featured with every required item.
When designing your room, do not forget to count their industry-related needs or expectations. In addition, consider their geographical location, culture, and other things that might be an essential factor in successfully conducting business. You can renovate the conference halls with modern aesthetics and innovative solutions that are incredibly functional and durable.
2.) Brighten Up Space With Color:
Colors have the power to change the experience of a room. Neutral colors like white, grey, and others for conference rooms are always considered as the right choice. You can spice up the room with attractive color design and multi-colored chairs. The original color can express the company culture and influence meetings as well.
Whereas intense colors like red and orange have the ability to evoke excitement, aggression, and encourage teams working towards ambitious targets. In addition, other colors like green and blue can spread the freshness and calming the environment, which alleviates the tension in charged meetings. The yellow-green soothes the space with relaxation and more casual conversations. Incorporating bright colors like a green ottoman, a red lampshade or curtains with yellow stripes can make your meeting space more inviting. It will go a long way to add dimension and personality to your meeting place.
3.) Focus On Room Layout And Equipment:
Each type of meeting room requires a different amount of space to feature it with versatile equipment and furniture. The layout and decor of the conference room should align with the company's theme. If you are designing a conference room for a law firm where lawyers want to meet their clients, then you will have to go for a more conservative and elegant-looking design. On the other hand, if you are designing a meeting room for a tech company, then you have to pay a little attention to creativity with your design.
Instead of using blackboards and whiteboards, it is recommended that install projectors, screens, smartboards, and all sorts of audio and video conferencing gadgets in the room. The positioning of screen and smartboards play an essential role for a comfortable meeting experience. Measure the correct distance between the screen and the audience.
4.) Add Conversational Furniture:
Install such furniture in your conference that is able to give an instant impression about your business. Either you can install chairs or oversized bean bags or hammocks to make your room more attractive and allow them to feel comfortable. Do not be afraid to embrace unconventional and creative things. Adding the sofa can add a touch of fun and creativity to your conference room while giving clients and other visitors something to remember. A traditional boardroom table and U-shaped table can promote smoother engagement with the presenter of the meeting. In addition, a collaborative work desk will allow employees to work together more efficiently.
5.) Feature The Room With Natural Lighting:
If you want to bind your conference room design, then you will have to endeavor with the right kind of lighting. Natural lighting is always preferred more than artificial lighting.  When a presentation is going on over projectors and screens, you need to make sure the windows are covered with blinds or shades to block out the sun's rays.  While designing your conference room, understanding the purpose of the room is crucial in building lighting requirements. Softer lighting is often necessary for places that are designed to be comfortable and cozy spaces. Large boardrooms might require more brightness in the room.
6.) Tie Room To Your Company:
Do not try to illuminate your logo everywhere. This design element might work for some places, but other places also require items that fill the areas with subtler materials. Glass and chrome can often push a modern, clean look. On the other hand, wood is exceptionally adaptable and can be used in many applications. The right wood can produce warmth into the room and attach some rustic charm. You can convert your room into a charming and cozy space by using some wood beams and tables. Moreover, adding comfy chairs in the room further will provide more coziness and warmth.
7.) Add Elements Of Fun:
Adding elements of fun in the conference room will transform an uninteresting and boring meeting into a new and engaging one. You need to keep in mind the number of factors when it comes to maintaining the conference space culture. So, embrace your ideas and add more outlandish items. More open and inviting space without walls has the ability to embrace the fun and connect the resting place with more interesting meetings. Featuring your miniaturized room with tiny furniture generates more functionality and creates a strong memory for guests.
8.) Be Creative:
Once you get familiar with all the hard requirements for your meeting spaces now, it is time to get creative in your meeting room designs. The overall purpose of doing so is to enhance your corporate culture and identity with your meeting room experience. It can be possible if you keep your equipment requirements and room goals in mind, choose movable furniture, amazing color designs, and all decorative elements that match with the theme of your corporate culture and the message you want to convey. For example, conference room rental in Singapore can inject your company culture into your meeting room design.
Bottom Line:
Renovating a conference room with all the latest and creative ideas will help you to build strong relationships with your clients and attendees. Effective planning can improve the purpose of a meeting, but it is imperative to consider your meeting environment and processes. Well-designed space and conference room facilities will help in running your meetings smoothly and significantly enhance the meeting experience for you and your attendees.