The bandwagon of using open source shopping carts is blowing up today. Online shopping has reached at the extreme level and thisis the great reason that every business is heading towards it. Magento can be proven the best CMS for your organization, if you desire to provide better user-experience to thecustomers and target the audiences at wider scale either local or international. However, numerous e-commerce solutions are available in the marketplace, but not all capable of completing the exact business specification. Therefore, it is a crucial task to choose the appropriate one.
Magento themes are very fruitful these days to build a unique and impressive website that bestowvarious opportunities of gaining maximum return on investment. Customers usually give preference to those websites that render easy shopping and navigations as per their convenience. It is vital to makewebsite updates according to the modern demands in order catch the attention of niche audience and compel them for spending a deal of money. The rapid emergence of easy to use e-commerce solution, Magento almost all business owners are now getting involved by using its various remarkable features.
It is a widely accepted e-commerce solution for web app development from the variety of the site owners or organizations due to the intend to develop an impressive and a top-notch online store. Furthermore, it is also used for web development, conversion, theme, template & module development, fully functional customization and many more. From the last few years, the conversion of PSD files into Magento has been consistently spreading to the great extent. It is truly a software program that helps develop flexible, secure and interactive online store in minimum time.
Get encourage from the collection of top 10 PSD to Magento service providers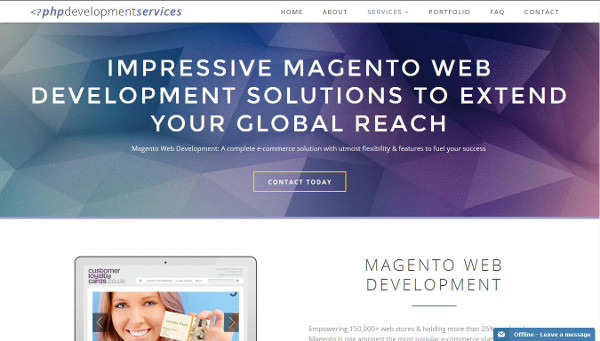 PHPDEVELOPMENTSERVICES is an eminent US based company, which delivers Magento driven services for web development. It is one of the best enterprise-level offshore service providers. The development team of this organization is proficient in the same arena and they promise to offer SEO-friendly and the most browser compatible solutions that increase customers andranking on the internet. It is competent inserver-side scripting language "PHP" and also renders web development & MySQL programming solutions.
CSSChopper is an Indian web development company, which is reckoned in globally reliable PSD to Magento service providers. The key destination of this organization is to serve productive as well as superlative goal-oriented services within deadline. Their coders are brilliant in pixel-precise layout, semantic code markups, W3C standard validation to deliver the optimum level of satisfaction from their end. This is the cause that they give 100% assurance to fulfill customers' expectations and ready to refund money, if the customer is not contented by the services. CSSChopper offers custom Magento services at very affordable cost $349 and requires only 6 business days to successfully complete it.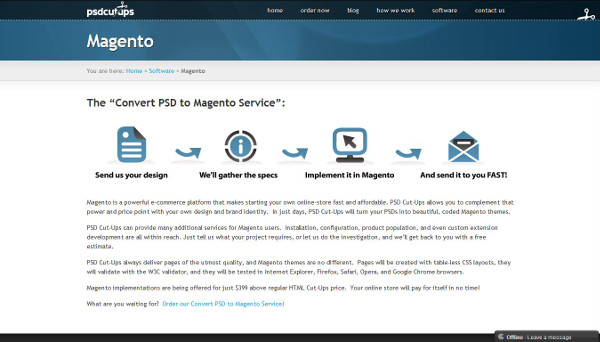 PSD Cut-Ups is a leading development organization that provides WordPress, Magento, Drupal, Joomla and expression engine based services at very competitive rates. This company strictly follows NDA terms & conditions and does not disclose the information. The Magento services charge is $399 and above, but depends on the complex designing requirements. The web pages delivered by "PSD Cut-Ups" are utmost qualitative and tested on the most commonly used browsers.
4.) Techcutt:

Techcutt is a conversion service provider and it offers the conversion of PSD files into Magento at $249. There is no fixed time mentioned because time depends on the complexity of the project. The development workforce of Techcutt treats each project equally and endeavors to raise the comfort level of thecustomers. The 100% money refund assurance is also given to maintain the professional relationships with the clients.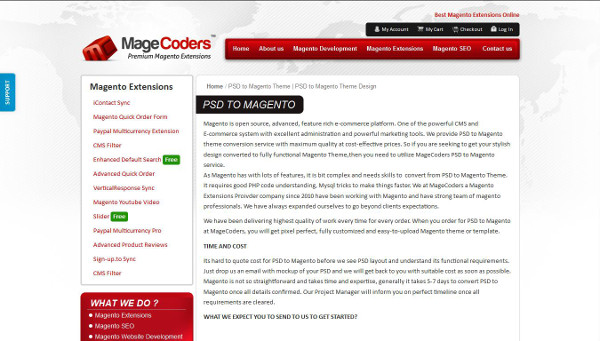 MageCoders was developed in 2010 and famous as a Magento extensions service provider. It is equipped with expert programmers to perform the conversion process beyond the clients expectations. Their programmers requires 5-7 days to do the same process, once all the expectations of client are confirmed as an order. It is also perfect in easy to upload Magento themes creations, custom solutions, module and extension development.

Fast Conversion is one of the salient conversion service providers, it is an Indian web development company, which is expert in delivering conversion solutions. The order rate of Magento solutions is $349 and takes around 7 business days to complete. Stunning responsive design, theme, search engine optimized pages, custom module, etc., Magento services are offered by Fast Conversion. It has a cooperative team to handle projects and deliver within given time-period.

XHTMLJUNCTION company has spent 10 years in the web development industry that strives quality result and till nowit has served web development apps to 600+ clients. XHTMLJUNCTION was established in 2003 and located in the US, which delivers Magento services at $229 and takes turnaround 5 days for tailor made theme and online store.
8.) Magento Junction:

The dedicated programmers of Magento Junction follow meticulous approach to meet the client's specific needs. Once your order is confirmed, their developers start work on it and service rate is $299. Amount will 100% resorted, in case client is not satisfied with the result. This company provides round-the-clock technical assistance to handle queries and give appropriate solution. The developers are highly skilled to handle project complexities and requirements.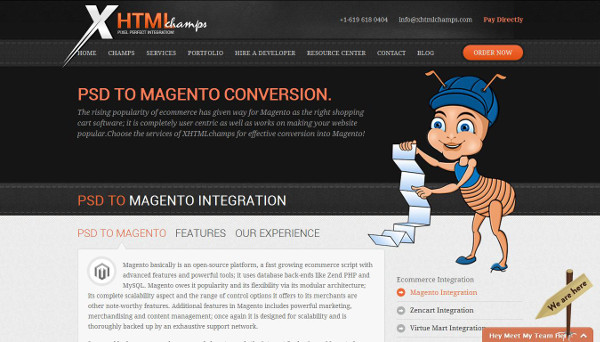 XHTML Champs was established in 2006 and now, it has become one of the best conversion and web development service providers. With the global presence, it has served services in more than fifty countries. And, there is a 10% discount is also available on every project. Their professionals accept all file formats to perform the Magento conversion.
10.) Five Cube:

Established in 2004, Five Cube is a software development agency that caters services all across the world. It usually offshores development services for B2C as well as B2B firms. The workflow followed bythis firm is: Planning -> Design -> Development -> Testing. You can hire Magento developers for 5 days in $399 from this organization and the average cost of Magento template/theme design service is $550-650, but depending on the various parameters.
Conclusion:
Magento is a free to download and use software, which is generally used for web application development related to e-commerce. Along with the worldwide fame, it has become the prime need of business owners and individual developers. It has innumerable features for you, but technical proficiency is required to handle it perfectly as per the current demand. There are various firms available on the web for the Magento solutions, but choosing the best is essential under budget.