If you dive into the social media platforms, you've probably realized how difficult it can be to monitor your various accounts and the activity happening around them on one go or all by yourself alone. The way to make social media truly work for you is by maintaining all of them with the current trending need like monitoring audience behavior and seeing what they are saying and have to say about you, your products and your services, and even your competitors or trends.
Without knowing where you have to go to market your product on social media, it's useless to use it. So when you have the proper data in front of you from many reliable sources, you can analyze the information to make your decisions about how you promote your data on social media in order to achieve maximum engagement and to hit the trends which will help you to increase your traffic.
The key to gathering the data is using some good social media tracking tools. These programs monitor everything about trending behavior and user interactions that you can track by keywords, hashtags, URLs, and much more. There are many tools available online but here we are sharing the top five monitoring tools offer different benefits and restrictions, but using a mixture, you should be able to get the stats you need for a killer social media strategy.
How You Should Choose The Best Social Media Marketing Tools?
It's very hard to convince your decision about the tools but here we will keep the factors that will let you help yourself to choose the best tool as per your need. Now it is all about making the right decisions when it comes to the tools we choose and with 1 million new active mobile social users added every single day, the right tools are essential for getting the results your business needs.
In this post, we'll take a look at some of the best social media tools to help you. Let's roll.
How to Perform a Social Media Competitive Analysis?
Identify Your Social Media Competitors
Gather Data
Analyze Competitors' Activity
Analyze Their Website Content
Using the Data
Social Media Tools In Summary
One of the key things to consider with any business investment, including any social media marketing tool, must be whether it's going to have a positive impact on business growth. One of the first things you should be asking of any tool is how is it going to help your business grow. This could be the amount of time it saves, the products it delivers, or the insights it finds.
Real-time monitoring
Relevant results
Robust analytics
Social selling
Competitive analysis
Influencer marketing
SEO opportunities
Customizable Reports
Team collaboration
1.) Awario:
Awario is a social media monitoring platform that monitors your keywords on Facebook, Twitter, Instagram, YouTube, Reddit, news, blogs, forums, and the Web. New sources for social listening are regularly added. Unlike most social media monitoring tools, Awario provides you with both real-time and historical mentions.
You can reply to mentions as soon as they arrive. Some networks will allow you to reply without leaving the app, some will take you to the original source of the mention. In both cases, commenting on someone's post that was found with a social monitoring platform will take one click.
2.) Hootsuite:
Search streams in the Hootsuite dashboard let you monitor conversations relevant to your business, your industry, and your products. You can monitor what people are saying based on keywords, hashtags, locations, and even specific users. Once you've set up your streams for social monitoring, you can share them with your team, so everyone can access the same information. If you discover a post that requires a response, you can assign it to the appropriate team member.
3.) Google Alerts:
Google Alerts lets you monitor the entire web for mentions of your company, your competitors, or other relevant topics. Just sign into your Google account, go to the Google Alerts page, and type a keyword or phrase into the search box. You'll get an email notification every time Google finds results relevant to your alert criteria. You can set alerts for specific regions and languages.
4.) Brandwatch:
Brandwatch monitors all major social media platforms, news sites, forums, and blogs. It's a robust social media listening tool with top data analytics. In addition to standard social listening analytics, it offers image recognition, demographic data about your audience, trending topics in your niche, and API access. It's integrated with Google Analytics, Buzzsumo, and Hootsuite.
5.) Talkwalker:
Talkwalker is your extra set of eyes and ears. It monitors what's happening on all social channels and online media in real-time, on all markets, in 187 languages. You can find out what customers think about your campaigns, products, events, earnings calls and brands. Or track your brand awareness and message impact globally.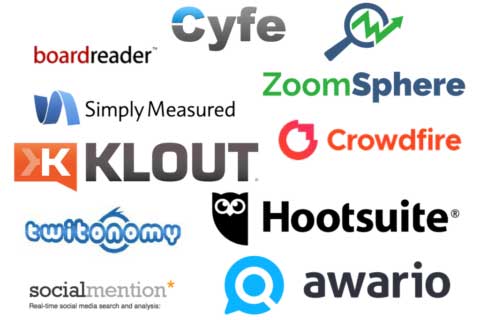 Last Words:
As more and more brands are turning to social media for market research, customer insights, competitor analysis, and even sales, social listening tools are getting increasingly powerful and affordable. There are a number of free social media monitoring tools available that can help you take your brand's social media presence to the next level to land more clients. With this social listening tools comparison, I hope you're able to find the right tool for your business.