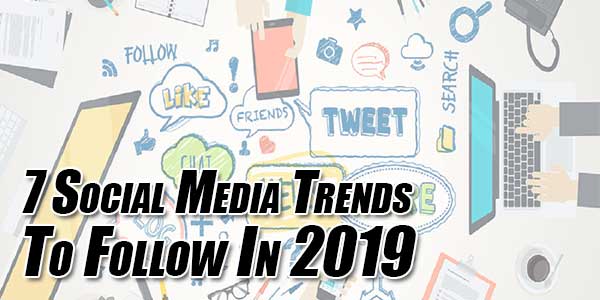 The sole foundation of social media platforms was to serve as a social hub. Over some time, this foundation began to mold and change to the point that social media sites turned into a full-fledged marketing and branding platforms. While this change is not relatively recent, marketers still happen to be exploring this notion.
The key to success among the ever-increasing competition depends on your online visibility, range of following, and nature of bonding with customers on social media. Your repute on social media is a by-product of the evolving marketing trends.
Since social media is a prime part of digital marketing, every marketer must keep up with the following social media trends prevailing in 2019:
1.) Influencer Marketing For Better Customer Interaction:
The advent of social media platforms led to the trend of influencer marketing. Individuals having a fan-following exceeding millions are deemed as influencers. Having an extensive fan-base is what allows them to create a streamlined community of users of a particular social media site. Now, on to the central question – how does it help you as an individual or as a brand?
Brands have begun to leverage the power of these influencers by hiring them as brand ambassadors. Sponsored posts on Instagram and YouTube have become too common where one would witness brands choose a certain influencer for promoting their free products in the form of product reviews. Sometimes they may have to pay a certain fee to undertake this process. These product reviews then help the brand gain traffic and, in return, generate revenue, ultimately creating a win-win situation for both the influencers and the brand.
2.) Divide Your Customer Base Further:
It's not possible for every brand, out there, to have an audience with similar interests. At times, brands contain audiences that have different interests. The drawback that comes as the result of such a situation is lack of management. Audience segmentation is one such popular social media trend that helps brands organize their audience on the basis of their interests, age, and gender.
Your social outreach needs to be powerful enough to outweigh your current competitors. If you don't pay heed to audience segmentation, the message you convey will become clustered and ineffective. By dividing them into groups, you can strategize and focus on the gist of your message and in doing so learn the ways to convey it properly.
3.) Opt For Personalization In Branding:
Technology has evolved to the extent that people have begun to feel disconnected and alienated as everything seems to have lost the flair of humanness from it. Strategies for branding shouldn't only focus on the future prospects of your brand or how technologically advanced your offerings are, it also needs to have human aspects to it in order to connect with your customers.
Good branding emerges from trust and, no, your logo isn't enough to justify what good branding is. You have to incorporate levels of personalization into your branding methods. This includes holding in-person events, webinars or voicing brands through podcasts so that your audience can feel closer and connected to you.
4.) Visual Content Is Prevailing:
Whether it's Facebook or Instagram, every new online socializing hub focuses on storytelling, be it visually or textually. The incorporation of live-streaming videos and stories, as seen on Snapchat, are becoming all too common. Now the feeds and dashboards of every social media user contain some form of video content.
The trend of visual storytelling is not temporary instead, it's here to stay for good. In a matter of 60 seconds, an animated explainer video can convey a lot better than a written piece of content. In turn, brands can market their products and keep their audiences engaged through the power of visual storytelling.
5.) Selfie Culture Is The New Face Of Marketing:
Social media platforms built up the 'Selfie Culture' which now influencers, celebrities, and brand owners are leveraging as a tool for marketing. Snapchat was the first in the competition to add filters and geo-location tags in not only selfie photos but selfie videos as well.
Now short selfie videos of max. 15-30 seconds are being used for quick promotional videos. What you could convey in a lengthy photo-caption can be done with a short video as well. This also illustrates another use of influencer marketing where brands can quickly gain visibility and customer attention with minimum exertion of effort on their part.
6.) Specify Your Platform Selection:
No harm in building your brand's presence across multiple social media platforms but dedicating your focus to a specific platform will help you cater to your targeted audience better. Facebook demographics have determined that 43% of Facebook users are female and 57% are male. So, suppose you aim to launch a clothing brand for men, your primary branding platform should be Facebook.
It also depends on the type of platform most of your customers use. If Snapchat is widely preferred by teenagers then Twitter and LinkedIn have a more mature user base. You have to classify your social media marketing needs accordingly, not on the overall popularity of the platform itself.
7.) Quantity Never Correlates With Quality:
If quantity prevailed over quality in terms of search engine rankings and online visibility, renowned brands would have resorted to this approach long ago. But they don't. Bloating your website or social media accounts with frequent yet meaningless content only diverts customer attention and interest.
What matters here is your creative ability to capture their attention and keep them engaged at all times. Set up a content calendar and upload content on your social media accounts that fit the buyer's persona. Marketing is all about leaving a meaningful impression on the visitor, not about a large quantity of content that you can produce.
Ultimately, leveraging the complete power of social media would not be possible if you are resorting to a poor internet connection. Constant connection breakdowns are bound to hinder your productivity and in this fast-paced digital world, you cannot afford to lose a single minute. If you are facing a similar reoccurring issue, buy tv internet phone is a reliable internet service provider that promises to stabilize your social media marketing endeavors.