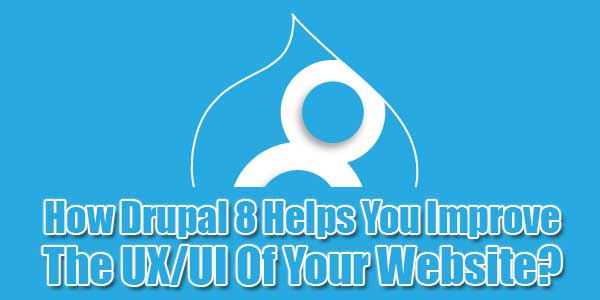 At a time when the internet rules the world, your user's experience decides your reputation. A lot goes into planning and creating a good if not the best, user experience. The effectiveness of your website's UX/UI stems from what your CMS has to offer you and a close coordination between your design and developer team.
At the backdrop of the launch of Drupal 8, know how Drupal helps you improve UX/UI of your website and earn brownie points.
But What Exactly Is User Experience/User Interface?
Before starting let me make it clear that UX and UI are two different things. While User Experience (UI) calls upon the overall experience of a user in a website, User Interface (UI) concerns only with visibility or usability of a content visible on the screen. Thus, User Interface is only a part of the over all experience a user has on(and with) the website.
Even though UX/UI is largely concerned with graphical designing, features offered by your CMS also play a major role.
Your designer can only add to the outer beauty of the features of your website, while your CMS offers the functionalities and purpose for those features. Therefore, it is important that your graphical designer is aware of the CMS you are using and most importantly the features and modules it offers.
It is also important to make the right choice when it comes to choosing the CMS, not just for the functionalities it is offering at the backend but for its contribution in the front end too.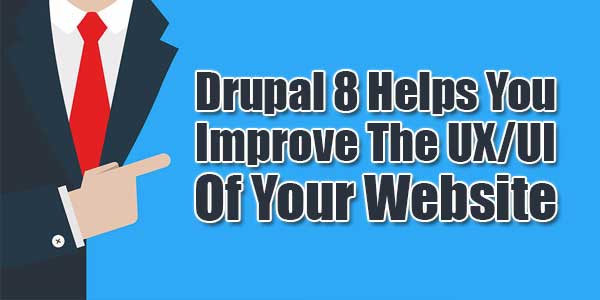 What Drupal 8 Has To Offer?
Here is a look at what solutions Drupal 8 has to offer for the front-end problems and how it contributes to the betterment of the UX/UI of the website.
Speed:
We all know how much speed matters. According to a study by Akamai around 40% of users will abandon a web page if it takes more than 3 seconds to load. 52% also claim that quick page loads are important to gain their loyalty to a site.
In the digital era, fast loading helps you move quickly and capitalize on business opportunities. Drupal 8 is flexible with advanced caching mechanism at various levels of the system making it fast and helping your website overcome bottlenecks and delays so it can run parallel with your agile team heading and creating an amazing experience for your user.
Scalable:
Even if you're delivering the world's best digital experience to your customers, it won't matter if your site gets hit with lots of traffic and goes down. Oops! You don't want that. But Drupal ensures you to keep your site safe from such unfortunate mishaps.
Drupal powers more than a million sites worldwide from leading enterprises like Johnson and Johnson, Pfizer, L'Oreal to international government organizations like WhiteHouse.gov, Australian Government, UN.org, among others. When Drupal says scalability it means that it will keep your site on turbo mode all year long, even on its busiest days.
Among the 100 busiest sites in the world, The Weather Company uses Drupal to help manage content on its Weather.com site. Drupal scales to support the most content-rich sites.
Mobile Responsiveness:
Drupal 8 offers responsive design for multiple devices. You can build responsive sites as well as web application (with Drupal) that deliver the best optimal experience to your user. And if this study by MarketPath is to be believed 55% of all web traffic comes from mobile devices. That's a HUGE number.
What it implies? As the mobile reach has become almost universal, you cannot ignore to build a responsive site and web applications which would deliver optimal digital experience, no matter what device they're on, Drupal 8 offers responsive design which ensures your users gets an uninterrupted experience every time, on every device.
Admin Role Division:
It is important that the site administrators can create (new) content without any fuss with fellow admins. Drupal 8 offers custom roles and functions for admins and user. These permissions can be assigned to the divided group of admins making it less cumbersome. Permissions once set help to decentralize responsibilities like creating, editing and managing content, all without putting extra workload on one person. The domain access module enables sharing content across multiple sites quite quickly, allowing site owners to share configuration settings among various users.
Drupal offers methods of easy content creation for admin, and this includes:
Easy to use (and handle) tools in Drupal for content creation and publishing
Authentication and permissions feature to manage editorial workflow efficiently
'Preview' to know how the content looks on any device before you publish it.
In-place content creation, editing, and organic tagging to make your content useful across various platforms.
WYSIWYG editor to let you create and edit content in-place, browse to a page, and edit right in the context of the content.
Track all changes and revisions for multiple editors and need to maintain a history of content changes.
Such features help team members edit, review, and approve content from mobile devices, to keep you with the smooth workflow, regardless of where they are and what device they're on.
Semantically Well Organized:
Apart from content creation, Drupal's true potential lies in creating structured content – describing the content elements, tag different content based on their attributes, create relevant division for content so it can be searched, found, used, and reused in ways that satisfy your visitors. Drupal 8 comes with schema.org compatibility. Thus, it lets you create and manage both custom and editorial workflow for all your content processes. Drupal gives you a chance to see the frame your content would be in – from creation to review – and further lets you manage and divide the content according to the taxonomy.
Identifying Different Content Type:
Your website could contain various types of content, such as address, news items, polls, blog posts, listings, case study, etc. In Drupal 8, apart from original content types ('Article" and "Basic Page") you can also create custom content type enabling you to show more information on the page, thus retaining your customer/client for longer time while also improving the user interface.
Conclusion:
Drupal provides you with a dedicated team of UX/UI experts. Its community forum is open to discussion and solutions. Drupal 8 is better equipped to satisfy the UX/UI needs of your organization as well as your clients (compared to its previous versions). Apart from this, Drupal's flexibility lets you add another front end program in case you want to. The 'Headless Drupal' is another add on with the complete package of Drupal, giving you best of both the worlds. Whatever you deal with, Drupal can help you create all the content you want.