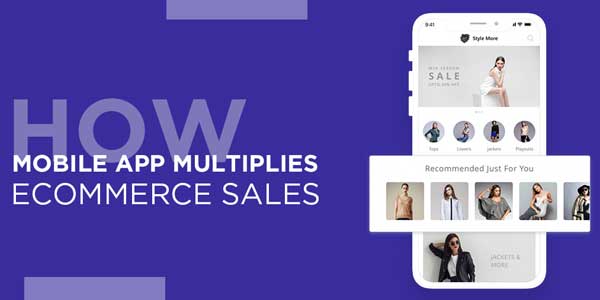 Mobile phones have become an integral part of day-to-day life for a decade. Be it, children, be it youngsters, or be it adults, the majority of the population uses a mobile phone for entertainment, calls, texts, news updates, social media interaction, and much more.
Every year, the eCommerce industry is experiencing significant growth in the market. Consumers prefer online shopping over offline shopping for the following reasons:
Better convenience
Speedy functionality
Adaptability
This demand called for an increased number of mobile applications from eCommerce store owners. The mobile app creation has become the most popular process in the IT industry. Today, digital commerce has secured an inevitable position in the retail industry. The increase in the number of eCommerce stores has consistently raised the need for mobile apps.
Statistics suggest that about 66% of mobile users spend their time on mobile shopping. Customers opt for downloading a mobile app and shop conveniently over browsing over an online store or website. Top eCommerce players in the market have stated that their sales have increased by 50% to 70% after the introduction of their mobile app for online selling.
Entrepreneurs are now focusing on the mCommerce industry and have lowered the investment in the eCommerce store. About 90% of the traffic is earned with the mobile app. The high rate of the acceptance of mobile apps in online shopping may lead to the complete depletion of the online store as per researches.
Ecommerce giants such as Amazon, Flipkart, Alibaba, eBay, etc. are standing firm in the market due to their trust engulfed in their customers with their services along with their mobile apps for offering the best customer experience.
How Do Mobile Apps Impact The Company's Sales?
Mobile apps help store owners to offer a customized solution to online shopping. The mobile apps can be equipped with extensive features such as social media integration, camera, and convenience in viewing product images with a pinch-to-zoom feature, among many others. Some of the major impacts of mobile apps on eCommerce sales are listed below:
1.) Customer Targeting:
Consumers aged between 25 and 35 years are the majority of smartphone users who prefer online shopping through mobile apps. This population will continue using smartphones for online shopping for as long as they grow that accounts for a steady rise in the use of online shopping mobile apps.
2.) Unmatched Convenience:
Once a customer starts using a mobile app for shopping, it is studied that he/she will use the app for online shopping thereafter. With the ease of shopping experienced from a mobile app, no user would switch back to something that is less user-friendly.
3.) Enhanced Technology:
Smartphones improve the shopping experience of the customer with ease of use that eventually increases the conversion rates. From easy handling to improvised marketing opportunities, smartphones play an important role in improvising the customer-experience.
4.) Accelerated Conversion Rates:
Studies show that the rates of conversion for smartphone consumers are more than that of online shoppers. Mobile shopping assures maximum customer satisfaction which in turn results into accelerated conversion rates.
5.) Higher Revenue:
Surveys state that mobile apps drive more revenue to retailers as compared to online eCommerce stores. Mobile apps are inimitably convenient for users to browse products as well as shop online. Personalized app settings help them look for products as per their convenience.
6.) Professional Builders:
Many eCommerce builders such as Builderfly offer the facility to create a mobile app for free along with the subscription to build the online store. It reduces the investment as well as efforts to earn higher revenue and online traffic through mobile shopping apps.
7.) SMS And Push Notifications:
With the help of mobile apps and smartphones, retailers can choose to send SMS and push notifications to their customers for building a strong connection. Both ways are the best to let your customers know the latest offers and discounts on their desired products.
With such growing impacts of mobile apps on eCommerce sales, retailers must consider switching to m-commerce from eCommerce or at least focus more on the former. The results are known to be seen right from the start of the big switch. One can always consider opting for online store builders to avoid any technical barriers in creating the mobile app.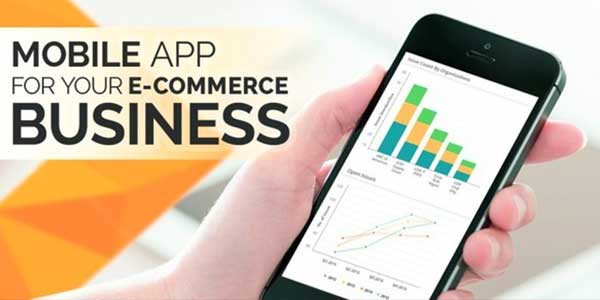 Things To Consider When Creating A Mobile App For Online Selling:
Choose the platforms on which you will provide your mobile app based on the target audience, the type of business, and the country you are focusing on.
Based on the type of operating system you choose, you can decide whether your app will be native or hybrid. Native mobile apps are precisely for Android and iOS operators that follow the guidelines of these two operators. Hybrid apps, on the other hand, are generally designed for smartphones, irrespective of the developer.
The mobile app design must be user-friendly that defines the reviews of your customers on using your shopping app. The UI/UX design is the most preferable with the power to entice the customers using the app with a seamless user experience.
Your mobile app must be created concerning your targeted audience. If your app does not satisfy the needs of the targeted audience, the chance is the app will be uninstalled within seconds.
Instill mobile analytics to study the performance of your mobile app to reach your business goals efficiently.
Make sure to simplify the backend management of the mobile app so that you can conveniently manage your app for a better customer experience.
Compare your idea of creating the mobile app with your strong competitors in the market. It will help you improvise your app as well as help you know the points to convince a customer to use your app.
Decide whether you will create your mobile app by yourself or you will seek professional support for the same. There are professional mobile app builders as well as app building platforms that help you create your app in your way.
You are now ready to skyrocket your online sales with a mobile app. Sell your products the smart way and earn higher revenue than the standard procedure.