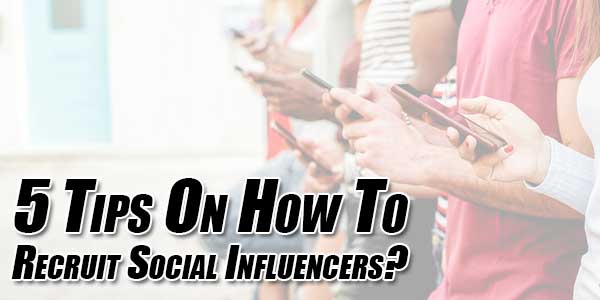 Influencer marketing is popular among marketers today, and for a good reason. If executed well, influencer marketing campaigns can deliver nearly an 18x ROI (in earned media value). This is perhaps the reason why more than 320 new platforms dedicated to influencer marketing were launched in 2018.
It is difficult to ignore the power of social media influencers. They can help you increase your reach, lead generation, and even sales.
However, in order to make the most out of your influencer marketing campaigns, you need to find the right influencers. And even more importantly, you should know how to recruit them. Here are a few tips to help you do so.
1.) Choose The Right Social Media Platform:
Selecting the right social media platform for your influencer marketing campaigns is crucial. You need to find where your target audience is the most active and target that platform. It is also necessary to understand the type of content that they consume because this can also help in targeting a particular platform.
Without the right social media platform, you won't be able to create an effective influencer marketing campaign. Also, do keep in mind that when you look for influencers, you need to see who your customers listen to. Don't follow the numbers blindly. Remember, popularity is not the same as influence.
Don't be afraid to try something new such as a webinar or podcast. However, while selecting a social media platform, you should also think about how you'll measure your campaign results from the platform. It may be difficult to figure out the ROI of your campaign on some of the platforms.
2.) Look For Passionate Influencers:
When recruiting influencers, you need to see how passionate they are about your brand and your offerings. There may be many influencers out there who are just in it for the money and may not be passionate about your brand. Collaborating with these influencers may not yield the best of results. This is because their audiences may understand that the connection between your brand and the influencer isn't authentic.
You also need to see if the influencer's values match your brand values. This is critical because the influencer serves as an extension of your brand. If the influencer sends out the wrong message, it may damage your brand. It is also important that you don't overlook micro-influencers. They may have a smaller fan base but they can be extremely influential among them.
To find reliable influencers and establish relationships with them, you can use platforms such as Influence.co. It allows you to look for relevant influencers and even lets you post your campaigns. Interested influencers can then apply to the campaign, and you can select the best from them.
3.) Recruit Customers:
Remember, your customers can serve as influencers in their own circles. While you don't need to approach all of your customers and recruit them, you can find ones who are already talking about you. These are the ones you can reach out to and recruit them for your influencer marketing campaigns.
The best part about your customers is that their reviews will be more genuine. Additionally, if they have anywhere between 10k-50k followers, they are micro-influencers themselves. You can feature their posts on your account as well and give them exposure. This may further motivate them to post content related to your brand.
WeWork, for example, frequently shares posts put up by their customers on their Instagram account.
4.) Create A Contract:
It is essential to create a contract when you're dealing with influencers, and it's an important part of recruiting influencers. A contract helps set the deliverables for both parties and clearly lays down the terms of the agreement. If you want to protect your brand's reputation and results of the campaign, a contract is highly recommended.
The contract becomes almost a necessity when you're dealing with social media takeovers. In these campaigns, you need to set the takeover time. This is because you'll be giving the control of your social media account to the influencer.
Even in case of a regular contract, you need to define its duration. For this, you need to decide if you're looking for a short or long-term collaboration.
Fisher-Price, for example, has been collaborating with Giovanna Fletcher for quite a few years. This long-standing partnership has helped the brand promote many of their toys.
5.) Build Strong Relationships:
To recruit reliable influencers, you need to forge solid bonds with them. Allow enough time to build a relationship with them before you pitch your idea of partnering with them.
Even after your campaign is over, you should keep communicating with them frequently. Building long-lasting relationships involves some give and take. So make sure that you continuously think about what you can provide influencers.
You may even conceptualize content that can benefit both the influencer and your brand. When the influencers benefit from their partnership with your brand, they'll feel more like helping your brand too.
By forming strong relationships with your influencers, you'll be able to win their trust, and some of them may even become your brand ambassadors.
It's also important to communicate effectively with your influencers to discuss how you can improve your campaigns. Make them aware of some of your marketing goals as well so that they have an idea of what they need to do.
Final Thoughts:
To recruit social influencers, you need to zero in on the social media platform that you're going to use for your campaign. Find influencers who are passionate about your brand and the topic they are writing about. Put effort into building solid relationships with them. Don't forget your customers; they can be influencers too.
Lastly, creating a contract can help you set the expectations from both parties. What are some other useful techniques that you use to recruit influencers? Let us know in the comments.