When you're running a business, you want to be the best you can. When it comes to e-commerce, the competition is strong and it's hard to find your place on the market. This is why you need to invest all your efforts into creating a professional and attractive business presentation for your potential customers. And it all starts with your website.
To make your e-commerce website functional, effective, and inviting, you need to work on improving it every day. This is exactly why you need to consider using WordPress tools for running your e-commerce website. If you're not sure what you can get form the best WordPress tools, and why you should use them, just keep reading.
Here's how WordPress tools for e-commerce can improve your business.
Storefront Building:
First impressions are important.
For people online, the design and the visual aspect are extremely important. If they don't like what they see, they won't bother sticking around to find out more about what you have to offer.
This is why a WordPress tool such as WooCommerce can help you design a storefront that will support your business and your customers will love.
With a plugin such as this one, you don't need to be a web designer or have any coding skills. All you have to do is:
install the plugin
choose one of the many themes you love
edit any part of the site to make it unique
integrate it with other plugins and tools you love
With a beautifully designed storefront, you'll have more customers to welcome and you'll be able to focus on other business strategies.
Conversion Optimization:
Every single web visitor matters and you need to be able to increase conversion and get the most out of every click.
You can't do this manually, and if you don't have an effective tool, such as the Optin Monster you won't be able to get very far.
This is why a tool for conversion optimization is a necessary element for the success of your e-commerce store.
It provides options such as:
abandoned cart notifications
welcome notes
exit intent popups
data analysis
targeted messages
All of the above will expand your email list and increase your conversion rate.
SEO:
Every e-commerce needs to fight for that search engine ranking. If you're outranked by your competitors, you can say goodbye to increasing sales and making significant business improvements.
Luckily, you can choose a WordPress tool that can help you with SEO, and make sure you're e-commerce is ranking high.
The best known SEO WordPress plugin is Yoast SEO. If you use it to enhance your e-commerce website, you'll be able to:
find and use the right keywords
improve your indexing
get to your target audience
update outdated content
improve readability
You'll be able to provide advanced SEO, improve your ranking, and get more people to know about your e-commerce.
Data Backup:
You're working hard on creating an e-commerce store that's going to keep getting stronger and better every day. Still, you can't forget the importance of securing your data.
If you lose your data, all of your previous efforts will be in vain. You can't let anyone unwanted near your confidential information, and WordPress tools can help you improve your security.
For example, you can use a plugin such as Backup Buddy to protect your from:
hacks
server crashes
malware
errors
You'll always have your data protected no matter what happens. And that's immensely important for you as a business owner.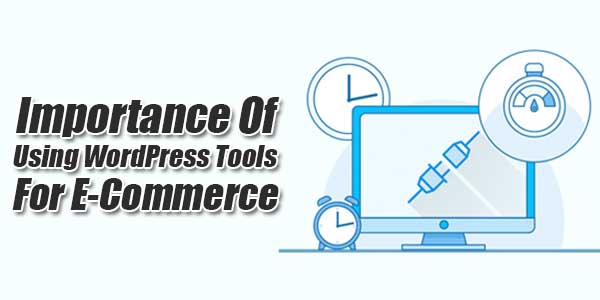 Email Automation:
When it comes to e-commerce content marketing, email marketing needs to be an inevitable part of the strategy.
You need to reach out to your potential and current customers outside of your e-commerce store, and let them know about:
special offers
discounts
sales
products they might like
This way, you're showing you care about them and you've something special for them.
A WordPress tool such as MailChimp can do all of this for you and ensure your email marketing strategy is to the point.
It will increase your conversion rate and ensure you're not wasting any visitors or leads.
Content Publishing:
With everything you've got going on, form managing products, sales, and customer service, you hardly get any time left to deal with content curation and publishing.
In addition, you might get lost in all the deadlines, cross-schedules and dates you need to follow.
This is why you need to use a WordPress tool such as Editorial Calendar which can help you:
organize your content creation plans
keep a posting schedule
plan ahead
reach all your content goals
You can have your entire team use this tool to ensure you're all on the same page.
This way, you'll be able to stay consistent in your content marketing efforts and avoid making mistakes or forgetting when to post new information.
Simple Checkout"
Even if you've got people interested in your e-commerce, and then a specific product, it still doesn't mean they're going to go through with the purchase.
You can even have them get back to their abandoned cart and still not seal the deal.
The reason why this might happen is that your checkout page is overly complicated and your visitors get irritated halfway through it.
To avoid this happening, you can use a WordPress tool such as Ecwid.
It will help you create a seamless checkout experience and have more people going through with their intended purchases.
Final Thoughts:
After reading through the guide above, we hope you realized how important it is to have a complex, well-organized, and efficient e-commerce website. The WordPress tool listed, along with the many others we haven't mentioned, can make a significant improvement for your e-commerce and help you stand shoulder to shoulder with your biggest competitors.
Make sure you choose the appropriate tools for the needs of your e-commerce and work on being better every day. You'll be able to see the first positive results within days.