Google stopped updating PageRank. The most recent three updates made to PageRank happened on the 7th of November, 2012, the 4th of Feburary, 2013, and the 5th of December, 2013. It is now late December in 2015, meaning it has been two full years since the last PageRank update. Face it, everyone; PageRank is dead and now officially Google stop its extension also.
Now there are many SEO Metrics Moz's set of rankings, Domain Authority and Page Authority. These are great, but they're also not the focus of our attention today. The real focus is Majestic SEO's Trust Flow & Citation Flow.
What Is The Trust Flow?
While Trust Flow is a number which calculates how reliable a URL might be based on a back links proximity to trusted web domains. For instance, links coming from high PR and relevant website has more weight than links coming from the irrelevant and spammy websites.
Increasing Trust Flow:
If Trust Flow is the best indicator of search engine success, you obviously want to take steps to increase it. I've come up with a bit of a process you can use. Essentially, this is all about building authoritative backlinks. Majestic follows much the same set of rules as Google – which makes sense for it to be so accurate – which means spam links are bad, authoritative domains are good, and nofollow links pass nothing.
The Trust Flow is a metric for measuring how trustworthy a website can be. Its value can be range from 0 to 100 and it's determined by the amount of trusted, quality domains that link to a particular website. Nevertheless, in reality it's not so simple. In effect the trust flow considers the number of clicks from trustworthy websites too.
How To Increase The Trust Flow:
Trust Flow doesn't mean to make too many backlinks but it depend upon building backlinks from trust worthy sites like high Trust Flow and Domain Authority. Social media profiles in fact are now you may have already built the typical Facebook, Twitter, Pinterest, so here we have a high DA and TF sites list that can freely available over internet to get the free backlink easily.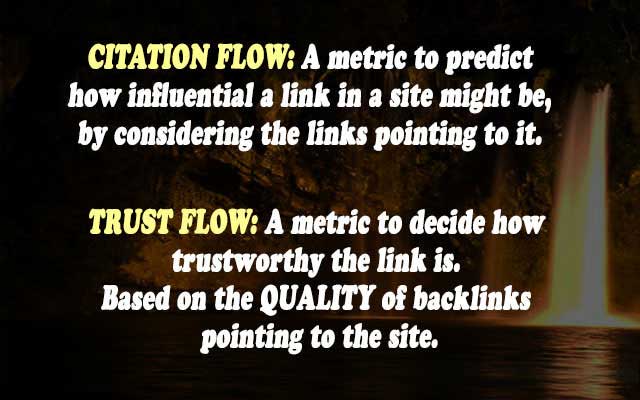 Top 35 Domains With High Trust And Domain Authority:
Where To Target Your Backlinks?
Case 1: All Links Pointing To The HomePage:
First of all, we need to be as natural as possible, and for a site to receive all of its links pointing back to its homepage is certainly not good in Google's eyes and is not more perfect for increasing TF.
Case 2: Most Links Pointing To Inner Pages:
This is the most natural back linking profile. And when you are sending high DA links pointing back at your inner pages now, you make it so much easier for the DA of the domain to rise across the board because your internet pages will redirect them to your homepage.
Last Words:
So finally its upto you that how you get it. Increase your TF thats is the new way of Page Rank so if you already have a Good Page Rank then you can already have some Trust Flow and the rest you can increase it from the upper like sites and try to get the DoFollow links thats always be a king.