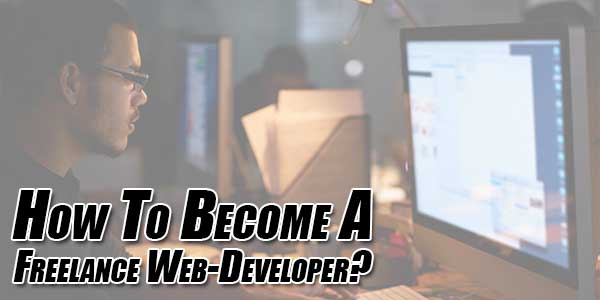 The time has come: you are done with your day to day job and want to look for something better and get paid more for it. Everybody's looking at tech area with ideas like these, and you start to think that you might better become a web developer and start freelancing. After all, how hard can it be?
Preparation:
Don't quit your job just yet. When you are looking for how to become a freelance web developer, first you need to find out more about the area of work you want to get into. Unless, of course, you are already a developer, then skip this part and go to the other sections, titled "Branding" and "Getting that freelance gig".
The first step is to figure out what kind of developer you want to be: will you tackle only HTML, CSS, and JavaScript, or will you start tackling such programming languages like PHP or Python. Nowadays, even though Python is a universal language for websites and software, PHP is also widely acknowledged for web development, mainly because it's the official language for WordPress. Creating WordPress blogs is a good decision when you are looking for how to become a freelance web developer as it is one of the most popular content management systems in the world.
But first, you have to develop your skills. If you're a complete newbie to programming, the best recommendation is to start learning now. Perhaps taking a learning path for PHP would be your best option as it would offer structured courses leading to becoming proficient. Of course, while you are learning, don't forget to use a code editor to try to write your own little code snippets and if you encounter some issues, head over to Stackoverflow to get some help. The developers there are always willing to help if you ask nicely.
Branding:
If you are willing to start your own business, you have to make sure that people know about you. Of course, the best recommendation is a job well-done, but before you get any leads, it's good to invest in your own branding to make them come to you and not another web developer.
Let's take the before mentioned PHP as a leading example. You've finished your learning path and your next best step is to create a portfolio. As it was mentioned, PHP is used for WordPress, so you can start by creating your own WordPress website which would be like your business card. Here you can also add your portfolio: different WordPress themes you've coded so that people would know that you can create different styles. Don't forget to add a blog: this can be a great place for people to get to know you, find some tips and interact with you.
Another branding tip for when you are looking at how to become a freelance web developer is perfecting your social media. It should have the same vibe as your website: the same color tones in visuals, tone of voice, and, most importantly, brand name (unless you decide to go by your own name). Use social media to give tips for your target audience: once they start trusting you, you will become the first person they'll contact once they need a website.
Getting That Freelance Gig:
The first thing you should do is register on a freelance job website, such as Upwork, Fiverr, Guru. The most important thing on these freelance websites is to set up your bio right: if you're a PHP developer, state how many years/months have you worked in the field, provide your portfolio, list your positive characteristics (punctual, detail-oriented, etc.). Of course, it might be slow at first as people tend to choose developers, who already have had some requests, but once you provide qualitative work, you will start getting more customers.
Don't be afraid to reach out to people as well. You can follow some of the website admins/owners on LinkedIn, and once you spot something that could be improved on the website, write them a letter. Some people might dismiss it as too intrusive, but others will welcome you, especially if you offer a fair hourly deal. Talking about the hourly deal, it would be best to start out a bit lower – just to attract customers and get their loyalty.
If you are looking at how to become a freelance web developer, it is important to keep trying. You have to always look for the newest web development solutions which you can apply to your portfolio. Be honest about your work hours, experience and be eager to learn. Don't dismiss feedback – learn from it. With these tips on your mind, you are ready to become a freelance web developer.