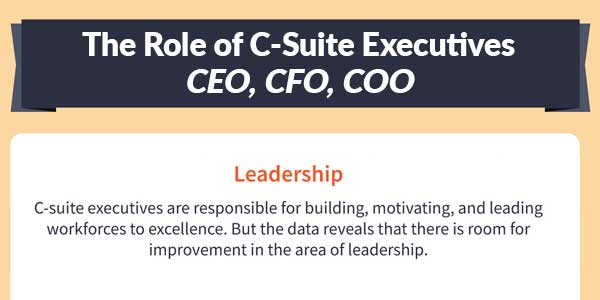 Shorthand for a company's top tier of executives, the term C-suite derives from the first letter of the high-level executive titles used by many large enterprises. The most common C-suite titles are the chief executive officer (CEO), chief financial officer (CFO), and chief operating officer (COO). These C-suite leaders, also known as C-level executives, make decisions that can determine success or failure for their companies.
Reaching the top level of leadership in major companies often requires many years of experience as a professional climbing the corporate ladder, demonstrating executive ability along the way. Another way to become a top executive of a large company is to start a small business that gets big. No matter how they begin their careers, C-suite executives must demonstrate both technical competencies and a wide array of soft skills related to communications, leadership, and strategic vision.
Factors that determine the number of C-suite roles in a company include its size and the nature of its business. Trends in technology and consumer preferences also play a role. For example, customers accessing their bank accounts online expect seamless experiences no matter which device they use. If they log in using their laptops, they expect to see account information that matches what they see in their mobile app. For some companies, this may require creating a C-level role to oversee initiatives that involve integrating multiple systems and processes, touching on sales, marketing, operations, and technology.
Major publicly traded companies typically need several C-suite leaders. Standard roles include not only CEO, COO, and CFO, but also chief technology officer (CTO), chief information officer (CIO), and chief marketing officer (CMO). Smaller operations typically only need one C-suite executive, at the most two or three. A small business may have individuals leading key functions of a company, such as finance or marketing, who do not hold C-level titles.

This Infographics is shared here after legal permission from Northeastern Online MBA Program