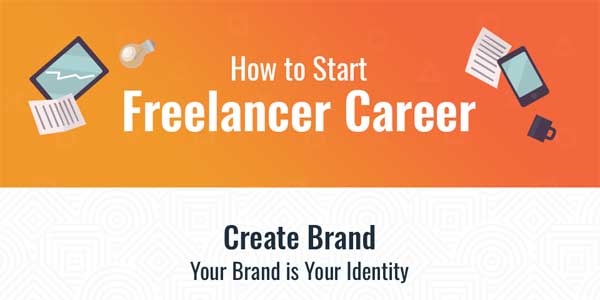 1.) Create Your Brand:
If you want to differ from your competitors, you should look professional. Creating a brand should follow an understanding and a clear vision of what you want to achieve in your work. While creating and developing your brand, do not be afraid of small failures and looking for new markets. Every freelancer should have a brand because <a href="https://www.exeideas.com/2017/12/brand-name-does-more-than-you-think.html">you are your brand</a>. But do not be discouraged if customers do not knock on your door immediately after the launch of the brand. Be focused, keep working on attracting customers, and remember that the main thing is not quantity, but quantity.
2.) Find Out The Clients' Needs:
Before launching your project, decide on who you are going to work with. Do you want to create web pages for small business or collaborate with enterprises on a long-term base? This distinction will help pitch your services more effectively.
To define the audience, ask yourself the following questions:
What kind of business requires my services?
Will the client be able to hire me?
Who makes the decision in the kinds of businesses I will work with? Think about gender, age, place, websites they use and personal interests.
3.) Find New Clients:
The work of a freelancer involves a constant search for new customers. The most effective ways to find them are word of mouth, using LinkedIn and Upwork websites, starting co-working and networking, speaking at events, meetups and conferences and utilizing portfolio websites
The underwater stone of it: it is necessary to state clearly that your activity is a work, not a hobby and you want to get money for it. You should not be afraid to say this directly. A couple of orders made "at a friend's price" can kill your earning potential, not to mention that it's not fair to other freelancers.
4.) Plan The Financial Side:
The main thing in deciding on the price is to charge enough to have a sufficient living standard. If you give a good first impression and deliver high results, customers will not hesitate to pay huge sums to you.
Make your financial needs meet the prices you charge. It is possible to increase rates in the future. But it is better to start with the price you are already excited about and increase the value of your services later on.
5.) Become An Expert:
You need to throw yourself back into work. Often you will have to sacrifice your personal life and free time. Everyone knows that it is difficult to develop all thу aspects of your life at the same time, and if you want to become an expert in a certain field, you should deny yourself many things since you will have to devote the lion's share of your time to your freelance.
Teach a workshop, create a blog, write a tutorial to get noticed by the potential customers or partners.
6.) Don't Give Up!
Walt Disney started working as a freelancer, selling his drawings and cartoons to various publications. Unfortunately, it was very difficult for him to earn living.
In the end, Disney got a job as a designer in an art studio, but he did not stop thinking about independent business. The first experience was creating a commercial studio "Iwerks-Disney Commercial Artists", and it was a failure. The next firm was called "Laugh-O-Gram", but it went to glory as well.
Walt was disappointed, but not broken. For the next 15 years, he was engaged in what we now call freelancing, selling his drawings to various studios, newspapers, advertising customers. He was engaged in photography, design, decorating. But still, he did not leave his animation hobby, which made him great.
Working as a freelancer you can:
work whenever you want;
have a coffee whenever you want;
sometimes work 3 hours a day;
work anywhere;
take a vacation whenever you want.
Freelance is slowly becoming an equivalent form of work. At first, it did not seem to be that popular and to be better, than relatively stable work. However, more and more people decide to become a freelancer. Many myths arose around the work of the freelancer, creating a false image of this work organization type. How to become a successful freelancer? Watch this infographic to build an effective strategy:


This Infograph is shared here after legal permission from Resume Writing Lab