In modern civilization, people have adopted the latest and sophisticated means and methods for their everyday life. When it comes to shopping, there are two ways—online shopping and offline shopping. Usually, those people, who are highly educated, civilized and internet savvy, prefer former to latter, whereas those who are uneducated or semi-educated and computer illiterate prefer latter to former. Apart from this, people also choose the method of shopping according to their convenience and circumstances. In order to know which shopping method is better for you, you need to delve into this post.
Pros Of Online Shopping Vs Offline Shopping:
First and foremost, online shopping is better than offline shopping owing to convenience. While buying any product, you do not need to roam helter skelter to tire yourself. What you need is a computer along with an internet connection. Moreover, there are many payment options, through which you can make payment to your retailer. When you buy any product in a store, you exert yourself a lot.
With online shopping, you get to choose your product from different varieties that you do not find in offline shopping. As a result online shopping is a smarter way to buy good quality products than offline shopping.
Online retailers get added advantage in pricing as they need not bear additional expenses such as payment of bills, store etc. As a result, they offer their products at a cheaper price as compared to offline retailers. Although shipping cost is included in online shopping, it is better than offline shopping.
Online shopping is a discreet shopping with which most customers are comfortable. With offline shopping, people feel uncomfortable while buying their products.
In addition to offering products at cheaper prices, many online stores offer discounts in association with brands, banks etc. which allow customers to save their money while buying products online. On the contrary, offline showrooms or stores offer discounts when the manufacturers offer a discount on their products. Some noted Indian online stores include snapdeal, flipkart,jabong and myntra.
Online shopping is less burdensome than offline shopping as you need not carry products in your hands that may exert unnecessary pressure on you. When you have ordered any product online, delivery boys will deliver it at the threshold of your door.
With online shopping, you are saved from elbowing and hustle and bustle of the market. You buy products from comfort of your home and need not go anywhere. But, when you buy any product in the store, you go outside and face wrath of people.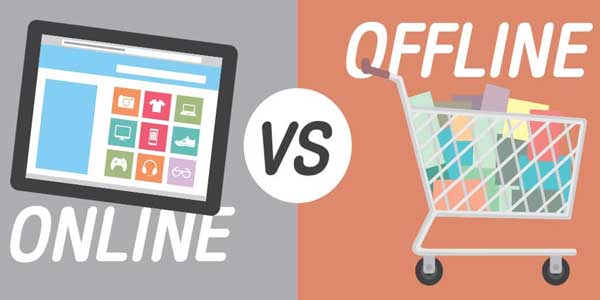 Cons Of Online Shopping Vs Offline Shopping:
When you any product offline, you get it the moment you pay for it, whereas in online shopping you will have to wait for a couple of days. Moreover, the delivery of products may be further delayed. This could a source of trouble to you. There are certain occasions in life,when you need products on an urgent basis, online shopping will not be purposeful for you.
If you are one of those connoisseurs, who believe in touching and feeling products before they buy them, then online shopping will not enable you to do so. You have to decide which product to buy by seeing the pictures of products online. But, with offline shopping, you can touch and feel the products before you buy them.
With online shopping, there is a risk of being cheated. Sometimes, the product other than what you have chosen is delivered at your door. But, with offline shopping, there is not any risk.
These are the pros and cons of online shopping Vs offline shopping. Basically, everything in this world has both advantages and disadvantages. You choice depends on you. So, it is up to you what you choose between online shopping and offline shopping. Neither of them is fully advantageous. However, online shopping has more pros than cons. This proves that online shopping may be better for you. But, you are not being forced to this mode of shopping. Use your wits and choose the one that suits you appropriately. Do not allow your peers to intervene in your matter. Your choice throws light on your personality. So, be personal in your matter!