Scanning a QR code on a smartphone might lead someone to a website link or information on a business. Used as a coupon or business card, businesses can get a glimpse into a world of opportunities. QR codes can provide an interesting option for a business' customers and connections.
1.) Business Cards:
Handing business cards to customers and people you are in a business relationship with is an age-old tradition, it seems. Yet, adding a well-placed QR code can capitalize on that lead or connection in a subtle, artistic manner.
QR codes on business cards can add technological prowess to potentially mundane items. After all, what could be better than the customer scanning the QR code on a and connecting with the business right away?
2.) Coupon Sharing:
Imagine a QR code that leads your customer to a coupon. Also, there is an option to share that coupon with other users — via social media or email — that makes use of the QR code.
This is the type of marketing power that can be harnessed with simple black modules on a white background. As coupons will remain a focal point for customers, QR codes must accommodate this basic marketing need to leverage this area.
3.) Deal Alerts: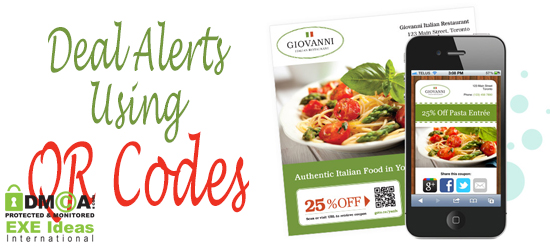 SMS marketing has become a primary area of interest for business marketers. After all, receiving timely alerts on great deals from retailers benefits both sides.
QR codes, like coupon sharing, can easily accommodate this need. By using these codes to sign a user up for alerts, businesses can make things easier on the customer. The potential for marketing is considerable.
4.) Business Information:
One of the primary uses of QR codes is simple business information. When someone scans your QR code, they may be able to see name and contact information. Others will lead to the business website.
Whatever the need may be, QR codes should be utilized to deliver business information in a unique way. Business cards make use of this aspect, but the sky is the limit here.
5.) Likes and Follows:
Mobile-friendly marketing ideas should always be a focus for businesses. Taking advantage of one third of smartphone users that scan QR codes, these codes can integrate important social media likes and follows.
This idea perfectly blends two of the hottest marketing elements together: mobile and social marketing. Capitalize on the opportunity to appeal to tech-savvy customers by using QR codes that lead to the business' social media page.
Overall, plenty of opportunities are present for QR codes in the business world. Used as a marketing or networking tool, QR codes can come through and bring an engaging tool for businesses. Take advantage of this emerging option.
About the Author:
Shaun Chatman is a freelance writer by night and a gym trainer in the day. Happily married and a father of two gregarious kids, Shaun lives in Dunedin, FL, and spends his free time playing with his kids or messing with his Nokia Lumia mobile phone.