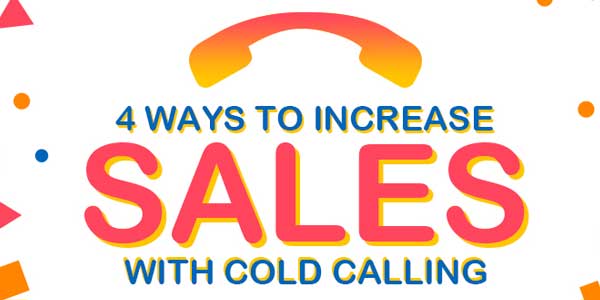 Many successful companies still use cold calling to boost their sales and increase revenue. Why? Because cold calls are quite effective as a sales strategy.
It's safe to say that cold calling is not dead. So, here are four effective cold calling tips to help you increase your sales.
1.) Prepare An Excellent 15-Second Pitch
You know it's difficult to convert a cold call into sales within 15 seconds. But if you have your pitch ready, then there is a chance to convert your calls into sales in the first few seconds.
You need to talk about your company and about your unique value proposition. Talk about the value your products or services can add to your prospect's life.
2.) Prepare A Strong Opening Statement For Your Cold Call
Never give your prospects an opportunity to disconnect the call. To avoid the possibilities of committing some common cold-calling mistakes, you need to prepare an opening statement. This will help you organize your thoughts before the cold call.
Try to avoid using lame opening statements. Rather, use your opening statement as a framework to kickstart your conversation on a good note.
3.) Understand The Objective Of The Cold Call
Before you make a cold call, it's important to understand the objective of the call. You need to understand that the first cold call is not about making a sale. The first cold call is about setting up a meeting to make a sale.
You need to use the first cold call to establish a connection with your prospects. Interact with them, collect as much information as possible, ask questions, and make sure that you take notes. This will surely help you with your future calls and help you have more fruitful discussions.
4.) Draw Motivation From Rejection
It's difficult to convert your first cold call into sales. You will face rejections, but don't get disappointed. Instead, learn from these rejections and use them motivate yourself to perform even better in your future cold calls.
You can also ask your prospect the reason for rejecting your offer. To your surprise, some of your prospects might be kind enough to share the reason with you. This will help you analyze and evaluate your cold calls in an effective way.
For more information, check out the infographic below:

This Infograph is shared here after legal permission from Salesmate