Smartphone apps are always in demand in today's technology surrounded life. Day by day people are in look forward for developing apps for their Android or iPhone. These apps are very useful to save time and to take quick action for some savvy work. Moreover, some educational well as entertainment based apps are avail in the market.  Cost of this app development as varied; however, still many people are thinking the why android application development cost is higher then iOS app development?
There are more Android devices in the market compare to iPhone, so it is more important to know why the development cost of Android application is on higher side compare to iOS Application.  Actually, many factors are affecting to raise the development cost of Android app.
Take a look for some unfavorable hidden part of Android apps such as:  Multiple manufacturer of the Device, Multiple Screen size and resolution, various devices with an assortment of and outdated operating system.  So, all these hidden facts are playing key role for increasing the development cost of android apps.
Let's Understand These Factors In Detail:
Different Screen size and Resolution: Application market is divided between two main providers 1. Apple and 2. Android.  Apple has introduced the iPhone & iPad with Fix sizes; on other side android supports multiple screen sizes and resolutions. This will take much hard work and time for the developer to adjust and make the Android application in such a manner that it works on most of the Screen size and resolution. This will take much effort and testing time eventually higher the cost of development.
Different version of the operating system: In the market there are 4000 + Android devices are available manufactured by different companies. They are offering different Hardware, screen sizes. Thus, android app should be developed in a way that it fits easily with all available screen sizes and version of OS as well as screen sizes of phones.
Required Extra Testing Time: Android has different devices with different hardware, technology and functions.  So, there is possibility that one function works perfectly with one device and has trouble on other. Thus, this requires application to be testing on multiple devices before get live on the play store.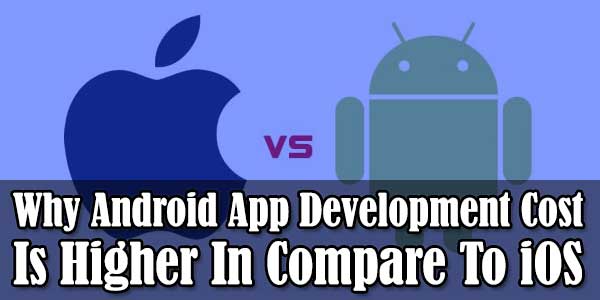 What Now, Go For iPhone Or Android?
This drawback doesn't suggest stopping the development or postponing your plan for Android application development. Because Android is the fastest growing mobile technology over the world and over those drawback there are plenty of rich functionalities offered by this OS.
Our Suggestion:
Actually, to choose android or iPhone app development is depending on your expectation for app expansion. Do you need app more compatible with different sizes of screen resolutions as well as OS versions? Do you need app development just for your personal purpose? Do you need application for more downloads and money making? Answers of all these questions will help you to choose the right development.  So, don't hamper your mind for android development due to cost factor. First clear out the aim of your app development then chose the best that suits in your ways.