With 2019 around the corner, you must be already looking for a way to up your sales strategy from last year, with new methods to engage your customers even further. 2019 looks to be the year where companies are looking for a more personal, interactive experience with their customers. The traditional methods of brand- building and CRM software now seem to be passé. With technology changing with leaps and bounds, you should hop on the bandwagon too along with your company, otherwise you are in danger of being left behind.
Listed below are a few sales strategy options that will most likely become the trend for all major companies in 2019.
Free CRM And CRM Software:
CRM or Customer Relations Management is scheduled to come around in a new way in 2019. There are a number of CRM software systems today, which help you to find all the history and data of your customers in one place. Most of the software is free to use, ensuring that you are saved from the hassle of finding tabs and files which contain all the needs of your customers. There are a number of free CRM websites on the internet, which can help you to acquire whatever information you want. CRM software is much more efficient than the old method of using spreadsheets. Spreadsheets tend to get long, clumped, and saturated. Using a CRM software, whether it be free CRM or paid, will always ensure that you have all the information you need about your customer at the touch of a button. Your customers will appreciate the personal touch, and there will be less hassle for your salespeople too.
Content Matters Over Advertisements:
According to Business Insider, over 30% of internet users will have installed ad blockers on their devices by the end of 2018. Given the scale of the internet today, it counts as more than a billion people. If you are still using the traditional methods of advertising on the internet, then you are not reaching 30% of your intended customers anyway. Furthermore, a Nielsen study conducted in 2015 stated that out of all the ways a company gets new customers, ads feature at the bottom of the list. Your audience does not care about how you are selling them something. What matters more is what you sell.
However, this does not mean that advertisements do not matter. You still need to remind your customers about your company, or inform them about new products and services. However, traditional advertisements cannot be the sole basis of acquiring new customers anymore.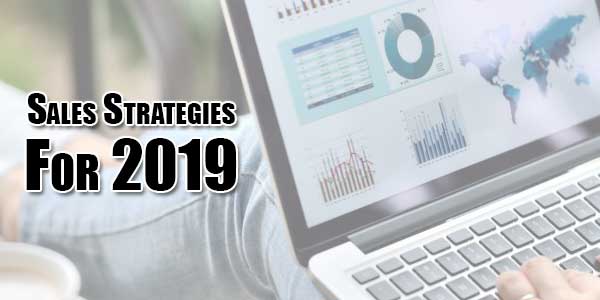 Your Creativity Will Matter Most:
Usually, the trend of any company is to conform to the old, already existing, tried- and- tested tactics of reigning in new customers and retaining their old ones. For example, in today's world, where the world is becoming increasingly paperless and more technologically oriented, no company would think of going back to the olden days and sending a printed newsletter every week to their customers or clients. But this tactic denotes a sense of personalization for the customer. People still love receiving goods in the mail, and if your company provides them with the quaint, old-fashioned, yet personal methods of yore, then more and more customers are sure to flock to you.
Learning how to advertise in a creative yet subtle manner is an art which not many companies have been able to achieve. However, if your company can optimize and create such a sales strategy, then you are surely going to own the year of 2019 in the long run.
Artificial Intelligence Is Taking Over:
Artificial Intelligence or AI is taking over all the areas of customer support and implementing new sales funnel options. In many ways, it is more beneficial to have an AI interact with your customers, as they are bound to give higher curated responses as compared to the average sales services representative. Furthermore, they are available at all times of the day. Moreover, people prefer to talk to artificial intelligence as compared to a human representative, because they are deemed to be "more polite" and "more receptive" as compared to a human representative. Recently, artificial intelligence has become more responsive to the queries of people, as they are learning how to adapt to any kind of question thrown at them. All these aspects of artificial intelligence make them extremely convenient for any company who wants to keep up with the times in 2019, as artificial intelligence is surely the way to go.
Conclusion:
In 2019, the best way for any company to move ahead is by engaging with their customers on a more personal, one- to- one level. The average consumer nowadays does not look for a simple "corporate and customer" relationship anymore. He looks for something which connects to him on a personal level. In today's world of infinite options, if you cannot provide the personal aspect your customers look for, they will surely move on to your competitors. One of the best options for you is to begin preparing for these marketing trends right away.