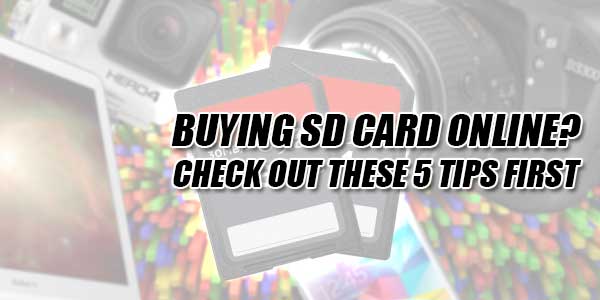 The moment we fell in love with extra storage, SD card became a substantial part of our hardware systems. They make us forget the limited storage of our phone, camera or laptop and we can store anything and everything using them. Getting an SD card delivered at your doorstep by online shopping is fun. But it's fruitful only if you follow 5 things you must keep in mind while buying SD card online. Because if you are not vigilant, you'll order something but get nothing.
1.) Pick Brands That Are Reliable
Especially when you are buying things online you have to stick to the products and brands that have assured quality.  Online shopping is a gamble; you cannot have blind faith there. There is no smartness in buying SD card from a brand that is new and gives you doubts. If a brand is famous and has good reviews you can surely rely on it. Also, some companies offer tools along with SD purchase like free cloud storage, data protection, corrupted SD card recovery, etc. You should also consider them while purchasing SD card online.
2.) Remember Physical And Memory Size
Phones support micro SD card but for a camera, you need a standard size SD card. To ensure you are ordering a perfect SD card, check for the size in the seller's website or app. Have a look on your phone's specifications and find the size of the card slot. After all, you do not want to open phone's SD card slot and adjust the card every time you want to use it.
The main use of the SD card is storage.  If your need is a backup memory card because your phone's internal memory is decent then go for a low storage card. But if your card is going to be the main storage site, choose from the big storage SD cards options and proceed to the cart. Options are vast so choose what reflects your need.
For example, a micro SD has a 2GB memory while micro SDHC has up to 32 GB and micro SDXC can go up to 512GB
3.) Don't Ignore The Speed
No one wants a memory card which takes minutes to read and access the data. To avoid waiting, check the SD card specifications. If you look carefully on the SD card you'll find a number inside a circle or a cup shape. This number depicts the speed of the memory card.
For instance, the SD card number 10 has more speed than that of 2, 4 and 6 because 10 is the more updated version.
Also, class, 1 and 3 SD cards have ultra-speed and their better speed allows 4K2K video recording.
4.) Only Trusted Websites Deliver Quality
You can find any product on several websites, all claiming to offer quality. But the package you will receive may not necessarily achieve the promises. So the bottom line is to buy only from the authentic sellers.
Some websites sell fake products under the name of original brands. They will charge you for the branded SD card but it's uncertain that you will get the original product. Cheap sellers will make you pay later. Beware!
5.) Reviews Can Lower Your Efforts
Websites have valuable customer reviews for each product. Read, compare and then decide. Never forget to compare the guarantees offered by different brands. You can also do a little homework. Visit a local store and get information about SD cards and then apply this information by going online.
Also, look forward to the online sales.  Using them you can avail special discounts and get quality too. Just keep your needs in mind before placing the order.  An SD card is a good investment. If it asks for a little effort, you must do it.