In this digital era, the need of storage devices is getting increasing day by day by due to regular unlimited downloads of photos, HD images, audio, videos and much more from the web. Hence, memory cards have turned into the most advantageous mode for convenient data storage devices. Memory cards offer great read/write speeds alongside significant space at affordable prices, because of which, today's devices are speedier with extra capabilities. Memory cards can be easily linked with mobiles, digital cameras, music players, laptop, tablets, and other devices because of its high storage ability and portability with different gadgets.
One of the very worst situation for any user is to suffer loss/corruption of photos from the memory card. It is a feeling that hits you on the cheek, even if they just a few latest family memories, and for professionals, it's like a huge disaster. A corrupted memory card can easily damage other saved data in it, so it's better to work on memory card repair as soon as possible. Being aware of the actual causes of memory card corruption can help you to prevent them in future. But before that, let's have a look on the symptoms that indicates corrupt memory card issues.
Common Symptoms That Displays Corrupt Memory Card:
You will be very helpless to do anything with your devices as a black screen appears with the following errors.

Faulty card reader.
Virus or malware infection.
The memory card is not formatted properly.
Disk structure corruption of the memory card.
The file system is damaged or the property of the file system is RAW.
Power surges Pulling out the memory card without switching the camera off.

Some of the photos are missing on your memory card.
Your memory card stored images are visible on the devices but you are unable to copy them and receive an error message that card is "write-protected."
Your memory card is scanned by your device, but you fails to see any stored photo or other files.
Hence, Whenever your memory card gets corrupt, there is no assurance that your data is safe and can be recovered. If your memory card is physically damaged, then you can't repair it, but if the issues is only with your data, then it can be fixed in some simple ways. But before that, have a look on the exact reasons of damaged memory card photos beneath.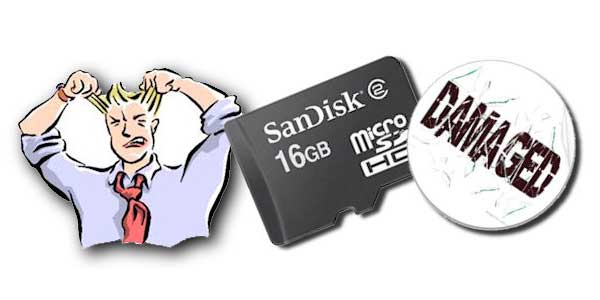 How Memory Card Digital Photos Gets Corrupted?
Low Quality: If you have purchased a low quality or cheap unbranded memory card, then the probability of stored photos corruption automatically gets increases.
Virus Infection: Accessing your memory cards on infected devices like mobiles, laptops, etc. then your memory card can easily get in contact with the virus and can make your entire data unreadable or inaccessible.
Accidental Deletion: Sometimes, due to lack of active concentration or if we are in a hurry, then we accidentally deletes some photos in place of deleting unnecessary photos.
Unformatted Memory Card: Using a memory card that has been formatted into the computer in place of camera can also lead to photo deletion or corruption.
Removing Card Before Closing Properly: You may lose your entire stored photos and other files, if they are not closed correctly because if some data is open, they can get corrupted.
Don't get panic, if you are in trouble due to photo deletion/damage!   Still, there is a hope to get your all photos back! Now, If you are thinking about what to do for damaged memory card repair or how to recover data from corrupted memory card without formatting, then all your solutions are here! 🙂
Fix: Digital Photo Recovery From Corrupt Memory Card:
Mostly stored data like photos, audios, videos and other contents get lost, whenever any memory card is corrupted or formatted. Although, all the files remain in its original place on the memory card and you can recover deleted photos by using SysInfoTools removable media recovery software. This amazing tool is programmed to recover data from corrupt/damaged external or removable storage devices like Memory cards, CDs, DVDs, External Hard Drives, USB Pen Drives, Blue Ray Disc, USB Flash Drives, SD Cards, Memory Sticks, etc. without any data loss. Follow the given below steps to get you precious photos back!
Step 1: Launch Photo Recovery software.


Step 2: Choose the drive you want to use for the recovery process -> Click on Next button.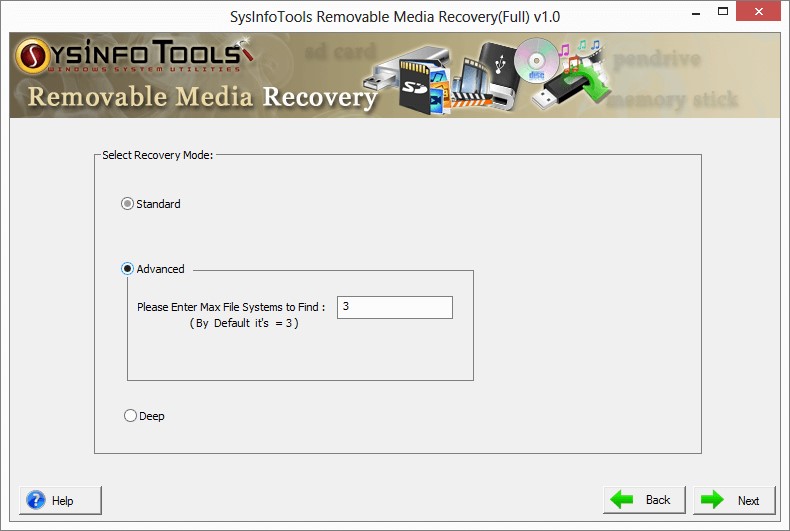 Step 3: Now, select any mode for photo recovery from given options i.e. Standard, Advanced, and Deep -> and then Press Next button.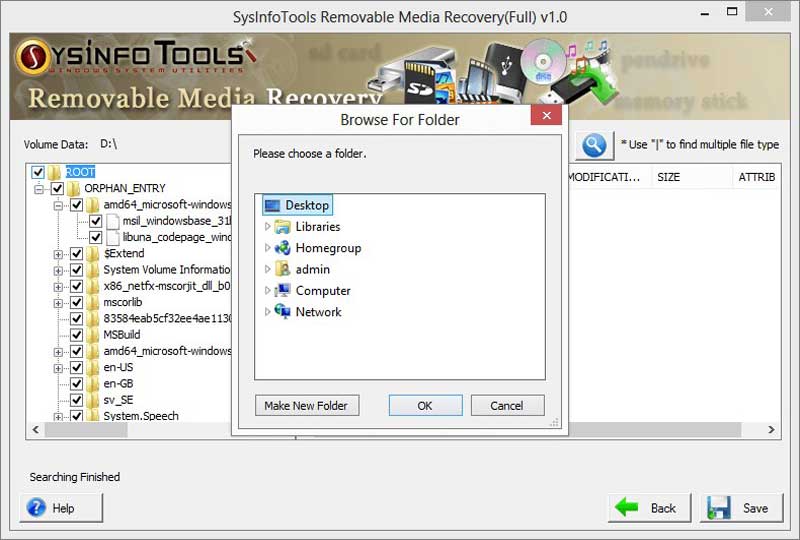 Step 4: Once the scanning and recovering process is done, you can easily save all the retrieved photos at your chosen location and Tap on Save button to complete the step.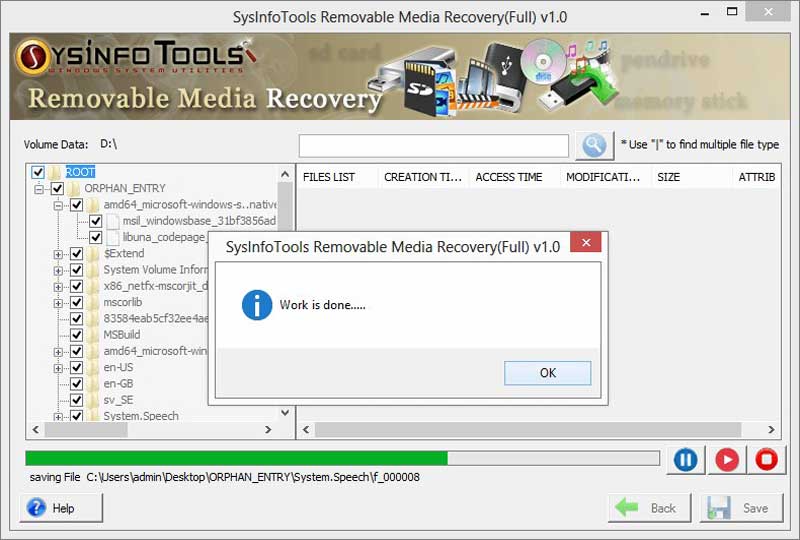 Step 5: A dialog -box will pop-up with a text that "Work is done"  that means your photos has been saved successfully -> then Click on OK button to end the process.
Useful Tips To Prevent Corrupt Memory Card Issues:
While turning on/off any device, never remove your memory card between the process.
Avoid removal of your memory card during view and saving any photo.
Never take or view any new pictures if the device is on low battery mode.
Never insert/remove the memory card, if the device is in working condition.
Use only branded memory cards like Sony, Kingston, SanDisk, Olympus, Panasonic, Lexar, etc.
Always take a backup of your memory card immediately.
Memory cards have limited lifespan because any memory card can do approximately 10,000 write/delete process. So it's better to stop using those memory cards that were used a few years ago because it increases the chances of image corruption/deletion issue.
Conclusion:
In this blog, we have thoroughly discussed about how photos saved in memory card gets corrupted, its symptoms as well as an alternative solution to recover corrupt or deleted photos easily.