Do you know which of your products is bought more than the others? Do you know which ones are your worst sellers? Do you know which product a first-time buyer is most likely to buy?
If you don't know the answers to these questions, then you don't understand your customer's buying behavior. Why is this important?
To design and implement a successful marketing campaign it is imperative that you understand what influences your customers' purchasing decisions. The only way to have an influence is to understand buying behavior. Some of the insights you need into your customer's buying behaviors are:
Why do they choose to make a purchase?
How often are they buying?
What products or services are they buying?
Where are they making their purchases?
Are they looking at your website, social media, or other online sources for information about your offerings?
Track Your Customers:
Customers will come to your website from various places online like a search engine, social media, or a mobile app. Using tracking software to identify where they are coming from will not only help you optimize your marketing campaigns, it will give you insights into their behaviors. Some of the tools available to help you track your customers are:
App analytic tools
Social media analytics
Google analytics
These tools will help you identify demographic information, what devices your users are using, and from where they are coming.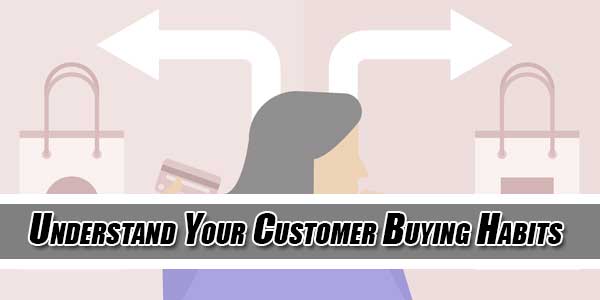 Analyzing Data:
Information and data about customers is valuable to all departments within an organization. The marketing department is the keeper of this data.
Too much data will overwhelm those asking for it. It is therefore important that the data be collected, organized, and analyzed where only the relevant information for each department will be distributed and shared with them.
To handle this overwhelming task, automated solutions that allow each department to pull only the information they need are the most efficient use of time. When a business uses systems that allow them to access data in real-time, and analyze future trends, they will be able to get a better understanding of customer buying habits.
For example, take into consideration the legal marijuana industry's nascent, but explosive, growth in the past couple of years. Companies in this market need to understand the importance of using data-driven insights into customer behavior. Powerful, customizable and flexible cannabis POS systems provide solutions for everyday challenges. Being able to develop and implement marketing initiatives based on real information about real customers will help your business grow.
Understanding The Customer Lifecycle:
The customer lifecycle is the progression of steps someone goes through while they are considering making a purchase. Understanding this lifecycle can tell you a lot about the effectiveness of your marketing and whether or not you are acquiring new customers most efficiently.
Don't forget the importance of repeat customers and their value to your business. Not only do you want to get new customers, you also want to keep your current ones happy so they will continue to buy from your company.
Technology solutions streamline the customer lifecycle management process. Customer Relationship Management (CRM) Systems have progressed over the years to go beyond just a contact management tool. Many of them now include sales automation tools as well as customer satisfaction systems.
The growth of CRM solutions can be attributed to the fact that companies are realigning their focus. They understand that the customer is at the center of everything a business does. Digital technology provides the data a business needs to get a better understanding of the customer experience.
Ease Of Payment:
Gone are the days when you have to get into your car, drive to a store, possibly sit in traffic getting there, find what you want to buy, wait on long lines at the cashier, and then finally make a purchase.
Consumers today want the convenience of making purchases from the comfort of their home or office. Businesses understand this consumer buying preference and are responding by making it easy to buy from their websites.
The more automated your buying process is, the better the chances are of acquiring new customers. Some programs track the buying process and send out notifications to potential buyers who don't follow-through. The emails generally let the person know that they abandoned their shopping cart and give them a link to get back to it.
It is no longer possible for a business to be successful without using technology. Whether your customers are making purchases on or offline, the buying process has changed and so have customer behaviors and expectations.
As a business owner, it is your responsibility to identify the ways you can leverage these trends to increase your profitability and growth.