The first impression really matters because it lasts for long. It is applicable for a job interview, first dating, first-time reading of a book, and so on. Even it is applicable for internet browsing. It has been observed in several instances that the first good impression of a website pulls its visitor frequently to revisit the site.
If any formula can be explored to make a good first impression about your website, it would have been a great booster for your website's rank and concerned business development. Unfortunately, there is nothing but proven strategies that have procured good result in creating lasting impression so far.
Adding An Introductory Video:
Instead of stuffing lots of information in your home page, you can add an informative video there. Visitors can check the video to get requisite information. A recent study has revealed that instead of reading, people prefer to learn by watching video.
A video helps in streamlining information for a visitor. Instead of reading content, a video can be viewed anytime and anywhere with better reception because visuals appeal more than mere reading a text.
Related article: How to enhance an online visibility?
State The Value Proposal Clearly:
It is well assumed that a visitor has come to your website for some purpose. Unless you assure them about your ability, they will not be assured. Let your visitors know your ability at first instance.  You should offer your service clearly at the start.
For example, if a website is being built for offering consumers flight booking assistance, it is extremely important that the visitors to the website can understand the ability of the service providers in offering flight booking assistance.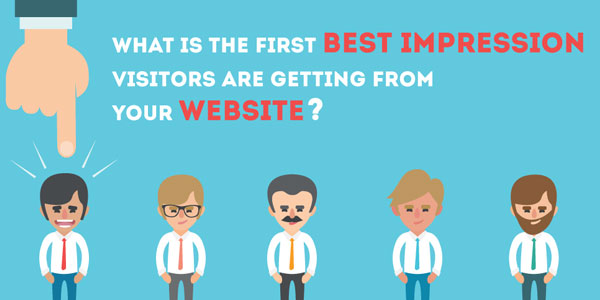 Instigate To Scroll Down Or Navigate:
Make your website informative enough so that visitors get allured for scrolling down or navigating through other pages. User friendly navigation is a definite way to create a good impression.
A longer and robust page ensures to offer you an opportunity to emphasize key sections of your website. Sections may include service pages, testimonials, case-studies, an about us section, etc. You can add an offer to make business relation with you profitable. In short, you need to offer your visitors excitement and profitability, which will stimulate them to navigate through you other pages. This stimulation will turn into long lasting impression or your visitors.
Let's read optimizing ecommerce website for mobile devices
Assurance Is The Key For Grabbing Attention:
Add call-to-action in a reasonable way stating clearly that you are able to solve the problem of your clients. Your confidence will make a lasting impression on them.
Call to action should be added in a way that offers a confident approach to the visitors. Apart from sales pitch the visitors should consider it a one stop resolution call for their problem, which creates a reliance that lasts long if the service quality is good and stands as cost efficient.
Website Speed Matters Most:
It is an absolute approach towards site's visitors. These days, online businesses are highly influenced and concerned towards user experience design which oftentimes slow down your website. This may or may not be knowing by webmasters, but it will have direct affect for site's ranking. In order to make first best impression, the website must load within 2 seconds so that it can make an impression in next one second with the other web aspect.
Different plugins, tools and apps have been publicized to help websites boost its speed. More importantly Google page speed insight tool is recommended and endorsed by many developers.
Build Trust:
Let your clients know your integrity to the service. This can be displayed by using different ways. Some of the proven ways of building trust are:
Adding an app dedicated to your website,
You may direct your traffic to your blog section: you need to update your blog section at least weekly
You may add testimonials, etc,
Ensure To Have High Engaging Content:
Most effective content are those which let users go in deep of the page or study. People often like information that make them feel website is for them and for their benefit; Henceforth, it content should not be sales-y but high quality, energetic and engaging one.  Content which are influencing one, will prove to be a lead generation tool.
With the Fred update of Google on 8th March, many websites 've highly affected with rank loss. Thus, the first best impression counts with the high appealing content not only for users but for Google as well.
These are the proven ways where clients will get to know about your service/product from users' perspective.  Once you can make them to trust you, you have won the game of making lasting impression by using your website!
These strategies can help boosting website's user impression. However, an experienced web developer is the best person to add these components to serve your purpose.