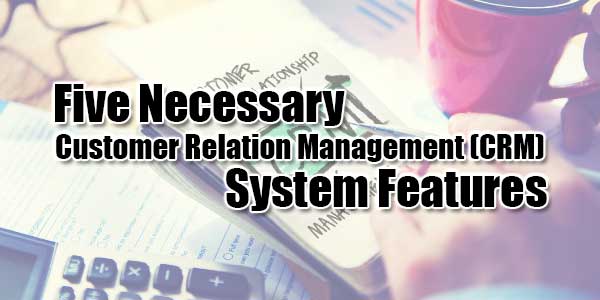 A customer relation management system is mainly utilized to manage a company's interaction with its clients. This system is especially necessary to a company that aims to actively expand its list of clientele without experiencing a drop in the quality of the customer service they provide. To effectively keep up with the clients' data and to give full support to the company's evolving needs, a CRM system should have these necessary features:
1.) Contact Management:
CRM systems are designed to help improve your business' relationship with your clients. One way of doing this is by keeping an organized and highly accessible customer database that can be used by any customer or sales representative. The information should include a client profile and a history of previous interactions with your company. This way, the client can rely on uniformly updated information and personalized treatment when they communicate with your business.
2.) Business Process Automation:
A CRM system is incomplete if it only stores your customers' data without providing any other form of assistance to your representatives. The system should be integrated with email management products like Microsoft Outlook, and text-editing products like Microsoft Word, to ease the creation and distribution of mass and targeted communication. To give your representatives options on how to manage the tasks they receive from clients, the system should have additional features, including calendars, reminders for follow ups and call backs, and fillable task forms that can be automatically forwarded to your company's production or processing department.
3.) Task and Campaign Scheduling:
Your CRM should also be able to handle internal clients. Once everyone in your company has a CRM account, they can log into the system and record the tasks and projects they have received, deployed, or deferred in real time. This way, the business manager can easily see and collect data on how task flows from one department or personnel to another. In addition, your CRM should have features that make it easy for your business to build, test, deploy, and measure projects and external campaigns.
4.) Sales and Opportunity Management:
By categorizing your customers according to where they are in the sales cycle, your CRM system can lessen the time and effort your sales representatives need to gather leads and schedule follow-up activities. A more accommodating schedule can help your sales agents prioritize follow ups, answering and making calls and attending walk-ins over spending the bulk of their time trying to find fresh leads. This newfound reliability increases the likelihood of making a good impression on the clients on the follow-up list and betters your agents' chance of successfully closing deals for your business.
5.) Reports and Data Analysis:
Finally a CRM system should be able to extract data from your client interactions and provide information that can help you make informed decisions on how to improve your business, workflow, and your relationship with your customers.