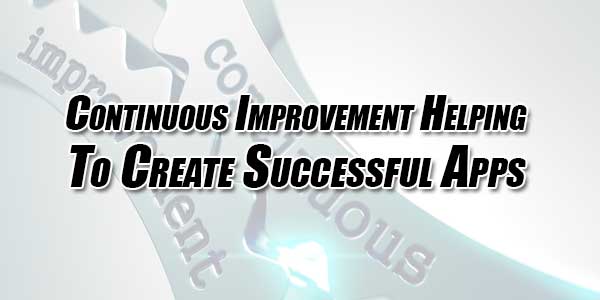 Developing an app can be a difficult process for any developer and it normally takes a little more time than you'd think to get it quite right. There are many different things that you can do to make your app more successful and some developers are using continuous improvement to change how their app and the team behind it operates. In this article, we are going to discuss some of the things that you should consider in order to make your app more successful so keep reading if you'd like to find out more.
Continuous Improvement:
With continuous improvement, you are constantly analysing how your app is doing and how well your team is working. App development teams who take on this sort of way of thinking tend to find themselves coming up with a better end product and reducing any waste as they go. Continuous improvement also involves you finding the root of the problem and figuring out what to do in order to fix it. This guide to continuous improvement from Kanbanize will provide you with a lot more information on what it is and how to apply it.
Make It Compatible:
When you are creating a successful app, you need to make sure that it is compatible with the different markets. Don't just let yourself get into the trap of creating an app for Apple phones or devices, you need to make sure to create something that is going to work on Android as well. Believe it or not, the Android market is around the same size if not bigger than the Apple one so make sure to consider this when trying to create a successful app.
Marketing:
Unfortunately, many app developers spend all their time working on the app itself and don't think about how they are going to market their app to the people that they want to use it. Marketing is very important in any sort of business and the app industry is not an exception. If you want your app to be successful, then you need to market it and leave money in your initial budget for any sort of advertising costs that you are likely to rack up.
Make It Viral:
Getting your app to go viral is normally a dream that a lot of people have but never quite achieve. Of course, it is nice to have it go viral but if you want it to happen then you need to put measures in place to encourage it. This includes allowing your users to connect with each other and encourage each other to download it. Think about messaging platforms or games where friends play against each other – these are all going to go viral as they won't work if they don't. Consider this when developing your app if you want it to be successful.
Free Downloads:
Of course, when you spend months or even years coming up with the perfect app, you want to make as much money on it as you can. The problem with charging for an app that no one has ever heard of is that they are very unlikely to invest their money in it. This is why you need to consider making your app free if you think that it will help you to increase your downloads. This isn't a huge problem as you can always have in-app advertising or purchases meaning that you'll be able to get some sort of return on your investment. Don't be afraid to offer your app for free if you think that it could really help it to take off – from there, you can work on getting your money back and turning a huge profit.
The User Experience:
No one wants to download or use an app that is difficult to use. There are so many apps out there on the market right now that can load in a matter of seconds and provide easy functionality. These are the apps that are going to be chosen over yours if you don't spend a lot of your time focusing on how your app is going to work and how it looks to the user. Once you've got the idea in place, you need to spend a long time testing the UX to ensure that your customers will not get bored of trying to figure out how to use your app. Think about the impatience of the app-using generation and use this to your advantage when creating your app. Once you've got this covered, you can be sure that your app is going to be a success.
Final Thoughts:
If you want to create a successful app you should try to take on board the teachings of continuous improvement. You should also follow our advice and work on the UX as well as ensuring that your app is set up in a way that it can easily become viral.