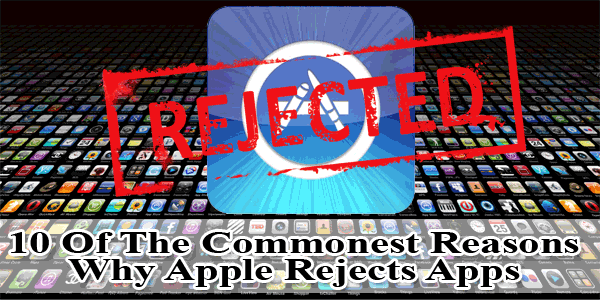 After you have worked hard to build an app, you don't want it to get axed by some Apple reviewer. For programmer that have developed several apps and placed them on the app store, the process of submission holds no terrors. But, for newbies, app rejection is a scary thing. How can you ensure that your app doesn't get rejected by Apple or any other app store?
Simple. Just read their guidelines and follow them. But, you may not want to pore over a lengthy document smacking of legalese. So, here we have gathered some of the most common reasons that get apps axed. Although every mobile application development company knows about these, too many developers still run into the same problems. Here goes…

1.) App Offers Nothing To General Users:
While is it a great idea to target your app to a niche audience, you can't take it too far. For example, if a mobile app development creates an app that let's its developers share ideas with each other, it will get rejected. An app that appeals to a specific target audience is okay, but an app that would appeal only to a small, set bunch of people won't fly.
2.) Data Hogs:
You won't find any guidelines regarding how much downloading an app is allowed to do. But, most developers know that users do not have unlimited plans. So, there are rarely any apps that force the users to download 10 mbs every time the app is launched. Even content-based apps do their best to reduce the amount of data that needs to be downloaded. If your app eats too much data, there is a good chance that it will be rejected.
3.) Separate Payment Options:
Apple likes a tight control on the money. A large number of apps offer in-app purchase, and they all use Apple's in-app purchase API. If you build an app that uses external purchase links, you won't make it to the app stores.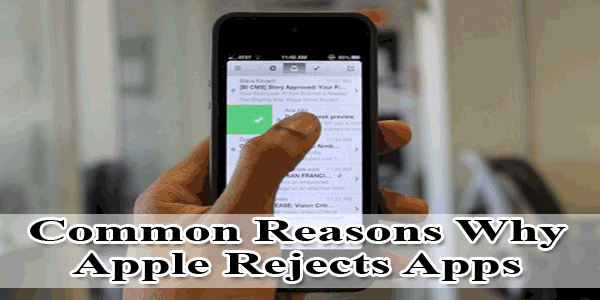 4.) Mentioning Other Platforms:
Apple doesn't want your app to mention its competitors. If your app description mentions that you also have Android and Windows version, Apple won't like it.
5.) Non-Standard UI Design:
Apple has worked hard on conceptualizing design for smartphones. And they have done a fantastic job. If you do not follow Apple's Human Interface Guidelines, your app will be rejected.
6.) Misleading Ratings:
Apple will ask you to rate your app on several different factors. You need to say whether your app has any obscene content, violence, horror or fear themes, gambling, drug references, etc. If you rate your app incorrectly, expect Apple to throw it out.
7.) Slow Loading:
I am a big fan of Android, but I cannot deny that Apple apps load almost instantly, while it takes just a split second before Android apps load. Apple works had to maintain its aura of perfection. If you build an app that takes too long to load, it may get rejected.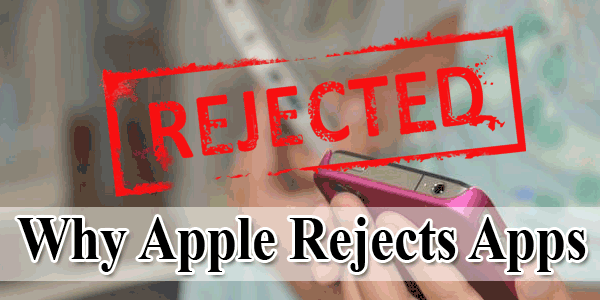 8.) Lack Of Quality Content:
An app has to offer more than a general mobile website. If your application doesn't really provide any special benefits — native features or rich content that make the most of devices as well as the OS — you can expect Apple to say no.
9.) Copying Other's Stuff:
Apple is not okay if you use copied content in your app. Any third-party content — trademarks, trade secrets, copyrights or other propriety content — will land you into trouble. If you are using such material, you need to get the permission from the owners and submit it to Apple.
10.) Lacks Finish:
If you prefix your app with 'beta,' it raises the reviewer's hackles. A good app store doesn't want unfinished apps littering the space. Anything that suggests that your app is incomplete or rough around the edges will call for a closer scrutiny. So, it is best to avoid such names.
Wrapping Up:
Whether you are building an app on your own, or hire an iPhone app developer for your app development project, it is best to keep these points in mind.
These are some of the most common reasons why Apple rejects it apps. Are there some other common reasons that we have left out? Please share your thoughts and experiences in the comments!
About the Author:
Nilesh Talaviya works for Cygnet Infotech, a leading mobile application development company based in India. Are you planning to hire an iPhone developers? Cygnet Infotech is a great choice — and we guarantee that your app will not be rejected.