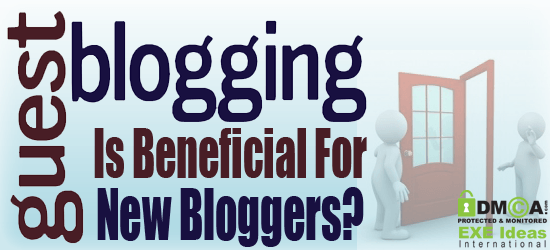 Blogging is indeed one of the best ways to create a successful blog and help you in growing online. However, when it comes to guest blogging many seems to be perplexed about this idea. The fact is guest blogging plays an important role in marketing domain. Also for the new bloggers, it helps in building up your online presence, traffic and links for your blog posts. If you have a good writing skills, guest blogging can help you in building up high end influence in quick time. Since new bloggers do not have good amount of exposure for their blogs, they are bound to have very less traffic or readers. However, with guest blogging, the new bloggers are able to build up their goodwill with good guest posts over top notch blogs of their niche area. Let's check how guest blogging benefits the new bloggers.

You Get Quality Traffic:
As a new blogger, you have limited number of followers or readers over your blog. However, if you start contributing as a guest blogger over good blogs in your niche area, this is the best way to start getting traffic towards your blog. This is the basic reason why novices invest their time over guest blogging as they end up getting good amount of traffic for their blogs in quick time. However, more important requirement for any new blogger would be to get quality traffic for their blog. This means to get genuine and serious kinds of readers for their blogs. This is possible through guest blogging, provided you end up writing quality articles for the blogs where you contribute as guest blogger.
Improve Your Writing Skills:
Guest blogging is often termed as a live learning experience platform for the new bloggers. It helps in your writing skills, gives you enough reason to produce high quality posts backed by competent research and hard work. Since the blogs you contribute (as a new blogger) under guest blogging happen to be better in search engine rankings, hence they will never compromise on low quality content. As a matter of fact, you are bound to put the best of our efforts in creating high quality content. In case, if your articles are not at par, the editors over the guest blogging sites will point out your mistakes, which will give you enough opportunity to groom your writings.
You learn to foster a natural flow in your writings, thus getting better exposure to learn best ways to write quality articles. In fact, if you look at the some of the earlier lives of popular bloggers, you would find many of these saying that they have improved their writing skills through guest blogging by simply comparing their articles posted at competent blogs or getting remarks from the blogs' editors where they contributed.
Helps In Building Up Relationships:
New bloggers have hardly any exposure for their blogs, hence are seen with limited amount of readers. Guest blogging helps in building up the relationship over other blogs and you strengthen up your relationship when you start writing regular guest posts on several blogs on a regular basis. Any competent blog with better search engine rankings would benefit you as a guest blogger. They may consider you in your writing team thus allowing you to participate in different events with your individuality. This means you are able to promote your blog over a wider community and get good traffic to your site along with good business from new clients.
Boost Up Your Online Influence:
The other important benefit for new bloggers is that they end up boosting up their online influence through the guest blogging. The influence is not confined to expertise of your niche area but you get the real influence that include both positive and negative one and which has much to talk about the way it impact others online. Contributing good quality articles over different blogs as guest blogger always have a positive impact over the minds and lives of different readers. This will also help you a lot in adding the fire and punch in your blog as well, hence combining it with guest blogging can really help in getting good number of followers, which you always wanted as a new blogger through this strategy.
It Builds Your Portfolio And Credibility:
As a new blogger, your goal is to enrich your online profile and credibility over the blog or web landscape at large. Guest blogging gives you the opportunity to seek the attention of a large number of people present over the web. Guest blogging help you to create your own rapport with quality writing on a big scale with the help of doing work on a regular basis. This will help in telling the people that you could be trusted over the niche you deal in different guest blogging sites.
Final Words:
Guest blogging could be the best tool to market your blog over the web. As a novice, you would often require such platforms to promote and market your blog. Thus by adopting this strategy of guest blogging, you end up reaping a number of benefits as discussed above.
About the Author:
Brianne is a writer/blogger. She loves writing, travelling and reading books. She contributes in Ethan Peavey